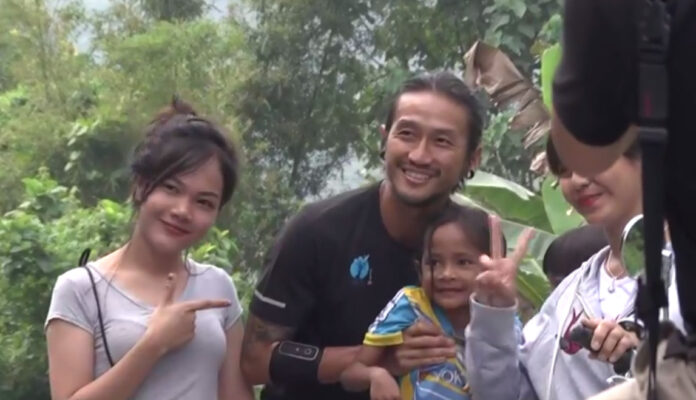 YALA — A rock star set out just after dawn Wednesday on a cross-country charity run that has fueled debate about the military government's funding of public services.
Flanked by supporters handing him donations, Artiwara "Toon" Kongmalai, lead singer of rock band Bodyslam, started off on his "Step by Step for 11 Hospitals Across the Country" run Wednesday morning at the southern tip of Thailand in Betong, Yala. The 55-day run will end in the northern province of Chiang Rai.
"I don't care if I die. Everyone has to go eventually, but if I did for this cause then it would be okay. I've put my mind to it," Artiwara said in an interview Tuesday.
Artiwara's efforts have largely been praised by Thais.
"In American superhero movies, there's a hero who saves the country, so the people don't have to beg and plead with the government. But here in Thailand, it's a reality," wrote user Ranning Tuay on Wednesday morning on Facebook. "You are the hero that saves Thailand…su su su su su!"
Some criticized the junta for allocating billions of baht toward weapons systems, spending which dwarfed the 2.7 billion baht budgeted for staffing, equipment and infrastructure at the nation's hospital, according to Panpimol Wipulakorn, Health Ministry deputy director.
In April, it emerged that 18 state hospitals were bankrupt with debts in the hundreds of millions of baht.
Some even criticized Artiwara for stepping in to bail out the hospitals rather than leaving it to the military government.
"How long will you keep being stupid? Your run is an effort to erase the problems of the junta, and catering to the salims [derogatory word for junta supporters] who live their lives in a lavender field. This is a short-term solution, not a long-term one," Sujane Kanparit, a magazine columnist, wrote online last month.
The military government has been on a shopping spree for the armed forces, spending nearly 50 billion baht on several big-ticket items.
This year alone, it ponied up 2.3 billion baht for APCs, 2 billion baht for 38 tanks and 36 billion baht for three submarines – all from China. In July, it announced it would spend 8.8 billion baht on South Korean combat aircraft.
Deputy Prime Minister Prawit Wongsuwan last month defended the junta's spending, saying that funds for public services and military procurement were unrelated.
On the same day, Prime Minister Gen. Prayuth Chan-ocha said Artiwara was "not only exercising for his own health but doing good for the whole."
"Why doesn't [Prawit] do what P'Toon does? Roll around and ask for donations to buy weapons. Let's see if anyone gives you anything," Wachinon Jitsawat wrote on Facebook.
The charity run will span 2,191 kilometers and terminate at Chiang Rai's northernmost point, the Mae Sae subdistrict, on Christmas Day.
The run, which began at 6am, had raised 40 million baht by noon. One of the top trending Twitter hashtags Wednesday morning was #StepByStep, the name of the run, as the social media platform flooded with messages of support for Artiwara.
Donations will go toward 11 public hospitals nationwide: Phramongkutklao Hospital in Bangkok, Nakornping Hospital in Chiang Mai, Chao Phraya Abhaibhubate Hospital in Prachinburi, Chiang Rai Prachanukroh Hospital, Chaophraya Yommarat Hospital in Suphan Buri, Ratchaburi Hospital, Yala Hospital, Surat Thani Hospital, Saraburi Hospital, Khon Kaen Hospital and Nan Hospital.
พี่ตูนวิ่งวันแรก แสดงพลังกันฮะ #ก้าวคนละก้าว pic.twitter.com/AyHvrVOhTW

— Don (@JaturongK) November 1, 2017
User @JaturongK shows his SMS donations for Artiwara's charity run.
All hospitals, including the army-run Phramongkutklao Hospital, are central to their provinces.
Artiwara will become the first person to make a charity run from the southernmost tip of Thailand to the northernmost. Other celebrities, such as actress Khemanit "Pancake" Jamikorn and Methee Arun of the band Labanoon, joined Artiwara in starting out this morning.
Artiwara asked each Thai person to donate 10 baht so that the total would be 700 million baht through a video released by the charity's Facebook page in October. In August, he fell down a drain while training for the run.
Artiwara first raised money in December 2016 for Bang Saphan Hospital in Prachuap Khiri Khan, where he used to live. He said he was inspired by its lack of equipment and facilities. He raised 85 million baht then in a 400-kilometer run.
Donations for Artiwara's run can be made by messaging "T" to 4545099, transferring money to the charity's account 111-393-5263, via PromptPay to 0994000005261 or at any 7-Eleven store.
His progress can be followed through charity Facebook page Kao Kon La Kao.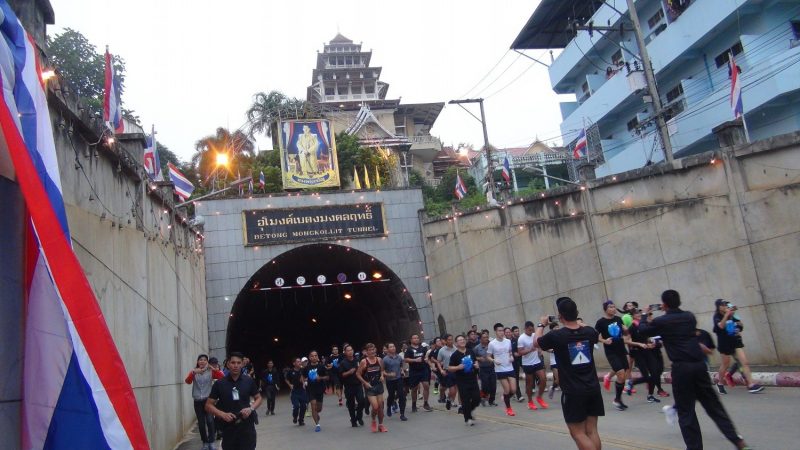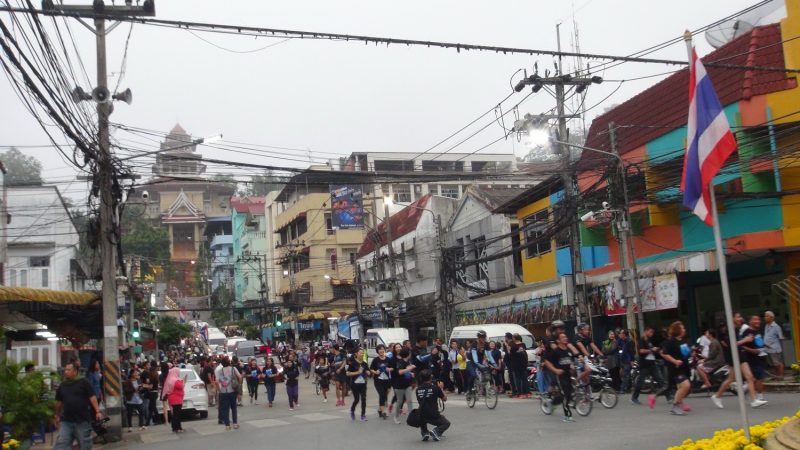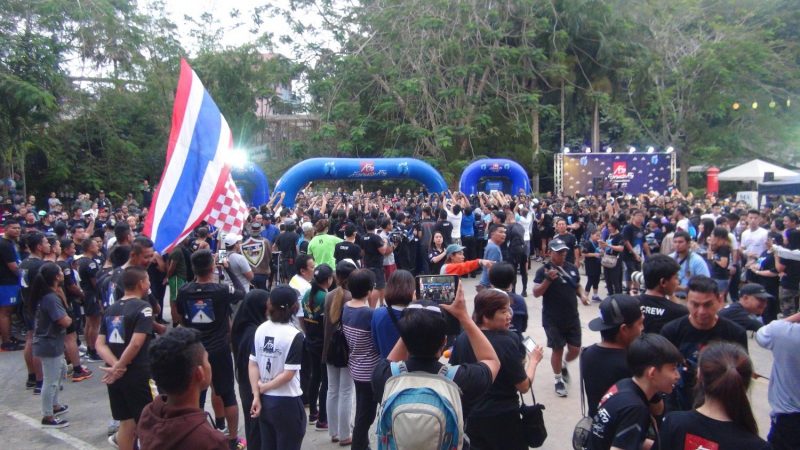 Artiwara begins on his run Wednesday morning in Yala province.

Artiwara's running itinerary for Wednesday.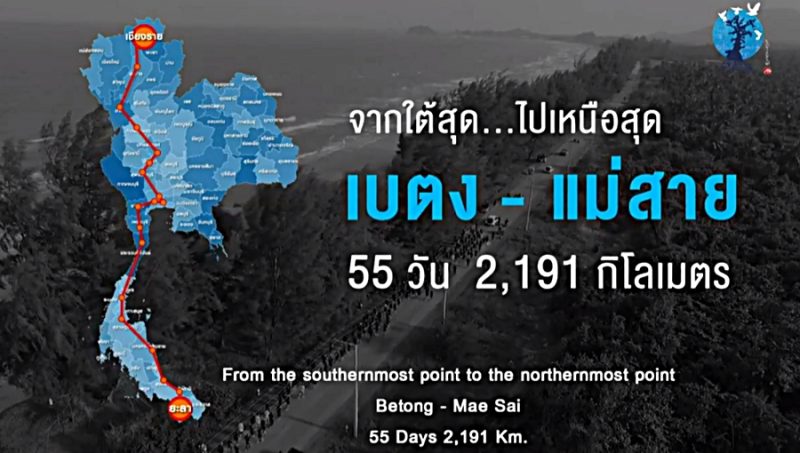 Related stories:
Bodyslam Singer Falls Into Drain Training For Charity Run