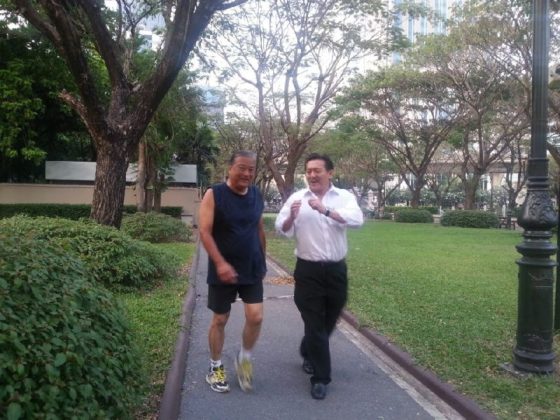 BANGKOK — A downtown pocket park owned by a former politician who served jail time for demolishing its former tenants' businesses will be developed into a commercial property.
Chuvit Garden, a small private park at Soi Sukhumvit 10 owned by politician-turned-talk show host Chuvit Kamolvisit, has been leased to Land and Houses Co. Ltd. to build a mixed-use commercial project, according to the developer.
Naporn Sunthornchitcharoen, chairman of the developer's board of directors said Thursday that his company would sign a 30-year lease for the land in February.
The gates to the park, which Chuvit said was his gift to the public, have been locked since 2016 with a sign saying it was under renovation. Chuvit said he didn't think it was a done deal.
"I wasn't shopping around, but buyers keep presenting offers to me," Chuvit said Thursday. "I can confirm I won't sell the land, but I might lease it." Chuvit denied signing any contract as of Thursday.
Asked why the park was closed after he made much of gifting it to the public, 57-year-old Chuvit, a colorful figure who entered politics as a maverick reformer after getting rich as an owner of commercial sex venues, said enough time had passed.
"It's time to renovate it. I might build it into something else. And it's been a long time that it's been a park, over a decade," he said. "I went to jail and all that, too."
Land and Houses said it plans to build 20,000sqm of office space, 400 hotel rooms and 3,000sqm of retail space. The project will cost 6 billion baht and construction will begin in 2019.
Chuvit Garden was opened by Chuvit in 2006. It closed in 2016 just a few months after Chuvit was convicted and sent to prison for illegally razing dozens of beer bars and shops on the 7-rai plot in the dead of night in 2003. He said the park was his gift to the public.
He was freed in December 2016 on a royal pardon and after renouncing politics brought his brash and entertaining style to host a popular talk show program.
Correction: An earlier version of this story indicated the land had been sold to the developer. Land and House in fact says they have entered a long-term lease to the property.
Related stories:
13 Years Later, Chuwit Gets 2 Years for Demolishing Property