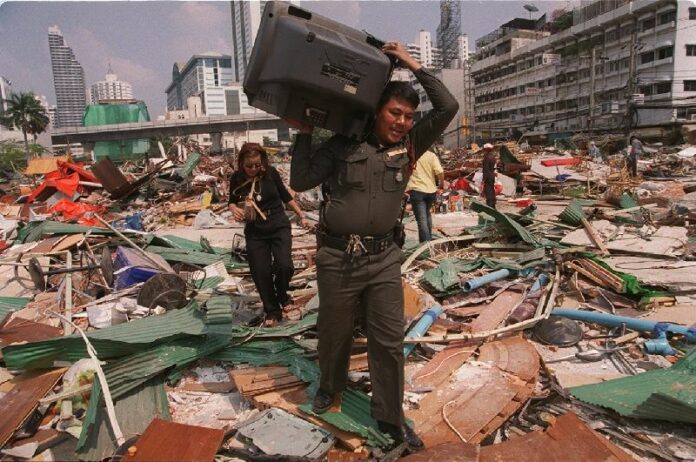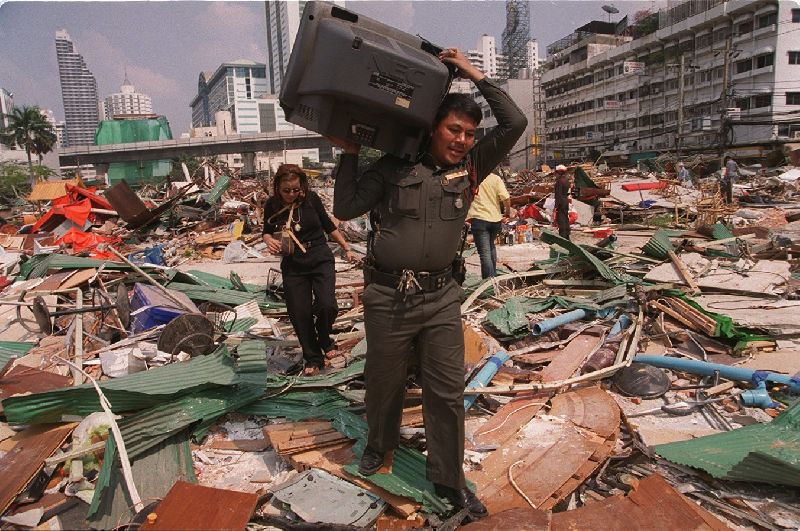 BANGKOK — Massage parlor king-turned-politician Chuwit Kamolvisit was sentenced to two years in prison today for demolishing bars and shops 13 years ago on land he later turned into a park named after himself.
The leader of Rak Thailand Party and 65 others were sentenced by the Supreme Court to five years in prison for hiring a group of men to destroy 60 bars located in Soi Sukhumvit 10 in 2003. Unlike other high-profile cases, the court did not suspend Chuwit's sentence, however it was reduced to two years because he filed a guilty plea before the verdict was originally to be read in October.
At 4am on Jan. 26, 2003, several hundred men arrived with backhoes and leveled 60 beer bars and other shops to clear about 10 rai of land called Sukhumvit Square, which Chuwit had recently purchased. In 2006 it became a private park called Chuwit Garden.
Chuwit, 55, is a larger than life character best known as the one-time owner of the most massage parlors in Thailand before he entered public life. He won a seat in Parliament in 2005 and has sought to frame himself as a no-nonsense graft-buster willing to expose entrenched interests and corruption.
Chuwit and a number of high-ranking military officers were among 131 men later indicted for the demolition. The Appeal Court found Chuwit and 65 others guilty while the rest were acquitted.
Today's verdict was postponed from October when Chuwit contradicted his previous testimony to plead guilty.
Before entering the courtroom, Chuwit told reporters he would accept the verdict and not seek royal pardon if convicted.