Top: Maria Puntasu and Assawa Puntasu. Photo: Maria Puntasu / Courtesy
Maria was visiting Bangkok. Itt worked at a muay thai gym. "Take off your shirt," she told him as they threw some punches.
He did. She nodded approval at his six pack.
Two days later she flew home and told her husband she wanted a divorce.
Later, as Maria Puntasu and Assawa "Itt" Puntasu, they moved to Kirov, a town 12 hours by train east of Moscow to open their own muay Thai gym. Itt jokes that he was the only Thai man in Kirov (There are 10 Thai women, all spa masseuses).
In Kirov, Russian trolls said Maria's children would be ugly because she married "a jumping monkey from a palm tree." They later returned to Bangkok.
But life in Thailand isn't any more welcoming for couples like Maria and Itt. More than curious glances from Thais, they encounter icy loathing from foreign men. The Thai men battle their own insecurities along with everyone's assumptions they are serial cheaters and abusers who've latched onto a blonde piggy bank. In malls and parks, they're mistaken for the nannies of their own children.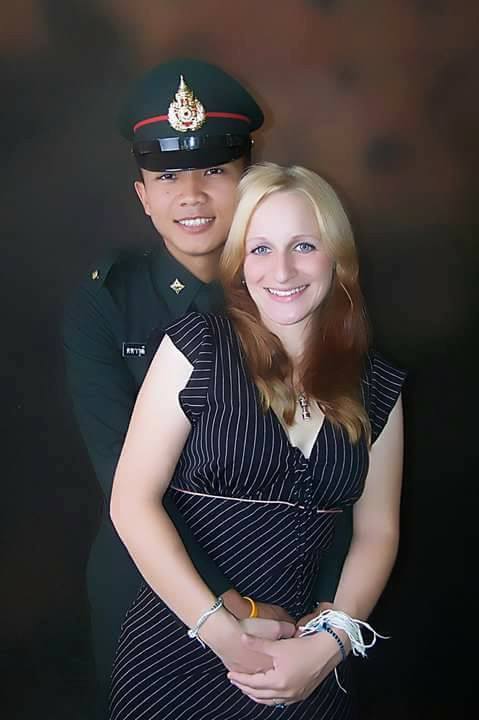 There is little data on the number of foreign women married to Thai men, but the cases are rare compared to the copious coupling of Thai women with foreign men.
For 35-year-old Maria, it doesn't matter what others call her husband.
She calls the 31-year-old her Dekabrist, or Decembrist, because he abandoned Thailand's perennial warmth for the winters of Russia, much like the wives of the 1825 Decembrist revolutionaries who followed their husbands into Siberian exile.
Similar to Maria, Samantha has also faced dirty looks from farang men for being with a Thai man.
Far from the Russian winters, American Samantha and her husband Khatawut "Tum" Rattanawong have lived in sun-blanched Ratchaburi province the past eight years.
Tum was a cadet cutting grass shirtless at the Chulachomklao Royal Military Academy in 2007 when his wife-to-be fell off her motorcycle at the sight of him.
"It was the same guy I had walked past a few days earlier in Future Park Rangsit and felt an inexplicable spark," Samantha said. "The first time we talked on the phone, it was for 12 hours. We felt like we had known each other forever."
Some of the farang men here are offended by us, by the presence of farang women. We're a stopper in their fantasy
Samantha, 39, came forward with her love story after Khaosod English wrote about Thai masculinity, Thai women and foreign men. Her written comment on the article – that there were wonderful Thai men – mostly attracted toxic replies.
They called her a "cash cow" for Thai men who were "all pieces of shit."
"There's a jealousy in white guys when white girls are with Asian guys," Samantha said. "They feel like we're being stolen."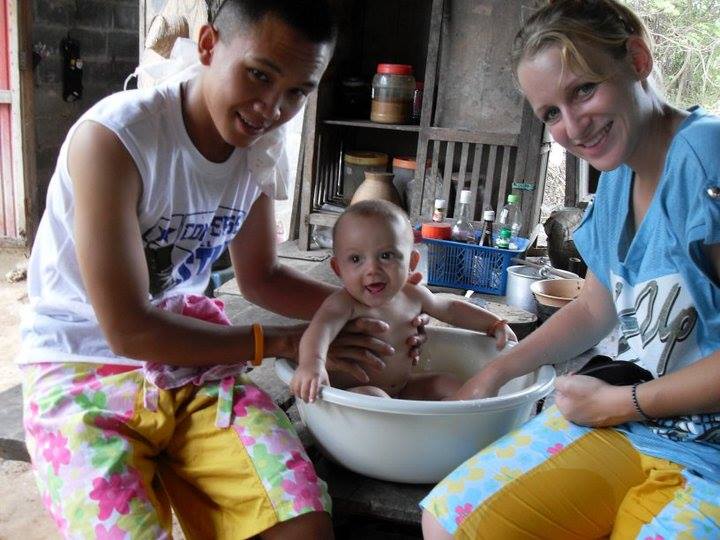 'Got Yourself a Monkey'
Maria first met Itt in 2014, and though taken aback by the Russian's request that he disrobe, he followed through. The rest is history.
When I walked on the street with him, some men would look at me really bad because they just couldn't understand it.
"I abandoned everything for him," Maria said. "I came to live in Thailand without anything, after having known him for two days."
Her friends and family thought she was crazy to leave her perfectly fine Russian husband for a Thai man she had met only two days.
"I had been unhappy in my marriage for a long time. And when I met Itt, I knew I had found my soulmate, even if I couldn't understand what I was doing or why at first," she said.
Yet her homesickness was too strong, and a year later the couple moved to Moscow and then Kirov.
Her parents met Itt. He charmed them; even making her grim Russian dad crack a smile.
But similar to what Samantha experienced by just mentioning her love story, strangers and followers of Maria's Russian-language LiveJournal were vicious.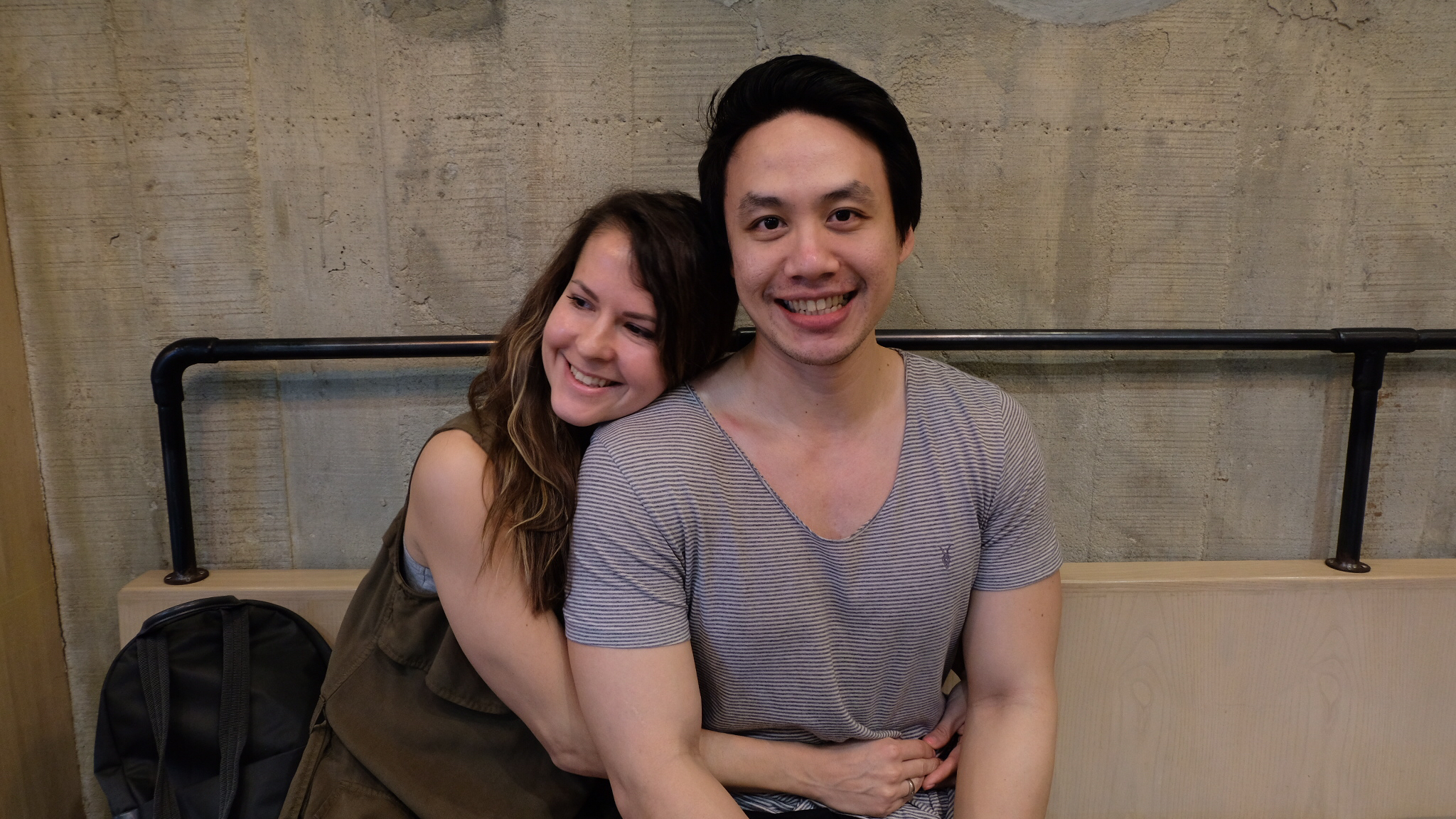 "They would send me comments like, 'You're beautiful enough, why can't you find a Russian man? Why are you with a jumping monkey you got from a palm tree? You'll have ugly kids, and you'll make your genes worse,'" Maria said, describing messages sent to her blog when she wrote about her romance.
The words manifested into looks of disgust.
"There's still racism in Russia. When I walked on the street with him, some men would look at me really bad because they just couldn't understand it. From their looks, I could tell they hated it," Maria said, pressing her brows over an intense squint and mouth twisted into a snarl of contempt to illustrate the face the haters made.
There's a jealousy in white guys when white girls are with Asian guys. They feel like we're being stolen.
Itt, a jolly, muscular boxer, seemed less bothered by the racism, laughing at the fact that he'd get called Bruce Lee or Jackie Chan.
"I knew they thought he was an Alphonse, probably from Kyrgyzstan or Uzbekistan," Maria said, explaining that Central Asian immigrants are looked down on in urban Russia and referencing a French term for gigolo.
Maria says Itt and her are a "fitness" couple: They love to work out together, and their blog is full of cute gym selfies. As Maria cuddles Itt's shoulder, a young daughter from her previous marriage runs around the room with Itt's mom.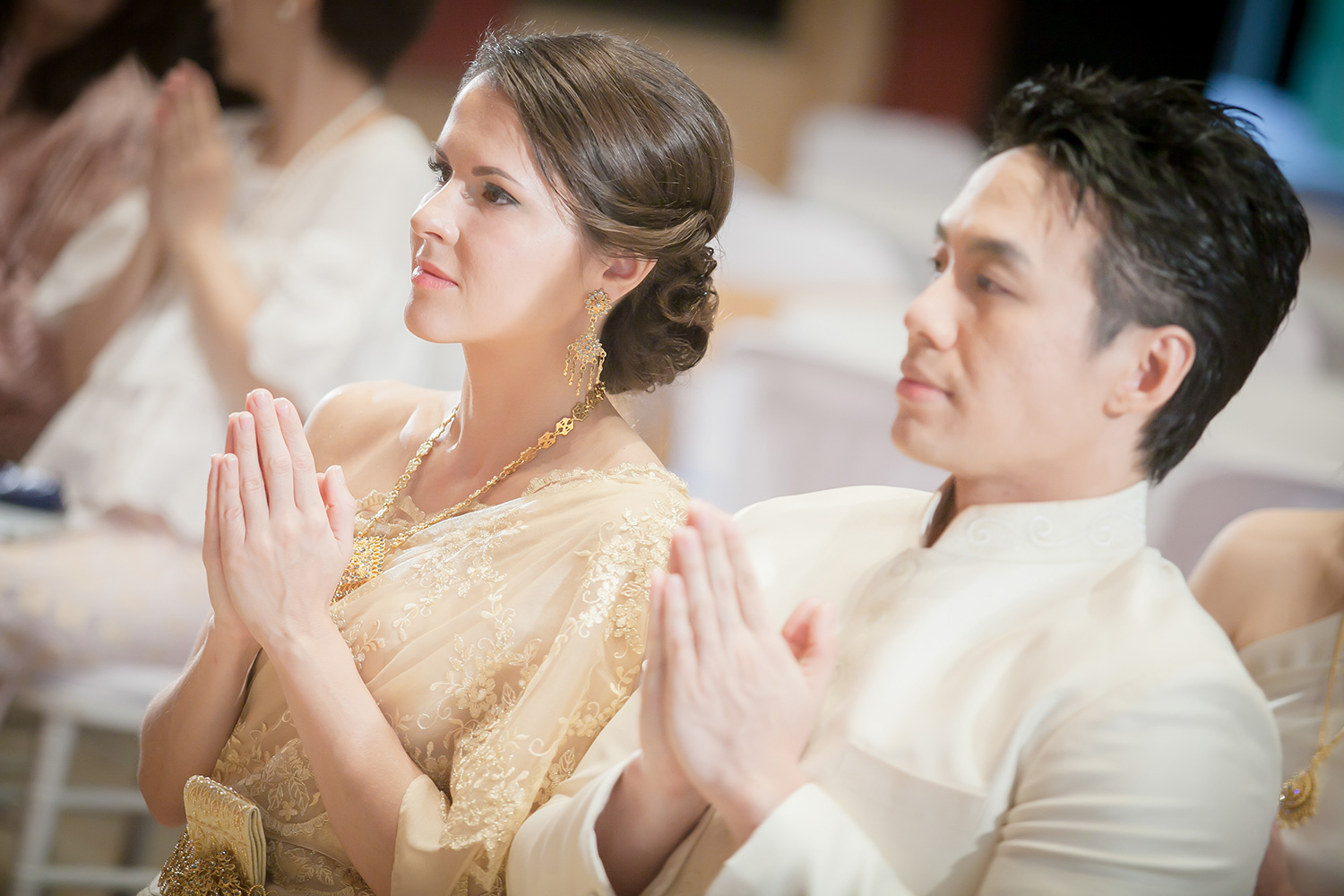 "No one believed it was real love," she said. "But I don't care. He's my Dekabrist."
After she fell off of the motorcycle and into love in 2007, Samantha's love for Tum blossomed at the cadet school among teasing from his fellow troops for courting a farang teacher eight years his senior.
"Teachers and soldiers lived in the same compound, so we would spend every day together," she said. "He would leave me flowers and snacks on my table."
Their love endured when Tum, 32, left to the academy. She wrote him letters. His fellow troops snatched them at mail call and read them aloud.
Now in Ratchaburi, Samantha said she feels unwelcomed by the sexagenarian foreign men inhabiting the city.
"Some of the farang men here are offended by us, by the presence of farang women. We're a stopper in their fantasy," she said.
Some of that hostility is mutual.
Both farang men and women, Samantha said, "feel like a prince or princess" when they first arrive in Thailand. The older men, she said, land beautiful young wives in their 20s and live right by the beach instead of scraping by on retirement money in their home country.
"When they see us, we both know that they would be nothing in their own country. Some men will show an attitude and pretend they don't notice you," she said. "The nice ones, maybe 20 percent, will say hello."
Sweet Love Meets Red Tape
All the couples spoke of problems and confusion when applying for marriage documents, due to little precedent.
Natasha Lupina, who's married to the owner of a second-hand car dealership, said she had no idea how to complete Russian documents for her marriage since information she found online pertained only to foreign men marrying Thai women. She'd have to find out first hand at the embassy.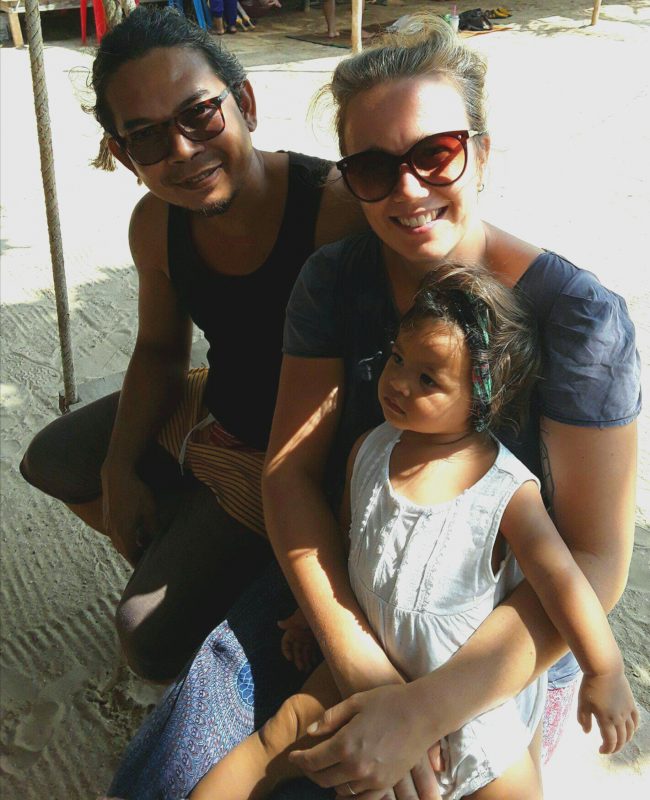 Maaike Van den Winkel from Belgium had her own embassy story.
In 2013, Maaike left her home to roam Southeast Asia. She ended up on Koh Mak where she met English-savvy Anuchit "Jae" Sittisarigorn, 40.
"I met her and had a good feeling about it. From something small, we found similarities until it became love," said Jae, an artist who owns the Koh Mak Art House / bar.
They married by Koh Mak Beach under the stars and swaying palm trees.
At the Belgian Embassy, surprised staff told Maaike she was only the third woman to marry a Thai in the past five years.
"They get Belgian men with Thai women every day," Maaike, now 29, said. "I was a big exception."
Love and Language
Tanawat "Eddy" Srisuk is the 41-year-old owner of Vichuda Used Cars in Bangkok and wears a gold ring on his finger. But when he drives Natasha, the Russian, to restaurants with her family, the staff assume he's their taxi driver.
I used Google Translate to flirt with her.
Like the staff, Eddy and Natasha don't understand each other much either. But in April, they will marry.
Eddy repeats that he can't speak English. But as they giggle over cups of coffee in a mixture of Thai, English and Russian, 29-year-old Natasha says they have their "own language."
"It takes extra patience to understand," Natasha said in English. "He'll have his 'Thai style' of communication – he'd just nod along to whatever I was saying. I got mad at that. I'd tell him, 'If you don't understand, you can ask me 10, 20 times and it's okay! But I need you to understand!"
Soon after they met, Eddy confessed his love for her.
"I used Google Translate to flirt with her," he said in Thai.
He asked her out, but couldn't understand her reply, so he asked again on a different day.
"She said, 'wait, so what were we before now?' It turns out, she had already said yes the first time!" Eddy said, laughing.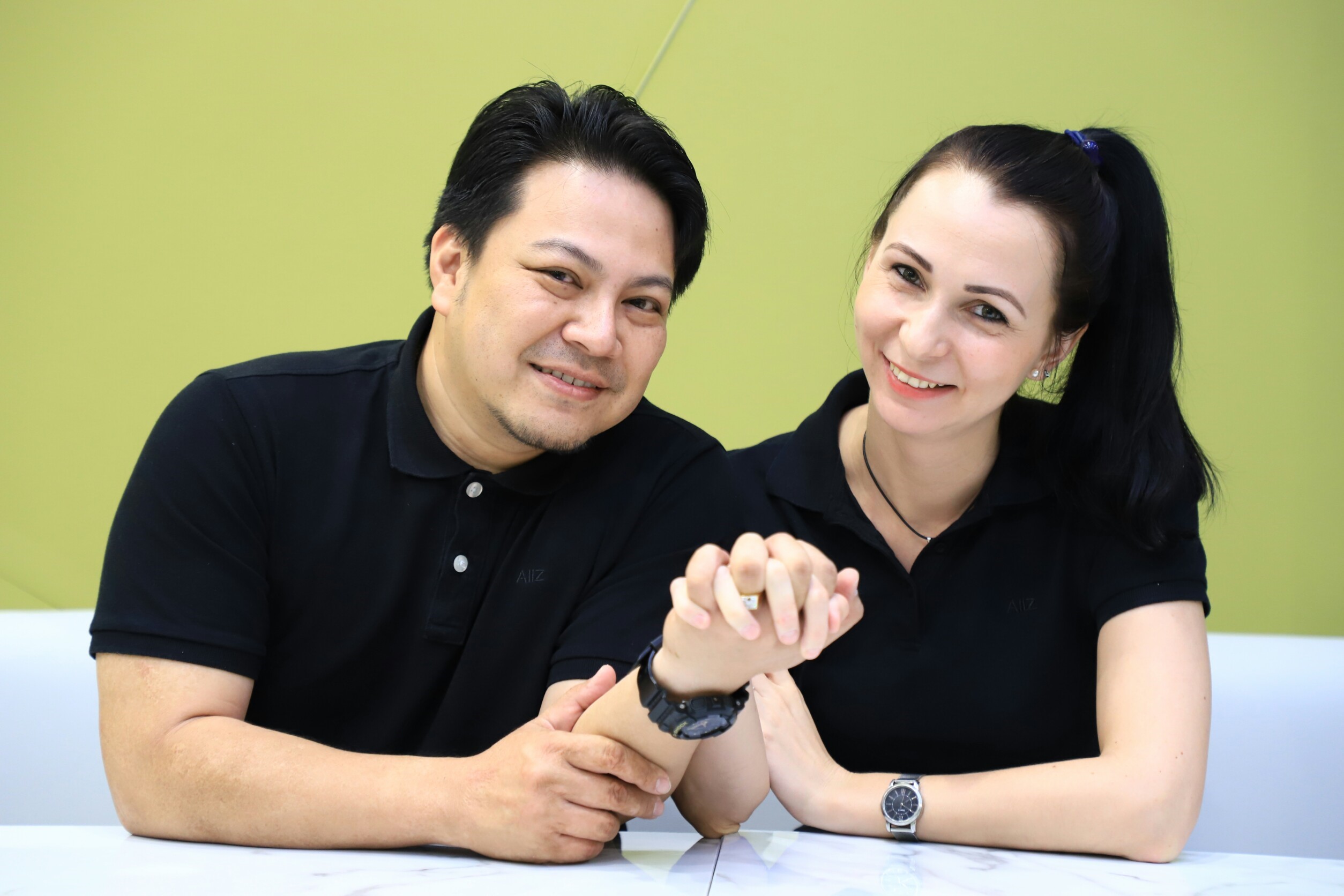 He proved himself to be a man of action, leaning in to kiss Natasha during a sit-down interview with a reporter.
Their proposal, too, relied on actions and feelings more than language.
He prepared Natasha a surprise in the lobby of a hotel where they were staying.
"I told the hotel staff, 'I'm willing to pay you whatever. But I need the lobby to be empty when she comes to check out,'" Eddy said. "I wanted Natasha to be confused and in a bad mood."
Indeed Natasha came down to check out and waited for almost an hour in the empty lobby while Eddy ignored calls. Just as she was about to lose it, Eddy walked in with flowers, blaring music and got down on one knee. The hotel staff clapped as she nodded "yes."
"It's real love," the business owner said in Thai. "I can't even communicate, how can I lie?"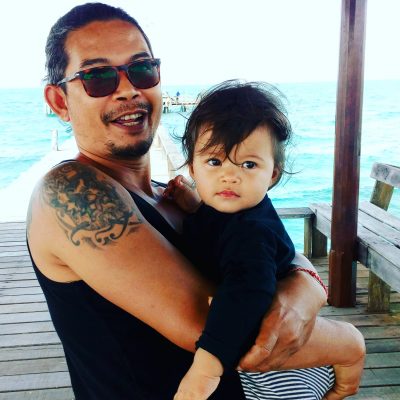 Self-Doubt
While Eddy and Natasha shrug off the language barrier, other would-be Thai suitors have to get over great anxiety in approaching foreign women.
At church, Karen pastor Tup Suklertdilokkul asked Canadian teacher Shawna to translate some worship songs for him. As she was listening to them at home, the words changed from "hallelujah" to "I love you."
"I never, ever used to think I would marry a farang," soft-spoken Tup said. "When I was at university and farangs would come up and talk to me, I would hide in the bathroom. I was scared because I couldn't speak English."
Some people will ask where I got these farang kids from. I have to say, 'They're my kids.'
But when Tup, 40, saw Shawna, 38, teaching children English at their local church in 1996, he decided that English and cultural differences were fears that could be surmounted.
Tup took her to his Karen village in the mountains of Chiang Mai.
"I wanted to show her, 'This is me. This is where I'm from. Can you accept it?' Even my family thought we would break up," Tup said.
But they didn't. The pair married in 2004 and now live in Bangkok with their two children.
When Tup goes out with his daughters, people assume he's the p'liang, or nanny.
"Some people will ask where I got these farang kids from. I have to say, 'They're my kids,'" he said, laughing.
The men interviewed said such couples are rare because of their own insecurities, particularly over issues such as their earning power.
"It's not that Thai men don't like farang women," Tup said.
"The money men earn here can be a lot less than what she earns back home, so few want to get in the same boat as that," Jae, the artist on Koh Mak married to Belgian Maaike said. "Maybe farang women think Thai men don't have the earning capacity to take care of their families."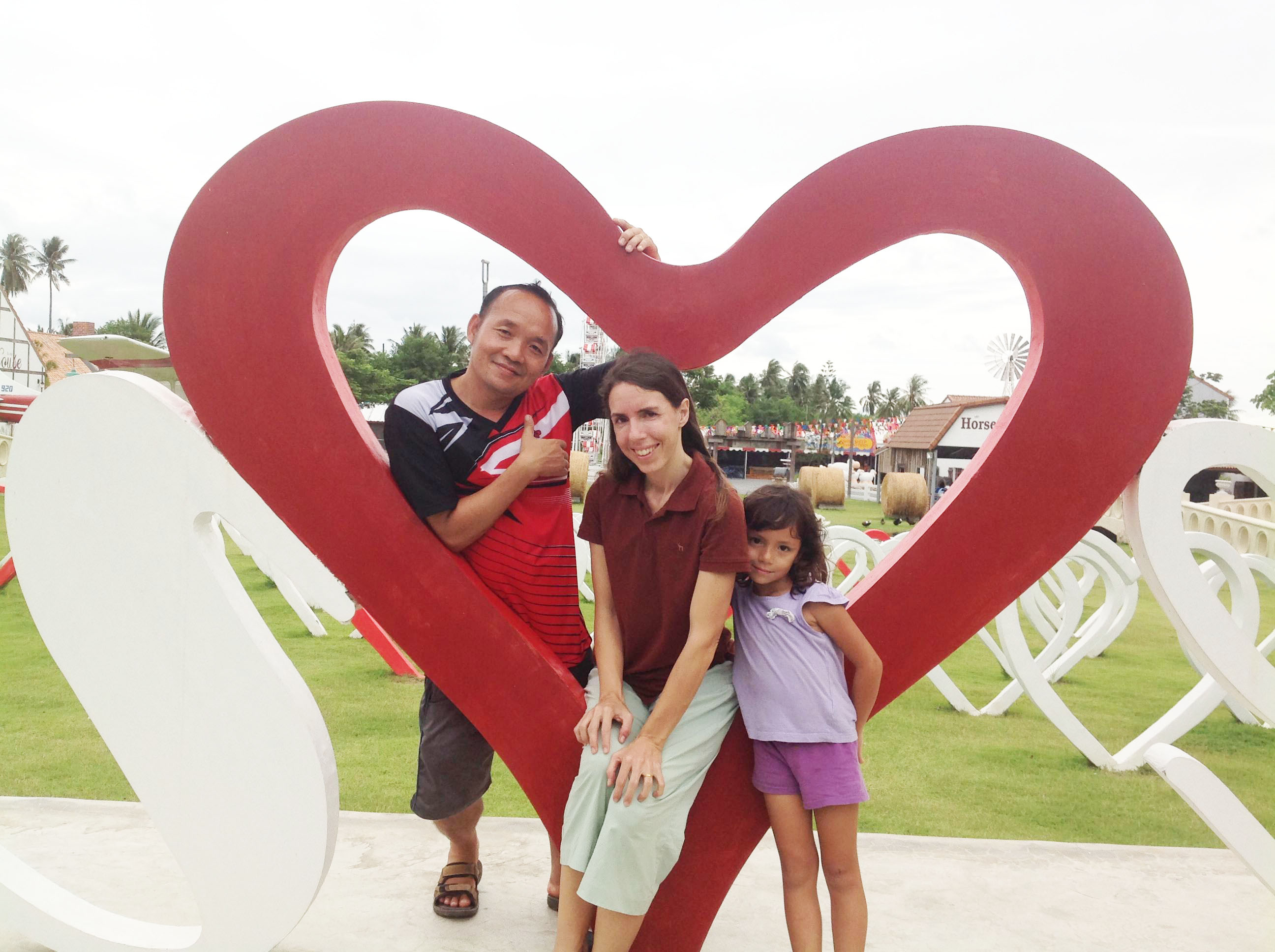 Shawna and Samantha however, blame other attitudes and misconceptions.
Shawna, who was the writer's elementary school teacher, thinks a Western lack of respect for Thai culture applies to personal relationships.
Samantha said preconceived cultural notions that white women may have about Asian guys are the reason there are few such couples.
"In the US, not a lot of white women like Asian guys, maybe because of old stereotypes like that Asian men want submissive women, or dumb jokes about penis size," she said. "Because we grow up like that, some women go, 'Oh, I don't want to date an Asian.'"
Tuning Out the Haters
For Samantha, Tum defies any negative stereotypes of being in a relationship with a Thai man.
"People like to say to me, 'I can't believe you have a Thai husband; they're all jao choo,' [cheaters] but my friends that actually know him will say, 'You're so lucky to get a honest Thai guy like him," Samantha said.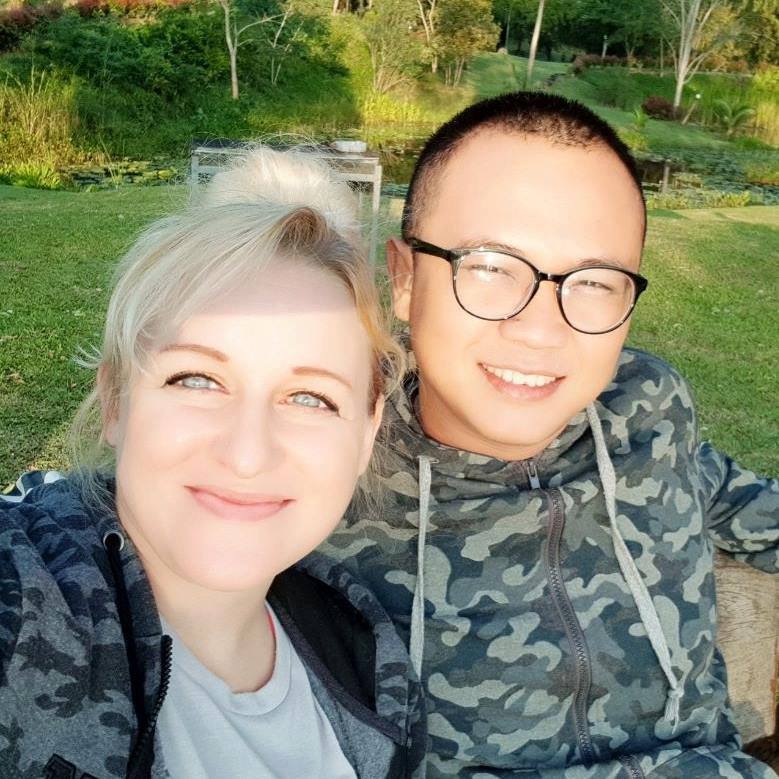 When they first started dating, she said Tum gave her all his phone and social media passwords and asked her to chase off women for him.
"Thai women seem to flock to him because he has a white wife, so some think he has something special like money. He will ignore them completely, but I'm a bit protective so I have to say 'What are you looking at?' or 'We're married' to her face," Samantha said.
She's often told Tum is merely with her for her money. Samantha does earn more than him but says that's only incidental.
"When I was an army teacher, I made practically nothing, or 14,000 baht per month," she said. "We would split the cost of things and he would get nervous about it. He said he didn't want me and other people to think he needed my money."
Happily Ever After?
Whether in sunny Ratchaburi, blustery Kirov, busy Bangkok or idyllic Koh Mak, all five couples said they've carved out a place of happiness.
Samantha and Tum live with their with their 9- and 4-year-old children in a house with a big yard and 10 dogs.
"We live comfortably here," Samantha said. "Our kids go to the local school and most of the time we speak Thai as a family. On Saturdays, we go hiking."
Maria and Itt plan to open a Thai massage spa in Kirov.
"I got a Thai massage license so I'm prepared. I can go anywhere with her, no matter how cold it is. Russians have a saying that there's no feeling cold as long as you have good coats," Itt said, laughing.
The couple had two wedding ceremonies: Maria's blog includes photos from small ceremony in Kirov two years ago and a big Bangkok wedding in November 2016. Those interested in #IttandMasha's story can follow them at their hashtag and her Instagram.
Eddy tells everyone his April 22 wedding to Natasha will incorporate Thai and Catholic ceremonies.
"I don't care what nation she's from. She could be Vietnamese or Russian or anything. I don't care if she can speak Thai or not. I love her, and that's all that matters," Eddy said.
Shawna teaches at International Community School while Tup is a pastor at a local church.
"We just need to love them; no one is perfect. If we put love in the center, everything will turn out to be the best for us," Tup said.
On Koh Mak, Jae wakes late in the morning, plays with his daughter James Ivonne Sittisarigorn, 1, and does some commissioned paintings before opening his bar at 6pm.
"It's so magical when someone from two different countries can share a life where what's mine is hers, and what's hers is mine," Jae said. "We met, extended bridges to each other, went through hardships together and from that we grew to love."
"We're in love, and we live in paradise," Maaike said. "I had to decide to spend the rest of my life in Thailand. All this made it easy."
Related stories:
Isaan Love Triangle: Thai Men Found Lacking by Farang-Loving Women