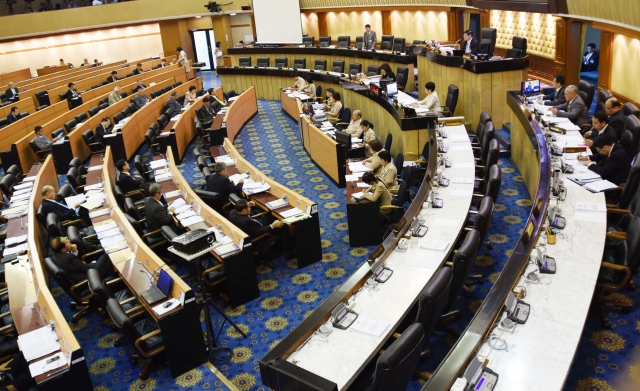 BANGKOK — The junta-appointed legislature's decision to send its senate bill for legal review could see elections pushed back once again.
Pornpetch Wichitcholchai, president of the National Legislative Assembly, petitioned the Constitutional Court on Monday to decide whether the measures it passed on selection of upper house members were constitutional. The assembly refrained from seeking a similar ruling on its bill pertaining to members of parliament, as Pornpetch said he feared it could further delay elections.
Acting Election Commissioner Somchai Srisutthiyakorn expressed a different opinion last week, saying if either of the two bills were to be delayed, elections could take place in February, as most recently planned.
Pornpetch added that any other agency could seek a Constitutional Court ruling on the MPs bill as well.
If the Senate bill is found to be unconstitutional, it will have to be rewritten. The term of the junta-appointed Constitution Drafting Commission ends when these and two other laws necessary to stage an election are completed.
Deputy Prime Minister Wissanu Kruea-ngam said Monday that it is up to Prime Minister Gen. Prayuth Chan-ocha to decide whether the executive branch seeks a court ruling on the MPs bill when it comes before his cabinet. If it goes through, Wissanu said, the bill will be presented to His Majesty for a royal endorsement.
Seeking to allay fears the legal maneuver means further delay, Wissanu said it should not take a long time for the court to decide and should not seriously affect the timetable.