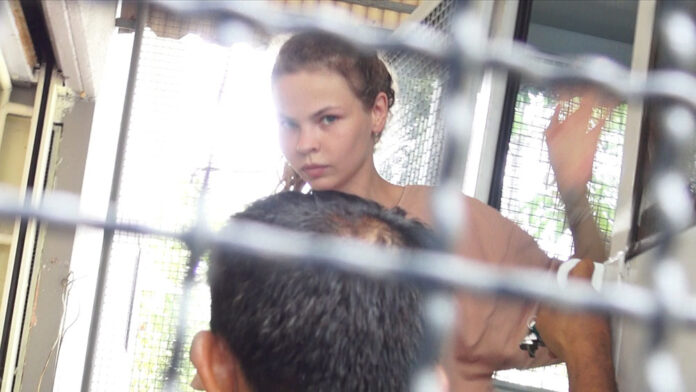 PATTAYA — The Belarusian escort promising to spill secrets about the election of Donald Trump following her arrest in Thailand appeared tired and in low spirits as she walked into the Pattaya Provincial Court on Tuesday for her first court appearance.
Anastasia Vashukevich exhibited a wound on her knees to reporters, saying "They beat us because we're Russians."
She was brought from Bangkok's Immigration Detention Center in a prison van with her mentor and boyfriend Alexander Kirillov back to the seaside town where they were first arrested in late February for hosting sex-training sessions.
Khaosod English Exclusive: Russians in Thai Jail Offer Secrets on Trump Election For US Asylum
Six others were also brought with them for attending the classes run by Vashukevich and Kirillov, where they were given spanking and strangulating lessons and for which they paid RUB40,000 (about 20,000 baht).
Vashukevich and Kirillov, who had cited fear of Russian persecution when pleading for American intervention following their arrest, had changed their tune yesterday.
The pair struck a more conciliatory tone toward Russia and accusatory one toward the United States.
"Actually, Russia may not be as involved as much as we thought, Alex said, referring to meddling in the 2016 US presidential election.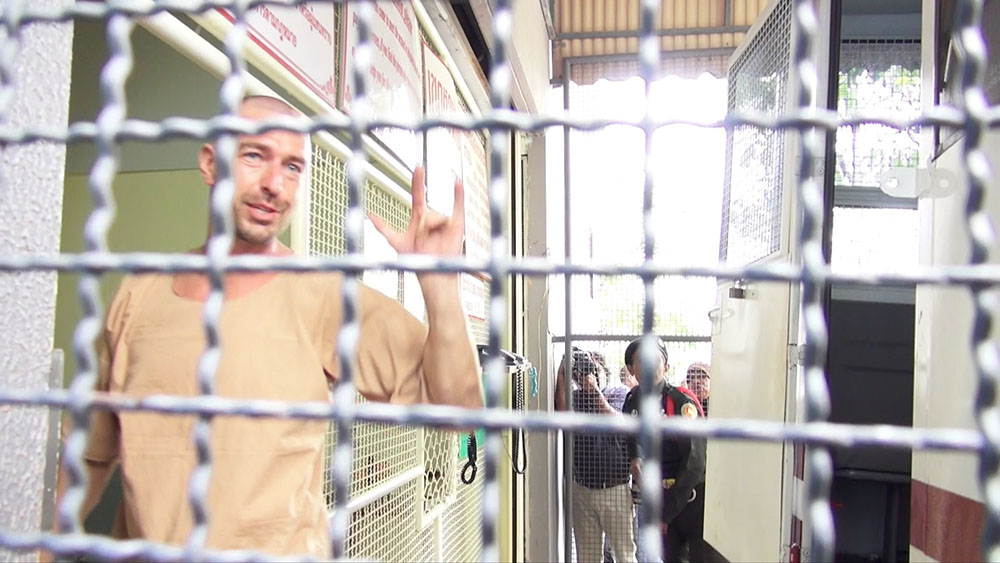 He added that he "received messages from FBI agents, telling us that they would like us to stay in jail for three or four months. That's why although we won our first case, they needed a second case against us. I think they want to find some information by themselves."
Anastasia confirmed she had video evidence of irregularities in the American election in several secure places, ready to be released "if I want it to," though Thai authorities have confiscated her phone and laptop.  She also appealed to Oleg Deripaska, her former lover, a Russian oligarch close to Vladimir Putin and former Trump campaign manager Paul Manafort:
"I want to say hello to Oleg Deripaska and tell him we were wrong, it is the Americans who want us in jail, not Russia."
The eight defendants were the most anxiously awaited suspects to arrive on a very busy day for the court, which reopened after a four-day holiday break: Many of the defendants still wore the floral Songkran shirts in which they were arrested, for drunken driving and brawling mostly.
Alexander Kirillov, aka Alex Lesley, appeared more relaxed, smiling to reporters, making victory signs and shouting in English and Russian, "Everything will be fine!"
Yet he also said , "Help us, we don't know what is happening."
They were cleared of charges that they had worked without a permit, because of "a new law since last July that allows foreigners to have freelance activities as individuals," according to their newly appointed lawyer, who declined to be named and was in charge of all other Russian cases that day.
They still face charges related to organized crime and soliciting prostitution, which were tacked on by police last week and which could see them in prison for up to 10 years.
The six other defendants apologized to family members present for getting caught up in a high-profile political case.
"That is not fair, facts have been distorted," said an elderly Russian woman related to Vadim Nehoca.
"All they did was attending a stupid training," added a Russian interpreter present at the court hearing. "Now they risk to stay in prison for years."
She added she had been pressured into not providing translation services for the case.
Related stories:
'Nastya Rybka' Teases Secret Recordings – Not For First Time
DSI Investigates Foreign 'Agent' For Threats to Reporters
Russians Offering US Election Secrets For American Protection Moved to Bangkok
Read Letter Offering Evidence of Russian Meddling Just Delivered to US Embassy
Khaosod English Exclusive: Russians in Thai Jail Offer Secrets on Trump Election For US Asylum
Pattaya Cops Crash Sex Class by Russian 'Sex Guru' and 'Oligarch Hunter'