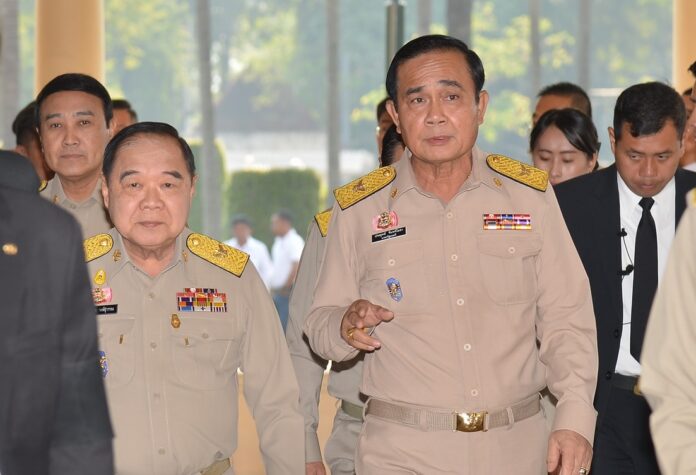 BANGKOK — Deputy junta leader Gen. Prawit Wongsuwan said Monday the junta is not luring politicians to support its return to power after elections.
With a growing list of declarations and defections that appear to be stacking the deck in favor of the junta leader serving post-election as an unelected prime minister, Prawit denied the junta is pulling the strings.
Pressed by reporters on whether doing so might be proscribed by the constitution, he said it was "unrelated."
The latest pro-junta defections came in the form of a Sunday announcement by the newly formed Thai Citizen Power Party. At a news conference, the party – which includes former members of the powerful Pheu Thai Party – said it would not rule out supporting Prayuth after Election Day or joining a like-minded coalition.
That prompted former Election Commissioner Somchai Srisuthiyakorn, a maverick who has alienated parties on both sides of the political divide, to criticize such politicians as lacking political ideology and discourage voters from supporting them.
"Indiscriminate luring without filtering whether the politicians joining are decent or not is not constructive politics," the former commissioner said in a live-streamed video.
Gen. Prawit deflected questions about why politicians are accusing the junta and Prayuth Chan-ocha, its leader who installed himself as prime minister, of behaving like a "vacuum cleaner" by sucking veteran politicians onto his side that might provide the parliamentary numbers to see him continue in that job.
"How could you ask me as I do not know," said Prawit, who had just returned from an official visit to the United States as deputy prime minister and defense minister. "Go and ask these politicians."
Last week, Democrat Party leader Abhisit Vejjajiva led the criticism by saying that efforts are being made to lure politicians into supporting the regime as assistants to ministers. This was followed by similar allegations made by Pheu Thai members. By Friday, during his weekly televised monologue, Prayuth denied he was enticing politicians and denied that the junta was like a vacuum cleaner.
Last Friday, Chuenchob Kong-udom, who has a power base in Bangkok's Bang Sue district, resigned from the Democrat Party without saying which party he would join, further fueling speculation the military government is bringing politicians with solid local electoral support in to support its ongoing rule.
That came just days after veteran Chonburi politician and former Tourism Minister Sontaya Kunplome, who was recently appointed adviser to the prime minister, backed Prayuth's bid to continue as prime minister. His sibling Ittipol Kunplome also received a flush post.
Their clan dominates politics in Chonburi province, with over half a dozen former MPs under its Palang Chon Party banner.