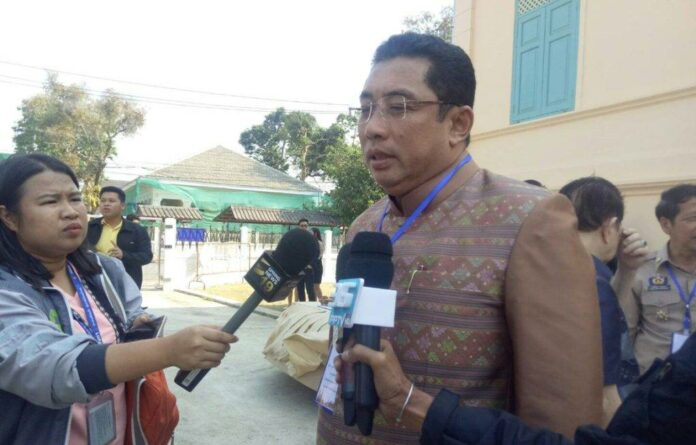 BANGKOK — A former Thaksin loyalist denies his appointment to advise Gen. Prayuth Chan-ocha was a political deal to help the junta leader remain in power after elections.
Several academics said Wednesday that Prayuth's recruitment of Sontaya Kunplome as an adviser is part of an effort to bring in seasoned politicians to support Prayuth's possible bid to retain his post post-election.
Sontaya, 53, was a former minister of tourism and sports under Thaksin Shinawatra from 2002 to 2005 and an executive member of the now-defunct Thai Rak Thai party. He is currently the de facto leader of the Phalong Chon Party which dominates provincial politics southeast of Bangkok in Chonburi. The party secured seven MP seats in the province in the 2011 general election.
Sontaya said Tuesday he accepted the appointment "for the country" and because he believes he can contribute to society, particularly on projects such as the Eastern Economic Corridor. He said he's familiar with the problems faced by the people in his area well.
"I insist this is not about politics or a condition for a political deal," Sontaya said.
Titipol Phakdeewanich, dean of Political Science Faculty at Ubon Ratchathani University, suggested that denial rang hollow.
"It shows an attempt to build a political base with influential political groups in the area in an attempt to maintain the power of the military post elections," Titipol said, adding that elections will likely take place when the junta is confident in having enough political support from some politicians.
"This is about paving the way for Prayuth to become prime minister," after a vote is held for the first time in years, possibly in February.
Prayuth's deputy, Gen. Prawit Wongsuwan, said Wednesday that it was up to Prayuth to answer whether the move was political horse-trading.
Walailak University political scientist Uchane Chiangsaeng said the political calculus is transparent.
"This is a process of extending the pipeline of power for Prayuth and his men… It is quite clear now that Prayuth is seeking and extension of political power and has become more addicted to power, perhaps more than the politicians he once criticized."
Uchane said that because elections are a must for the kingdom to be fully embraced by the international community, Prayuth, who staged the 2014 coup, needs to establish an electoral base.
"There will likely be more attempts to draw politicians into the [junta's] fold from now on," Uchane said.