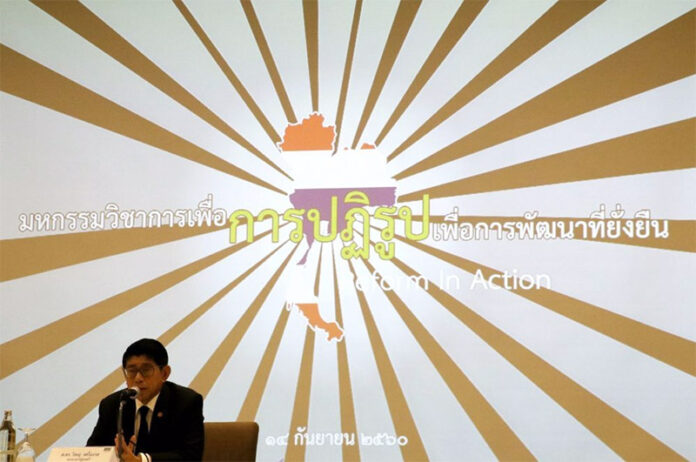 BANGKOK — Four years after the junta seized power and promised to transform the nation through comprehensive reforms, that process has made either no or slow process – and that's according to the people responsible for it.
Wanchai Sornsiri, a spokesman for junta-appointed Political Reform Committee, described it as progressing slowly Monday in comments defending the work after it was criticized by the head of another of 11 reform committees as going nowhere.
"The issues that affect people seem to be too slow," Wanchai said. "It's too slow. People want to see something that will be completed in one or two years, and nothing has been achieved as desired."
His tepid defense of the reform effort came a day after a graver assessment made Sunday by the chairman of the junta-appointed Law Reform Committee.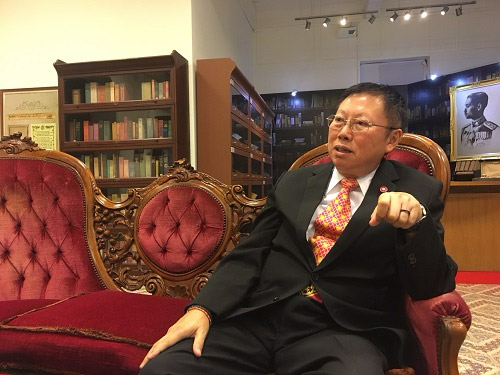 Bowornsak Uwanno said reforms in general have not really progressed beyond the planning stage since the junta came to power in 2014. Bowornsak, who was appointed by the junta to help write the new constitution – at least the first version it rejected – said he was dismayed at the lack of progress.
"I feel discouraged when I look at the overall picture of reform because I don't see how it will end," he said in a sit-down interview with reporters from Matichon and other outlets.
He cited the formation and dissolution of a series of bureaucratic bodies that were supposed to get the work done, such as 2014's National Reform Council, which he chaired until it was scuttled in 2015 after the first charter draft tanked. That gave rise to the National Steering Reform Council, which produced hundreds of reports before it was shut down last year.
"And then it was dissolved and replaced by 11 reform committees, of which each committee only has plans," said Bowornsak, who heads the one on reforming the nation's laws. "Then it's the bureaucracy that will execute them. I don't think having the bureaucracy execute reforms will succeed easily, because it's like asking those who must be reformed to … reform themselves."
After taking power in 2014, the junta promised to put in place comprehensive reforms across the board before it ceded power. The work of the current 11 committees are supposed to lead to 20-year action plans future governments will be legally bound – or shackled – to implement.
"So I am not sure if reforms will succeed or not," he said.
Wanchai of the political reform committee gave a slightly better assessment.
He cited progress in at least three areas: his committee on politics as well as those targeting corruption and Bowornsak's own legal reform comittee.
He admitted the progress may not be visible to the public.
Wanchai said major structural reforms have yet to be achieved, although he said having a new constitution and supporting legal framework is leading toward political reform that will take place after elections. On anti-corruption reforms, Wanchai said the court has already been handing some corruption cases and this is part of the reforms that are taking place. He did not single out any particular case.
"We can deal with corruption in a swifter manner," the spokesman said.
As for reforming the civil service, Wanchai said he believes it will take place, though he can't predict when.
"We have plans for everything already, and the charter stipulates that reforms must be completed in five years," he said.