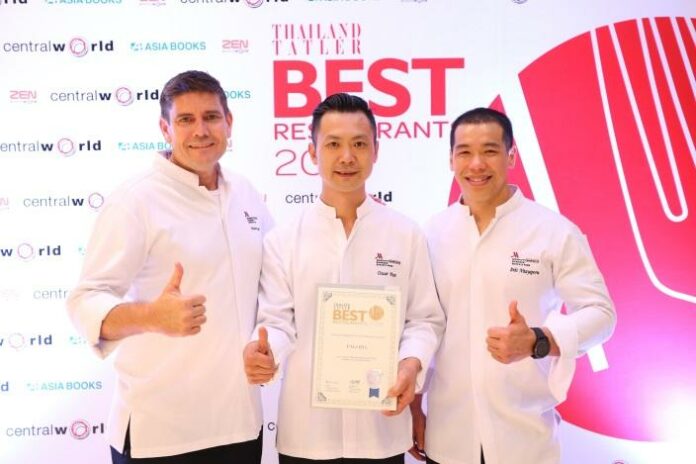 BANGKOK — Pagoda Chinese Restaurant remains the pride of Bangkok Marriott Marquis Queen's Park and heaven on earth for food connoisseur. The restaurant has recently been selected as one of the places that offer finest dining experience in Thailand Tatler Best Restaurants 2018 for the second consecutive year. 
Readers of Thailand Tatler, a leading lifestyle magazine of Thailand have voted for Pagoda Chinese Restaurant as one of the best in the nation. Pagoda joins others as exquisite spots for diners in Bangkok and beyond. The selection process started when food writers of the magazine visited Pagoda Chinese Restaurant as "Mysterious Diner" and rated their experience based on ambience, food, wine and overall management of service.
Mr. Nigel Oakins, Chairman and CEO of Blue Mango Publishing, hosted the launch of Thailand Tatler Best Restaurants 2018 on 23 April 2018 at Zen Event Gallery, Zen Department Store at Central World. Distinguished guests especially those game-changers in tourism and hotel industry were offered varieties of delicacies from prize-winning restaurants. Chef Oscar and his team presented the gem of Pagoda Chinese restaurant, Chef's Signature Crispy Roasted Pork. He chose to use only quality pork belly with just-right thickness. The pork was delicatedly marinated and cooked in the oven three times until nicely marbled with layers of crispy skin, thin and aromatic fat, and tender meat. The beautifully moist and flavorsome roast obviously won the hearts of prominent guests that night.
All menus served at Pagoda Chinese Restaurant are prepared using only the finest local and imported ingredients. Some spices, seasonings or specialties that are unavailable in Thailand are flown in directly from Hong Kong and China, where the menus were originally created. Chef Oscar works to ensure that every dish is carefully crafted with the aim to impress all gourmet eaters. His menus are nicely paired with Chinese tea and Pagoda's excellent and extensive wine list.
At the Bangkok Marriott Marquis Queen's Park, Pagoda Chinese Restaurant welcomes you all for lunch and dinner. For reservations and further details, please reach for our friendly staff at [email protected] or simply call 02 059 5999.