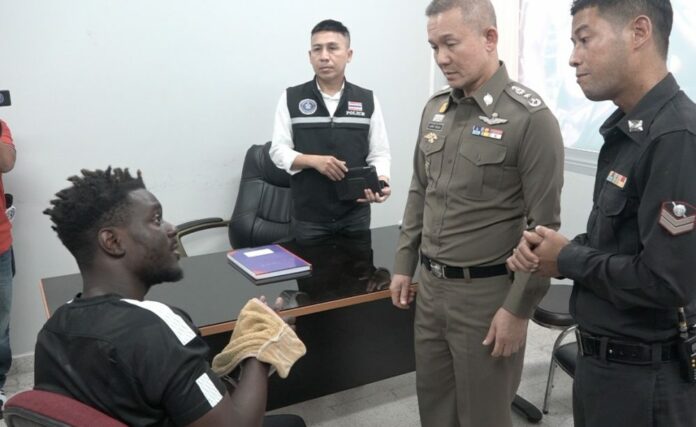 KOH TAO — A French cop accused of raping an 18-year-old Briton on Koh Tao was released Saturday from police custody and cleared to leave the country after nearly two months of investigation.
Yohann Michel Tounga Mbouka, a 25-year-old police officer on holiday in Thailand with a group of colleagues, saw his life turned upside down in early April after a one-night stand with a young British backpacker who later accused him of drugging and raping her.
"Actually we quickly realized he was innocent," said Koh Tao police Lt. Col. Napha Senathit, in charge of the investigation. "But once a police investigation involving a foreigner is launched, everything takes time. We have to send documentation to Bangkok, wait for drug results."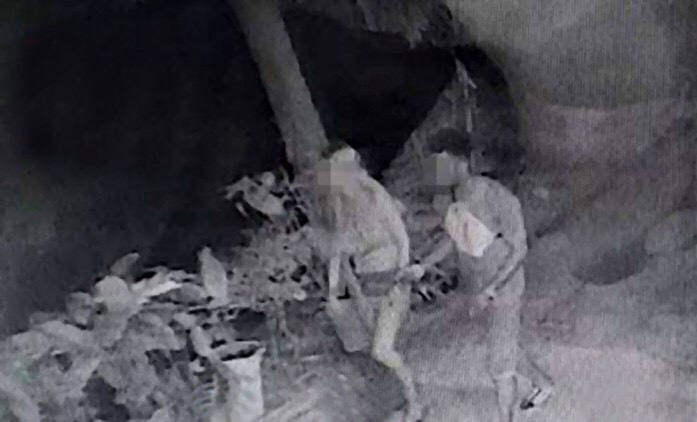 For two months Mbouka could not leave Samui, where he was arrested three nights after the two met. Between 200,000 baht for bail, 150,000 baht in lawyer fees and a new ticket home, he said it cost him about 450,000 baht.
Police said witnesses and CCTV evidence confirm Mbouka's version of what happened that night.
On April 4, after dining with colleagues, he met Bethlyn Kennard at a beach bar on the southern resort island of Koh Tao, where she was partying with another young British woman and a Turkish man.
Read: Frenchman Accused of Raping Briton on Koh Tao
"We started to flirt, then we kissed, in the bar, in front of everybody," he said in a Friday interview, a day before his release. Witnesses confirmed seeing them kiss in the bar.
The two then headed upstairs for privacy. Upon their return, they realized their friends had left. Mbouka asked Bethlyn to follow him to his room nearby at the Wind Beach Resort,  "which she agreed to," he said. CCTV cameras show the young couple walking hand-in-hand to the hotel, leave the room "to get a bottle of water from 7-Eleven" then walk together to the room again.
"These video cameras, as well as witnesses from the bar, were the key elements to conclude the defendant was innocent," Napha said.
Kennard spent the night in Mbouka's room. Police shared a selfie taken showing the two embracing in a state of undress.
"We had sex again in the morning, when nobody had anything to drink," he said. He then took her to a taxi, where she kissed him goodbye, an exchange also caught on camera before returning to her friends.
Three days later on April 7, as he got off a bus on Phuket, Mbouka found a police team waiting for him. He was taken back to a Koh Samui jail to answer rape charges. Bethlyn had told her friends and family that she had been drugged and abused, and her mother had called the British Embassy in Bangkok.
"I think she has been caught in her own lie," Mbouka said, "and then forced to press charges not to lose face."
Following his arrest, his picture and name were published on Thai and British press as a reviled rapist.
British tabloids were particularly aggressive: "Drugged and raped, holiday horror" was the The Sun headline, whereas the Daily Mail recounted in racially tinged language that the "blonde woman … had been partying with the man … of African descent…" Far-right French websites outright called him a "monkey" and a "fake French destroying the image of France."
Other factors may have contributed to the length of the investigation, including the involvement of the British Embassy.
Napha said that although "they didn't contact us directly, we knew they were in contact with the mother of the alleged victim."
Secondly, increased scrutiny of accusations involving sexual assault in the current, global climate of #MeToo. There is also a particular sensitivity on Koh Tao, which has been dubbed "Death Island" since the gruesome 2014 murder of two English backpackers – one of whom was raped – and other suspicious deaths of foreigners.
Kennard declined to comment for this story. Meanwhile, she has been continuing her travels. Mbouka said he's been able to follow her holidays in Southeast Asia, as she never removed him from her Facebook and Instagram friends.
Police did not say whether they would file a false report complaint against Kennard, who has already left the country.