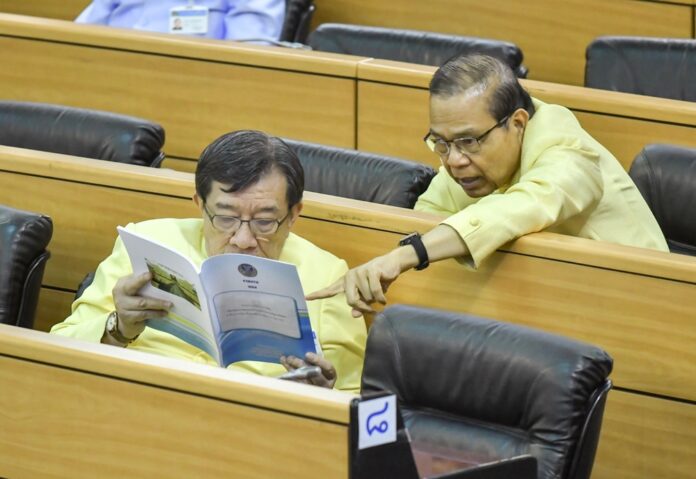 BANGKOK — More than three quarters of the bills made into law by junta-appointed legislators have been passed without a single vote of opposition, according to a legal reform advocacy group.
The Internet Reform Dialog group found that 77 percent of 292 bills have been passed in their third reading without a single nay, a statistic one prominent assembly member says is misleading as it only focuses on the outcome rather than process of deliberation.
Wallop Tangkananuwat, an appointee to the National Legislative Assembly, or NLA, said the unanimous votes are only achieved after earlier readings and debates have arrived at agreeable legislation – not the sign of a rubber-stamp body for the ruling junta.
"The NLA has never received any phone call from the government to vote in a specific way," Wallop said.
But Nipit Intarasombat, an eight-time former MP with the Democrat Party, said those results would only appear normal before a parliament appointed by a dictator.
"It's normal. That's how the system work. In a dictatorial system, it would be abnormal if there are voices of opposition. I have stated earlier that there's no need to have the NLA. It's a waste of funds," the veteran former MP said Monday.
Each of the 248 current NLA members, all appointed by junta leader Gen. Prayuth Chan-ocha, earn a base salary of 113,560 baht plus per diem expenses for meetings and other perks.
The iLaw researcher who reviewed the voting records said the lack of opposition was to be expected.
"I am not surprised," Narongsak Niamsorn said. "This is a parliament that was appointed by a coup regime. Their voting habits would go one way."
Narongsak pointed out that this is worrisome but understandable given that out of the current 248 NLA members, 144 are active-duty or retired military officers, 66 are government officials and 11 are from the police force. That adds up to 221 – 90 percent – of the body's 248 members.
Narongsak concluded that the NLA is a rubber-stamp parliament.
"I think they are afraid to show conflict," he said. "They want to maintain an image of unity. It's not natural, however."
Wallop defended the NLA, saying it's a misconception to think there exists no opposition within the NLA or that the NLA is a rubber-stamp parliament. He said a lot of debate and even nuanced voting occurs before the third and final readings, and that's when some articles of a particular bill get amended.
The NLA member who has often taken to the floor to air his disagreement on details of many draft bills, said it's customary for the body to show a united front after differences have been settled prior to a final vote.