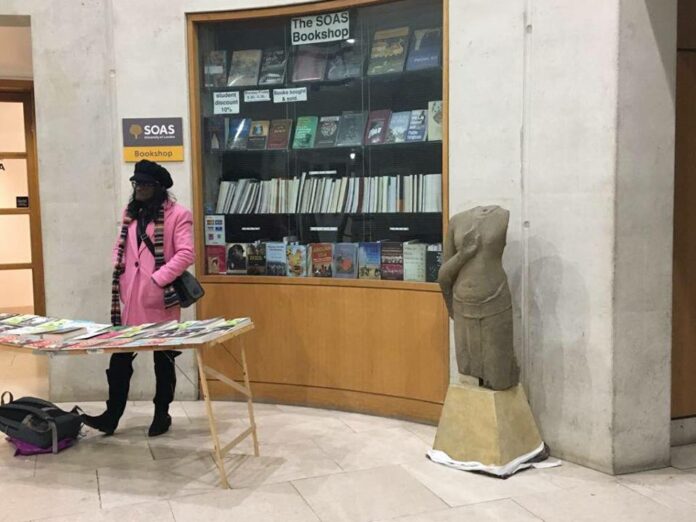 BANGKOK — Thai authorities on Monday said they're looking into accusations a prestigious London college accepted a 13th century sculpture possibly stolen from the kingdom.
A student at the School of Oriental and African Studies, or SOAS, is accusing the college of receiving the Buddha figure, thought to have been built during the Sukhothai period, from a pair of wealthy donors without conducting a proper background check. The school denies the allegation.
The student, Angela Chiu, said that she spotted the one-meter statue on the campus in March. The centuries-old artifact was simply left standing in a corner of the building, called Brunei Gallery, without any minders.
"It was very unusual to see," said Chiu, who studies Sanskrit. "As you see in the picture, no one seemed to care."
Chiu said she later inquired about the sculpture and was told by university staff that they received it as a donation from an American couple, both alumni, Mary Slawson and Paul Slawson, who reportedly bought it "about 30 years ago."
In a letter to Chiu shared with Khaosod English, the university said "no papers providing evidence of the history of the ownership are available."
Chiu, who also published the accusation on her website, said she's concerned the figure might have been looted, a fate that has befallen many historical artifacts from Southeast Asia.
"I'm angry about this. SOAS is supposed to be a model for the highest ethical and professional standard of cultural property," she said Friday. "We have special understanding of Thailand and other countries, so we should be treating cultural property from these countries with the greatest respect."
Decades and centuries after the colonial era saw Western museums fill with plundered cultural heritage, some efforts to right those wrongs have been undertaken.
Two years ago, an American museum returned to Cambodia a 10th-century Khmer statue looted during that country's civil war three decades earlier.
Then there's the famous case of the Narai Bantomsin stone lintel, which was looted in the 1960s from Wat Phanom Rung in Buriram province. It was later spotted in a Chicago museum and eventually returned to Thailand in 1988.
More than 500 pieces of artifacts stolen from the site of a Bronze Age settlement in the 1970s were also returned to Thailand in 2014 by a Californian museum, following a five-year long federal investigation.
Possessing, importing or exporting stolen artifacts is illegal under both Thai and British law. In 2003 the United Kingdom banned dealing in any "cultural object that is tainted, knowing or believing that the object is tainted."
Chiu said that if there was no evidence confirming the statue's provenance, it should not have been accepted.
"At this point, I think they should negotiate its return to Thailand," she said.
Representatives with SOAS said her accusations are groundless.
"We strongly reject any suggestion that SOAS University of London has handled this donation improperly. The allegations made in the blog post are without foundation," a publicity team wrote in an email.
It assured that all of its due diligence policies and procedures were followed.
"In line with this policy, before accepting the gift, checks were carried out by our experienced Galleries and Exhibitions Manager and included placing the details of the object on the Art Loss Register (the largest art database in the world for lost or stolen artworks and artefacts)," it continued.
A foreign affairs ministry spokeswoman said Monday she had not been aware of the issue but would look into it.
The task of verifying Thailand's potentially looted artifacts in overseas possession lies with the Fine Arts Department. Its deputy director, Methadol Wiehakana, said his team is standing by for an order from the Ministry of Foreign Affairs to fly to London and check if the statue was indeed taken by illegal means from Thailand.
"We will use diplomatic and legal means to solve the issue," Methadol said.
Correction: An earlier version of this story mistakenly identified Angela Chiu as an art student. She in fact studies Sanskrit.