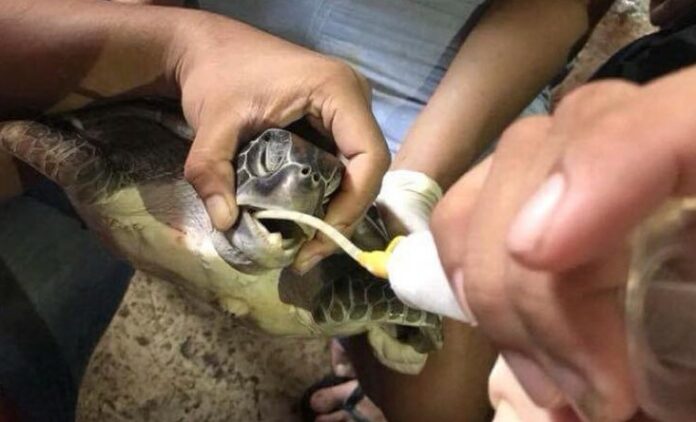 BANGKOK — A fatal diet of plastic waste once again has taken a toll in the sea, this time a green sea turtle that died despite the best efforts of veterinarians.
In the wake of a whale that died vomiting plastic bags and massive toxic and plastic waste found dumped in metro Bangkok, the deteriorating environmental situation was blamed for the death of the turtle, found ashore last week in Chonburi province. A top police officer has vowed stepped up action against illegal waste import.
The turtle was found aground at the port in Laem Chabang, according to environmental group ReReef. A large amount of plastic waste was found in its stomach, and despite a two-day effort by a vet team, it died.
"This green sea turtle died prematurely because it ate plastic waste, causing it to lose its appetite," ReReef said, adding that it led to multiple organ failure. Types of plastic materials found in its stomach included rubber bands, plastic and nylon ropes, plastic bags and pieces of fishing tools.
On Sunday, a deputy police chief said the customs department has been notified to review all companies involved in waste import and toughen its inspection in response to discovery of massive loads of illegally imported garbage.
"We have not found any government department conspiring with this illegal activity. It also happened because of loopholes in our laws," Gen. Wirachai Songmetta said. "The Customs Department is not able to examine all containers. That's how they slipped into the country. … All types of electronic waste will be X-rayed."
He added that an audit by the revenue department found 12 such companies that are importing old electronics from countries that are not allowed to export waste to Thailand and are therefore committing tax fraud and evasion.
China was a large importer of the world's waste and recycling materials until a 2018 law that limited what could be imported, forcing waste-producing nations to seek other channels.
Over 200 metric tons of plastic and electronic waste were found dumped Friday in an unlicensed factory in northern metro Bangkok. Police suspect it was brought in from other countries as all employees in the facility were foreigners – mostly Chinese. The authorities said the waste posed a toxic hazard if not disposed of properly.
On June 1, four containers with 58 tons of plastic waste stuffed into them were found in the eastern district of Lat Krabang. Wirachai said they belonged to a company licensed for importing plastic waste, but the stock was dirty or contaminated with chemical substances, which is not allowed as it cannot be recycled or reused.