Top: Phetcharada 'Minor' Pacharee, at right, readies model
Kitarang Tasee for a flying suspension.
Fhwap! Fhwap! A dark leather whip cracks over a woman's bum and thigh again and again. She's blindfolded and tied up; her whimpers audible across the room.
Next to the weeping woman is another couple. A man tugs at red ropes, preparing to complicate the lattice-work of knots securing his partner, also blindfolded, who lies quietly on the floor in silent submission.
This scene of light BDSM free-for-all erupted in the aftermath of a more somber demonstration of the craft. More than 50 people are squeezed inside a small venue off Charoen Krung Road on a recent Friday night to gather beneath a steel pulley hanging from the ceiling. A meter below, a so-called shibari master restrains a model with complex knots, tying her ankles, wrists and upper back to a downtempo soundtrack.
With a pull, the master draws the ropes in through the pulley to let the model fly, leaving her suspended and swinging midair.
Shibari is known locally and internationally as a Japanese bondage art. It traces back to Japan's feudal Edo era when samurais used ropes to restrain prisoners of war. It resurfaced centuries later in 1950s fetish photography before finding its way into the BDSM scene. That's bondage, domination, sadism and masochism – if you have to ask.
While Japanese culture has much influence in Thailand, from manga and J-pop to food and fashion, shibari is little known in the kingdom. But recently, it's emerged from Bangkok's underground fetish scene to occasional semi-public performances at select venues.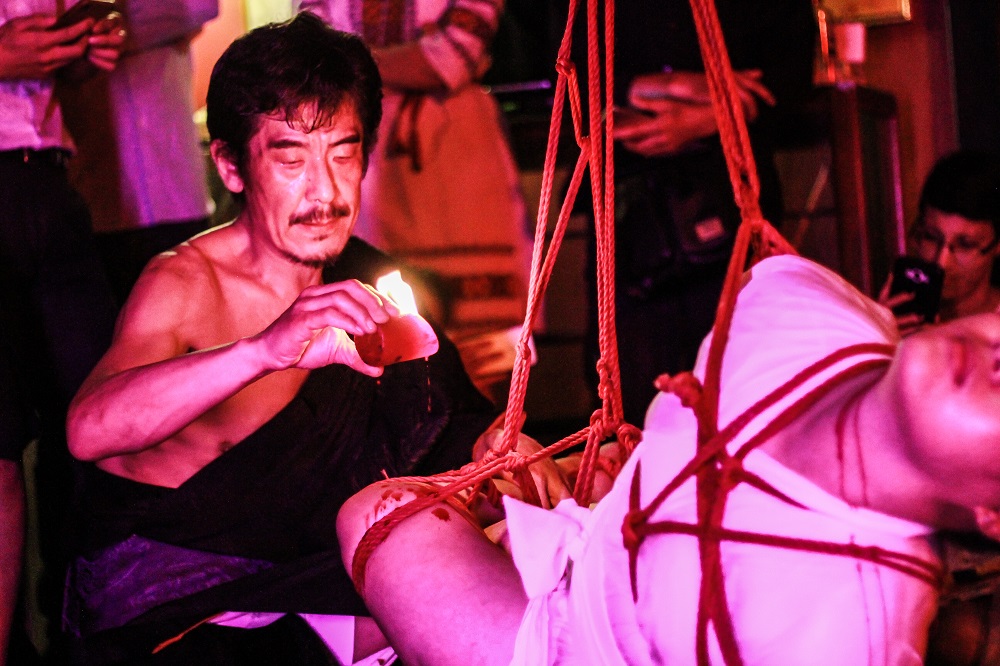 Local Kink
Chukiat Eagnam was a 10-year-old boy in Korat when he discovered shibari. During the Vietnam War, the foreign soldiers who stayed in his family's rented rooms would often leave behind porn magazines. Chukiat flipped through the pages curiously.
"My grandma hit me so hard when she found out," Chukiat said. "But that was the very first time I saw pretty women being tied up in beautiful knots."
It was in the early '90s that Chukiat moved to Bangkok and started performing shibari. Back then on the early internet, he joined a Thai cult forum called Dungeon Thai. The group, which no longer exists, was a place where members exchanged information on sexual fetishes including rope bondage.
Knowing how to tie knots does not mean one can perform shibari. And among shibari practitioners, only a select few can be considered masters.
Chukiat is one of only five Thai shibari masters who can do suspensions. Most of them prefer to keep their identities anonymous. If they go public, they worry their day jobs might be affected. Some even keep their expertise a secret from their spouses.
"It's still a long way for our country to accept this," Chukiat said. The 48-year-old man occasionally performs at Barbar Fetish Club in Soi Patpong 2.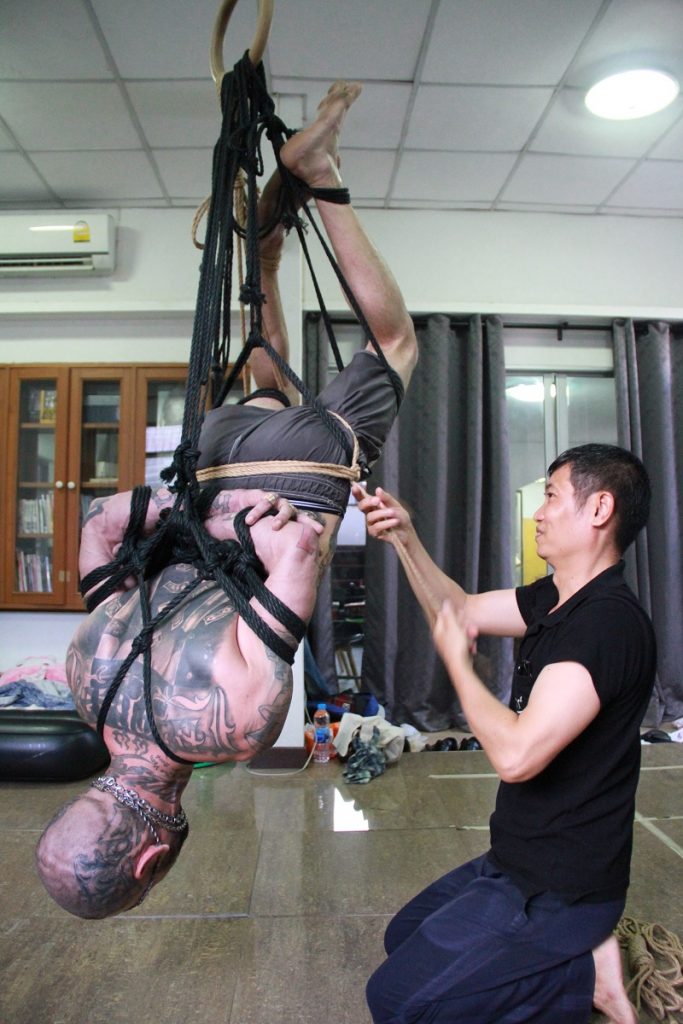 Despite its famously robust nightlife and infamous commercial sex industry, Thai values hinge tightly on a conservative identity. For examples, Thai censors ban any sex scenes as explicit, and sex toys remain illegal.
Some people promote more liberal views.
Phetcharada Pacharee, known as Minor, is not only one of the five masters who can do aerial suspension – she is also the one who first brought it into the public realm when she staged a live performance over a year ago in Bangkok.
The 32-year-old, who identifies as bisexual, said she only started taking shibari seriously about two years ago. Her first experiment with self-suspension took a bad turn – or twist – leaving her ankle in a cast for months. But through trial and error, she is today at the forefront of the scene.
Inside her home in Bangkok's Chatuchak area, a wooden ring hangs from the ceiling of her living room. There she has welcomed Thais and Westerners interested in seeing her work or taking a lesson with her.
On a recent Saturday, a Frenchman who identified himself only as her student practiced winding ropes around the body of a fellow countryman while a Thai photographer armed with a Nikon prowled around to find the best angles to shoot. They together shared glasses of beer afterward.
"I believe that we can be a community like other countries," Minor said, mentioning France and Germany where shibari is widely practiced and even taught in yoga classes.
Safety First
Back at Maison Close, a man introduced his girlfriend to Japanese shibari master Yayoi Yoshida who would pair with the young lady, tying her up in knots for the live shibari show in front of a large crowd later that night.
As with most fetish communities, the power lies more in the submissive partner than the hand that holds the rope. Limits are to be understood and respected.
"Do you have any conditions? Any injuries I should know about? Can I use a whip?" Yoi asked the young woman via a translator.
"It's my neck. If I do this pose, it hurts. It's my ribs, it would hurt if I float in midair," the woman said.
The elder sensei, Yoi, must know her models' physical limitations before she performs to make sure everything goes smoothly.
If not careful, rope suspension can be fatal. Caused by the carelessness of the "master," brief numbness of a restrained "slave" can worsen to them being fainting, suffocating or breaking bones.
Yoi expressed her concern that amateur newcomers are rushing to learn from YouTube without knowing the basics or human anatomy, which is vital in this ancient erotic art.
"You can't just follow your whims. Shibari is about safety and communication. These are the core," said Yoi, who is now an owner of two rope-play bars in Shinjuku and leads shibari workshops for students who travel from around the world.
"I want Thailand to have more shibari professionals so they can advise and teach people about this," Yoi said.
'Doesn't Need to Be Sexual'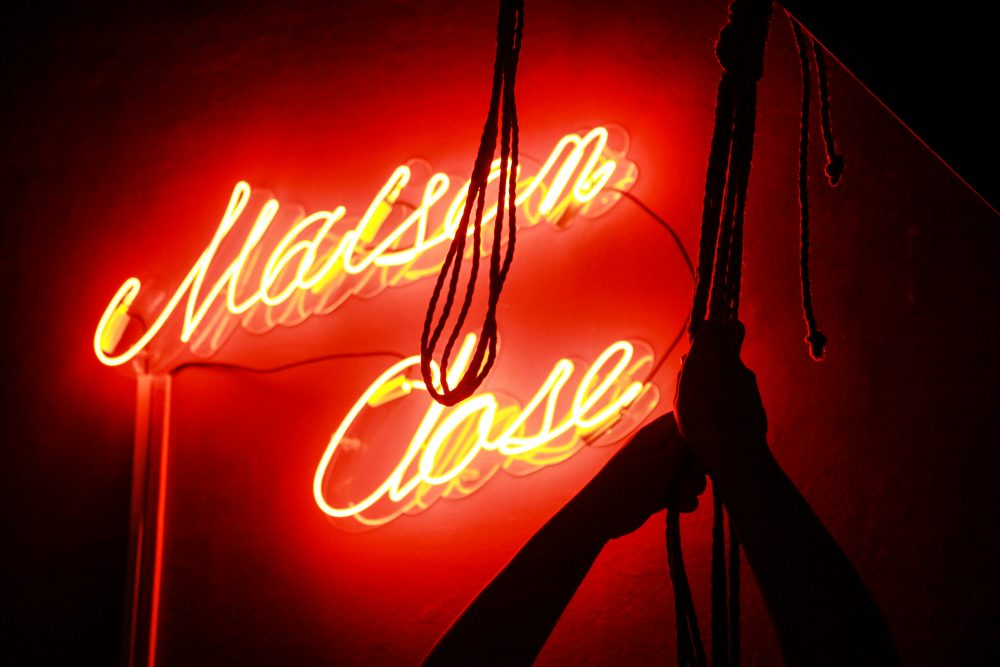 Talking about shibari, outsiders might automatically think of pain, kink and sexual gratification.
But it would be a mistake to assume it is anything overtly sexual for shibari practitioners on either ends of the rope. For some it is recreational; for others a form of "rope therapy."
"It doesn't need to be sexual," Minor said while tugging on the end of a black jute rope, breaking her model freed in one deft movement.
"There was a guy who got creative block, so he came over and asked me to tie him up," she added.
Since long before the Marquis de Sade, ecstasy and pain have been conflated by societies throughout the world for thousands of years, whether to create altered states of consciousness, explore personal limits or get off on something hot and sexy.
A straight line runs from the bloody hook suspensions of European body artists to the Maa Song (spiritual horse) of Phuket, who enter trance states to drive swords through their faces under the guise of spiritual possession.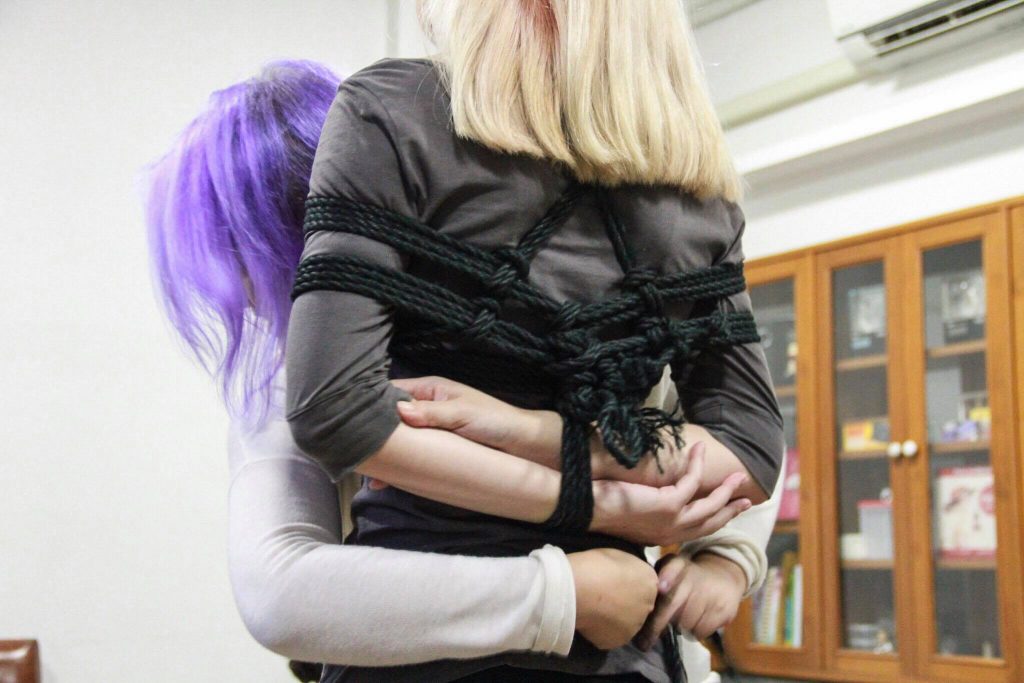 And like the annual catharsis that brings to island inhabitants during the Vegetarian Festival, it's more about catharsis than perversion.
The art form of bondage even takes another step, spiritually, to give a state of consciousness – living in the present.
On the southern island of Koh Phangan, a destination for spiritual seekers, British master Bodhi Zapha offers five-hour shamanic bondage sessions at Shibari Healing. Saying the practice has nothing to do with BDSM, the site says major benefits include emotional release to rid oneself of rage, fear, guilt and shame.
"The other day I was tied and left for an hour at the back of the house. It's one of the few moments that I am really with myself," said one of Minor's models, who asked that her name not be used.
Minor's "rope bunny" Kitarang Tasee described being tied as "having a massage."
"It's painful, but at a level I can handle. It's that discomfort that gives me pleasure at the same time," Kitarang said. "More importantly, it's a time I am given a space to concentrate only on me, my body, my self."