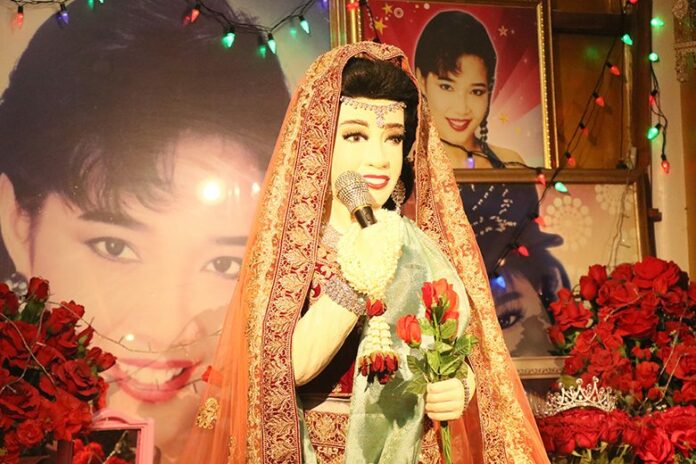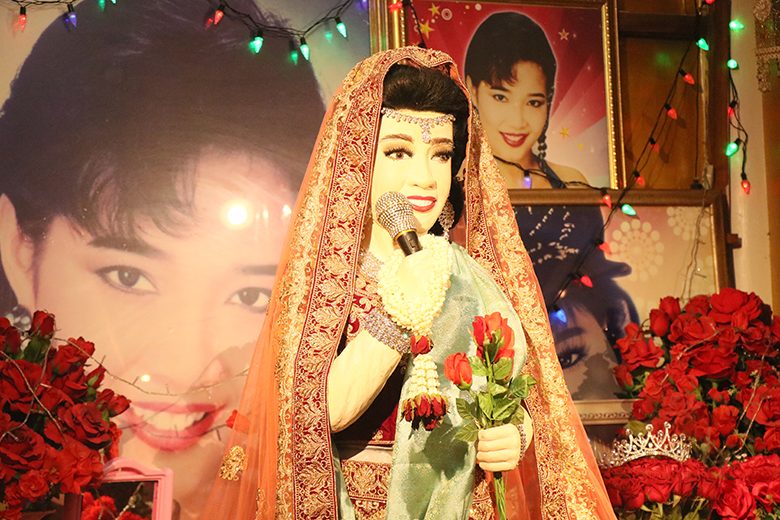 SUPHAN BURI — A festival paying tribute to the Queen of Luk Thung attended by tens of thousands of fans continues through Sunday at a temple in central Thailand.
Since last night, Wat Thap Kradan in Suphan Buri has been overrun by luk thung fans and artists commemorating the 26th anniversary of the death of Pumpuang Duangjan, the megastar who pioneered electronic luk thung from the late '70s until her death at 30 in 1992. She was first discovered at the temple.
An audience of more than 10,000 bobbed along to Pumpuang's son Pakkawat Pisitwuthiratch, husband Kraisorn Saenganan and artists such as Lumyai Hai Thongkam as they sang covers of Pumpuang's songs Wednesday night through early Thursday morning.
"All the time I've been a luk thung singer, I've held to the values of hard work and perseverance from the Queen of Luk Thung herself," said luk thung singer Paowalee Pornpimol.

Paowalee covered "Nak Rong Baannork," "Poochai Nai Fun" and other hit songs. In 2011, she also starred as Pumpuang in "The Moon," a 2011 biopic of the artist.
"Standing here today, I want to sing for Mae Pheung, Pumpuang Duangjan, and her fans to hear. She is the queen in our hearts forever," the young singer said, referring to Pumpuang as "Mother Peung" – her nickname among fans.
Others brought red roses and fortune-telling sticks to shake in front of Pumpuang's five shrines – each of which held a doll in her likeness. Lottery ticket vendors quickly sold out of any tickets printed with No. 26.
Cars reportedly stretched for kilometers to reach the temple.
Pumpuang Duangjan, born Ramphueng Chit-han in 1967, hailed from a family of poor farmers when she was discovered by a traveling band at 15 at Wat Thap Kradan. She was known for mixing luk thung country music with electronic innovation – a sound ubiquitous today. She released about 60 albums and starred in dozens of films and soap operas.
Though illiterate – having attended only two years of school – Pumpuang memorized the lyrics to more than 600 songs.
Over the years, a series of managers, lovers and husbands leached the earnings of her stardom, leaving her destitute.
She contracted lupus and was unable to afford medical treatment. She died at 30 on June 13, 1992, from complications of the disease.