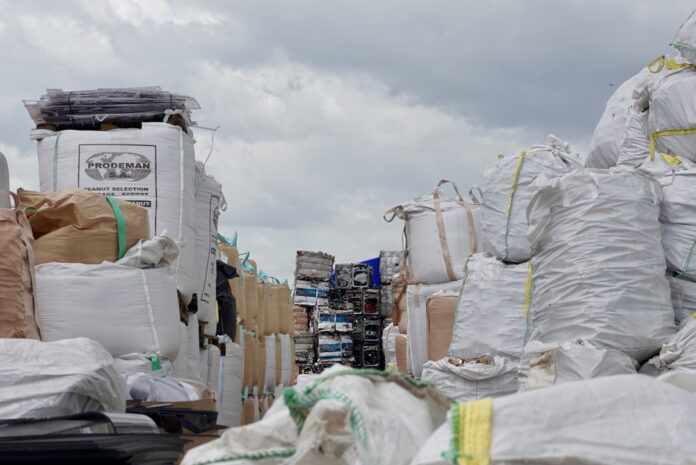 BANGKOK — From afar, there's no missing the eye-popping towers of oversized plastic bags piled together in the middle of a large field just north of Bangkok.
The bags, stuffed with computer components, electronic circuits and much more, drew police to raid the 7-rai (1.12 hectare) plant last week on allegations it was illegally importing and processing electronic waste. By Wednesday, JW Metal Recovery Intergroup Co. Ltd. was shuttered, with no-entry signs posted at the main gate. A shirtless man inside the office waved visitors away.
Two doorbell chimes coaxed out a Chinese-speaking man who did not understand Thai or English. He came to the gate and dialed his phone to reach a Thai woman who identified herself as the venue's caretaker.
"The factory is closed. No one is allowed to come in," the woman said via a video call, identifying herself only as Pui. Pui said the owner of the factory is not Chinese, and the men inside the compound were tenants renting some rooms inside. She refused to provide any further information about who owned the facility, where the trash came from or what legal jeopardy it faced.
The men, all foreigners, were visibly jittery at reporters' attempts to peek inside the premises, let alone take photos and video. One man shadowed and took photos of the reporters while telling them to stop filming.
Several illegal waste disposal sites have been raided this month as part of a crackdown. Over 200 metric tons of electronic and plastic waste were found piling up at the JW Metal Recovery plant, which is located in the Khlong Si area of Pathum Thani province.
Gen. Wirachai Songmetta, deputy police chief, said Thursday that police are still trying to figure out the source of the waste, which has worried local residents and drawn scrutiny from the authorities.
"I think it's ironic that we are promoting recycling and plastic reduction, but at the same time we import colossal waste from other countries," local health official Aswin Wongnak said Wednesday.
After the news of the raid spread, the factory's neighbors, especially those who farm, expressed concern about possible hazardous contamination from the electronic waste, local administrators said.
The farmers aren't familiar with it – and neither are the officials tasked with figuring out what to do with it.
"Our general duty on waste is collecting communities' garbage and burying it," said Surun Onwan, a top Klong Si administration official. "Sometimes we have no idea what kind of waste is toxic, and we don't know how to deal with it."
He added that they only started to study the issue when news of the illegal plant broke out.
Environmentalists however said no one should be surprised.
"It's not new at all," said Tara Buakamsri, director of Greenpeace Thailand. "But the problem has become more apparent because of a higher rate of electronic waste trading."
Trash Hub?
The world produced 44.7 million metric tons of e-waste in 2016, according to a report last year by the International Telecommunication Union, a UN agency. That number is predicted to reach 52.2 million metric tons in three more years.
A lot of that trash is coming from the West.
The union report said 76 percent of electronic waste generated by developed nations is "likely dumped, traded, or recycled under inferior conditions." It cited a 2016 study by the Basel Action Network which found 34 percent of electronic waste from Europe and the United States had been exported, 93 percent of which went to developing countries in Asia.
China, one of the largest trash importers, slapped strict new rules earlier this year on what could be imported. That prompted concerns Thailand could become a new dumping ground for these toxic materials, but Suwimol Wattanawiroon of the UN Environment Programme said it's unlikely that this would pose a dramatic change.
"It has been a long-standing practice … because there are valuable substances in electronic waste. The importers want to extract these, both gold and platinum," she said.
Mounting pressure to find places to put all this trash combined with existing channels to smuggle it into Thailand have fueled the trash surge, Suwimol said.
While promising to take more action against illegally imported waste, the customs department revealed Wednesday that Thailand imported over 52,000 metric tons of electronic waste as of May this year, compared to about 64,000 metric tons for all of 2017.
More than 210,000 metric tons of plastic waste were also imported during the first five months of the year.
On June 1, nearly 60 metric tons of unrecyclable imported plastic waste were found stuffed inside four shipping containers at a facility in the eastern outskirts of the capital. Police said the trash came from 35 countries including Hong Kong, China, the United States, Germany, Japan, Malaysia and Vietnam.
Wirachai said Sunday that these giant dumps could pose long-term toxic hazards to the environment as the materials are broken down and spread via sunlight and rainfall. He also acknowledged that there are loopholes in Thai law that allow the waste to slip across the border.
Suwimol, the UN official, said more awareness in the public and private sectors is needed to find effective long-term solutions, while Greenpeace's Tara insisted on the importance of stepping up law enforcement.
"There's no law in Thailand that bans the import [of this waste]. Even if it's prohibited, there's an exception that it would be allowed if it can be recycled," Tara said. "We have to get rid of such clauses. We have to ban everything, or the problem can't be solved."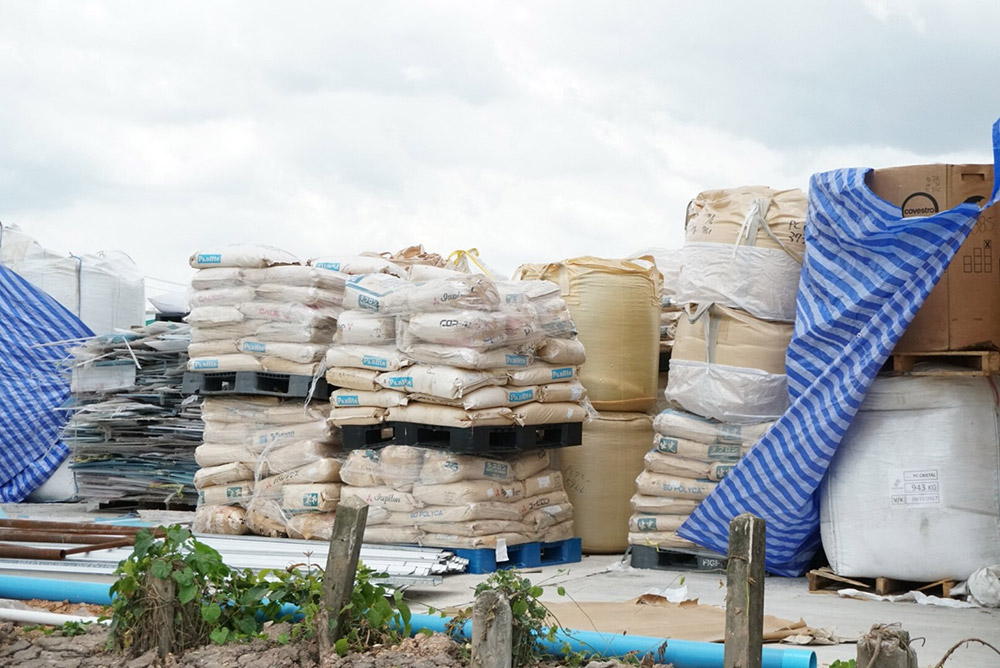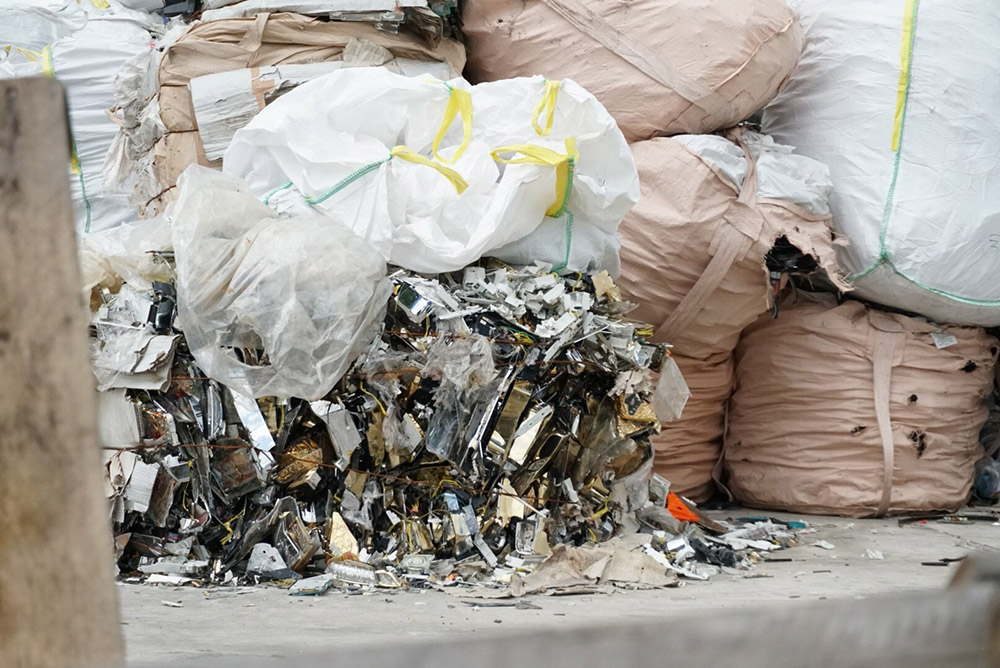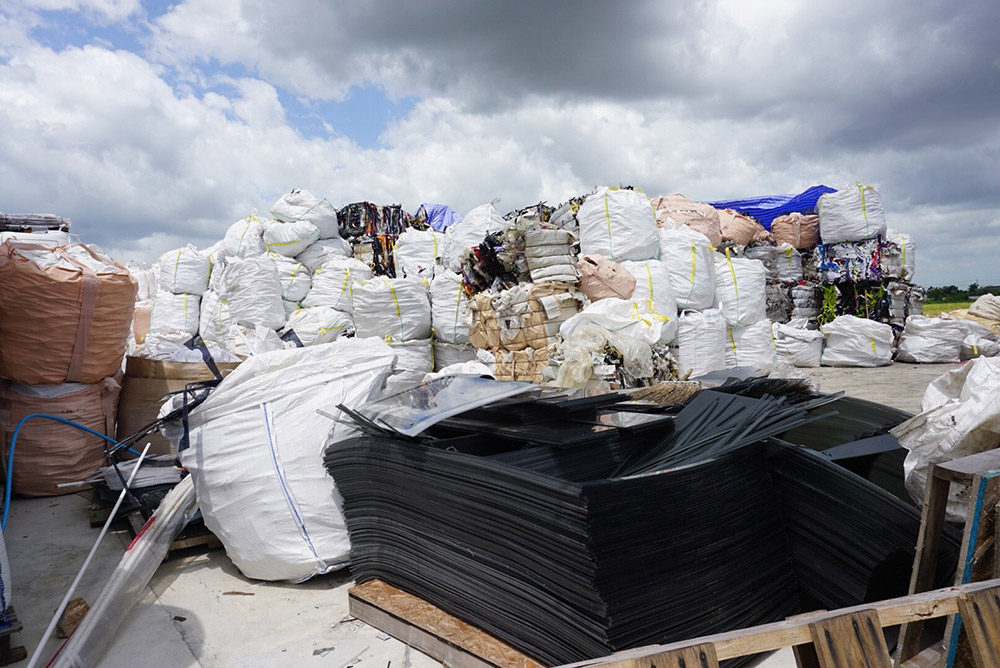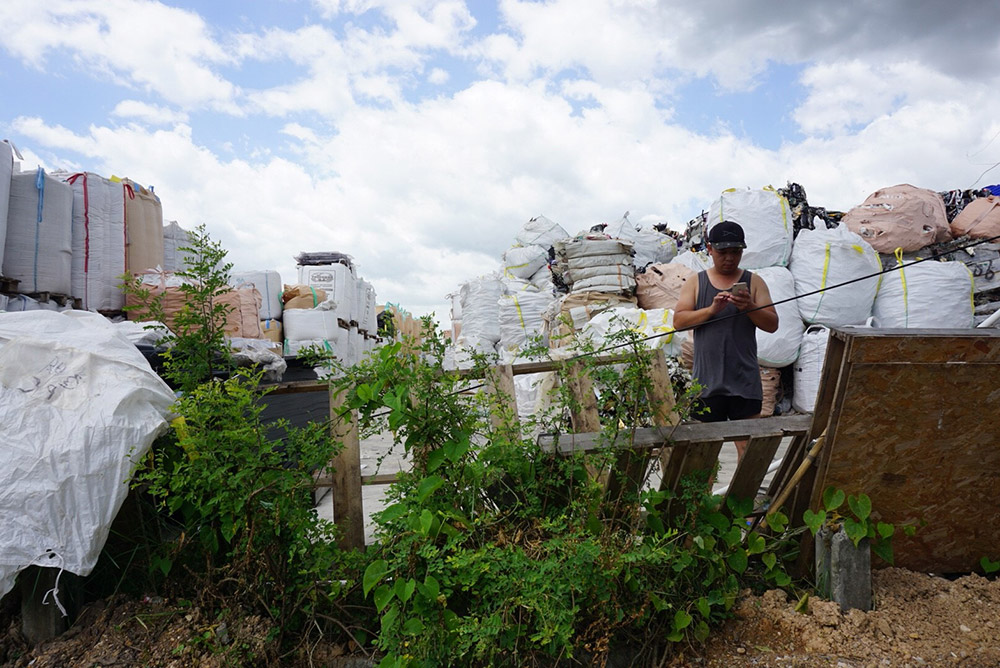 Additional reporting Chayanit Itthipongmaetee