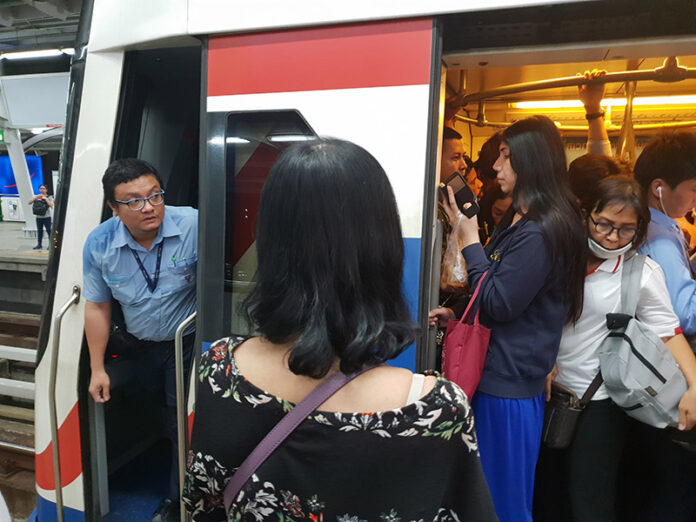 BANGKOK — Once hailed for its reliability, the BTS Skytrain's increasingly frequent system failures led the government to demand answers Monday after commuters were left stranded four hours during this morning's rush hours.
Public dissatisfaction is high after the popular city rail line was shut down for the ninth time this month from 6:15am to 10:03am due to "glitches in the signaling system," according to the official BTS twitter account, causing trains to stop at each station for more than 10 minutes without explanation. The nation's top transit official said he would seek answers.
Update: Broken Again, BTS Told to Compensate Commuters
"This afternoon I'll summon BTS executives to have a discussion about the problems, causes and solutions," Arkhom Termpittayapaisith said. "If the problem is with the signaling system, they'll be instructed to keep up maintenance and improvement in a way that won't affect public service."
There were five service-related tweets during this morning's outage. Each said the same thing:
"The signaling system on the Silom Line and Sukhumvit Line has glitches" making the trains run at low speeds and therefore "delayed 10 minutes."
Several passengers complained on social media that they were stuck onboard for hours before arriving to their destinations. Others were stranded at the stations and never managed to get on.
BTS is not concerned with the amount of times it happens, but with assuring that passengers can commute on time with a maximum delay of five minutes
At 3:40pm, the Bangkok Mass Transit System tweeted that the system was broken yet again, signaling the 10th service disruption this month.
Anat Arbhabhirama, a BTS board member, said the automatic signaling systems at several stations, especially the Siam, Chit Lom and Sala Daeng stations, were being interfered with by radio signals from skyscrapers in the areas; therefore, train engineers had to switch to manual operation.
The system's original signaling system was replaced in 2009.
In that mode, engineers must manually depart, stop and control speed along the way. Any speed over the system's limit means emergency brakes are deployed automatically.
He added that the company has ordered signal-blocking devices installed on every train, but said it will take time to resolve. He declined to reveal which organizations are responsible for the interrupting signals.
Responding to growing public anger over poor maintenance and operations, Anat insisted that the company, which has an operations concession from owner City Hall until 2029, gives its No. 1 priority to the passenger safety. He said it still performs within standards.
"For recording statistics on how many times the BTS Skytrain breaks in each month, BTS is not concerned with the amount of times it happens, but with assuring that passengers can commute on time with a maximum delay of five minutes," he said. "At the moment, the BTS system is still able to perform 99.5 percent by this standard."
As of this afternoon, the BTS has broken 10 times for reasons such as onboard glitches and malfunctioning platform doors. On Friday, it broke twice between 12:47pm and 12:57pm and again from 9pm to 9:22pm.
The combined downtime this month alone, based on reports from the BTS twitter feed, is 11 hours, 6 minutes and counting as of publication time.
The BTS has 52 trains in service along both lines, according to a 2017 statement from Surapong Laoha-Unya, the company's director. The official website says each train can accommodate up to 1,490 passengers, and that the system capacity is 50,000 passengers per hour, per direction.