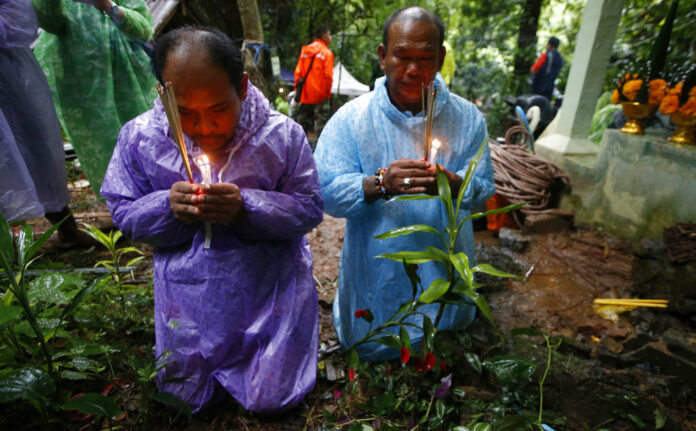 BANGKOK — The authorities on Thursday said they have not yet found the dozen young footballers and their coach who went missing inside a cave nearly a week ago, contrary to rumors on social media.
As the search operation has become the national monotopic and a source of interest abroad, it's invited the kind of rampant misinformation that has come to characterize the online world. While the effort has attracted the thoughts and prayers of millions, it has also inspired expression of powerful superstition and virtual hoaxes.
The latest rumor started Wednesday when several people on Facebook claimed they heard from "inside sources" that the youngsters had been found. Both the navy and the air force had to go on Facebook and dispel that claim.
Read: US, UK Teams Join Search for 13 Missing in Cave
"The news being broadcast and shared right now that the young footballers have been found is fake," the navy SEALs, who are leading the rescue effort, said in an online post.
Other similar claims on social media that turned out to be fake have included: the kids were found and would be brought out to waiting ambulances; the kids were located but trapped by floods; and news one person was found dead while the others were in 50-50 condition.
In one tweet which soon went viral and drew ridicule, a woman in Chonburi said she heard from her father – who allegedly serves in the navy – that an aircraft carrier was about to depart Sattahip for the cave. It wouldn't get very far, as the cave is located in Chiang Rai, a mountainous province about 900 kilometers overland to the north.
Another rumor spread earlier this week said a rescue worker attached a water bottle to a rope, dropped it down a cave chimney only for someone to take it. Officials later denied the claim.
And it didn't take long for superstitious beliefs – already powerful in everyday Thai living – to get mixed up with the news.
Medium after medium has been interviewed, each claiming to know the fate of the missing 13. Citing a local myth about a cave goddess, many netizens believe the footballers and their coach are now victims of a malevolent curse, something reported soberly by most domestic media.
"Goosebumps! Mysterious story of the Tham Luang Curse is revealed. Be frightened by the mystery of the Mt. Nang Non Goddess!" proclaimed a Wednesday headline from TNews.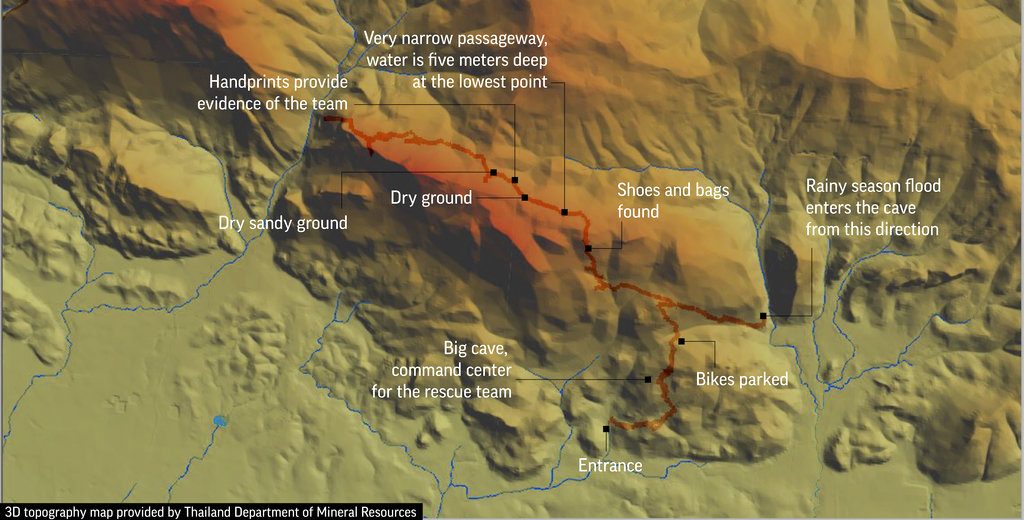 Some outright blame the group for their disappearance. In one post, which has been shared 146,000 times, a popular Facebook page said some members in the missing football team disrespected local spirits and incurred divine wrath.
"The first one, the 25-year-old coach, touched the head of a Buddha figure in the cave," the admin wrote. "He thought it was a valuable object, so he took it away. That's why he's being held. He's the team leader."
A number of hoaxes have already led to legal action. Deputy police chief Chalermkiat Worakan said Tuesday he's ordered investigation of a Facebook page that set up fraudulent fundraising efforts claiming it was on behalf of families of the missing.
A former Democrat MP sent his lawyer today to file charges at a police station in Chumpon province. The politician, Chumpol Chulasai, said someone impersonated him online to berate the military for interfering with the rescue effort.
The media themselves have come under criticism for blowing things out of proportion and giving uncritical airtime to hoaxsters and the superstitious.
A Spring News live broadcast on Wednesday started with a claim that "signs of good news" were imminent. The report ended without any actual news updates, but the video nonetheless won more than 250,000 views.
Those elements even came full circle at one point. Channel 3 anchorwoman Thapanee Ietsrichai defended herself online today to deny entering the cave last night and interfering with the rescue operation as some alleged online.