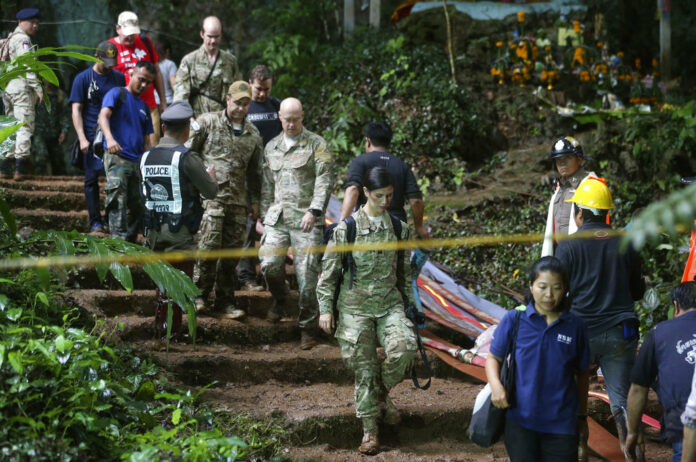 MAE SAI — Rescuers in northern Thailand were scouring a mountainside Thursday in search of alternative entrances to a flooded cave where 12 boys and their football coach have been missing for five days.
Near-constant rains have stalled search efforts inside the cave by raising water levels and forcing elite navy SEAL divers slowly making their way through the sprawling complex to pause. Authorities have also had to switch off power to water pumps due to electrical hazards as teams work to raise power cables above the floodwaters.
"There's not much we can do right now," Interior Minister Anupong Paojinda said, adding that a key passageway was completely flooded. "We have to wait for the water level to decrease. (Divers) can't do anything right now."
Thai rescuers have been joined by a U.S. military team and British cave experts. At a morning briefing, the Thai SEALs explained to the U.S. team that water levels had been rising overnight at a rate of about 15 centimeters per hour, complicating efforts to squeeze through tight passages, some of which require divers to contort their bodies around L-shaped bends.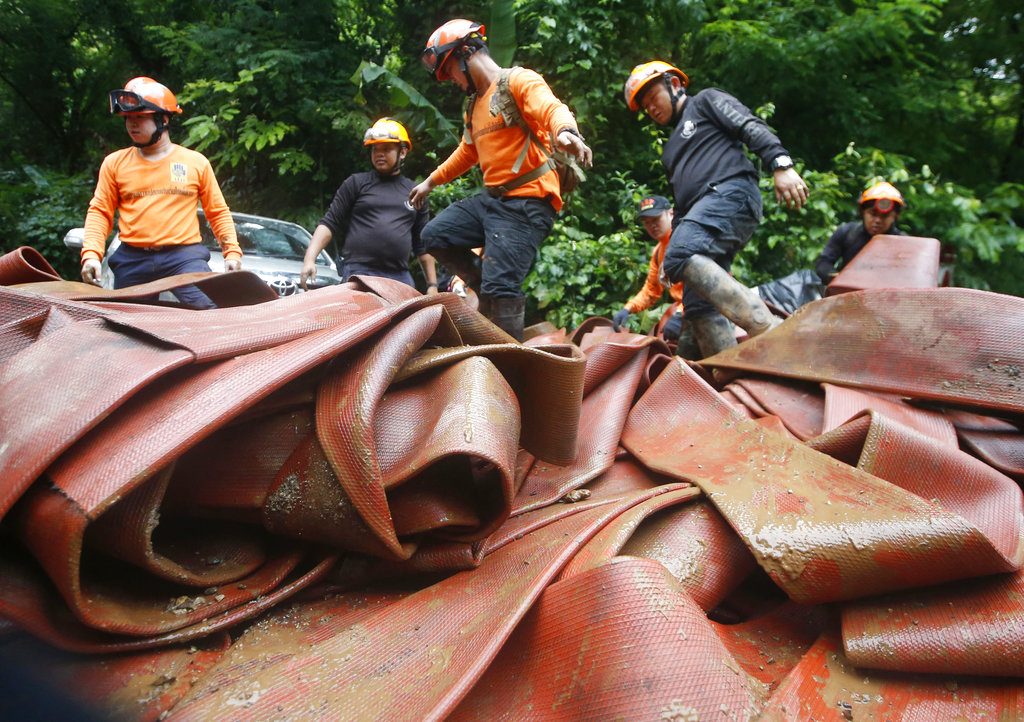 The missing boys and coach entered the Tham Luang Nang Non cave in Chiang Rai province on Saturday afternoon. The cave complex extends several kilometers with narrow passageways and uneven ground and is known to flood severely in rainy season.
Still, authorities have expressed hope there are dry places on higher ground within the cave where the group may be able to wait.
Deputy national police chief Wirachai Songmetta said he would join more than 600 rescuers above ground trying to find shafts that might be possible entrances into the cave. The few shafts found so far did not provide access.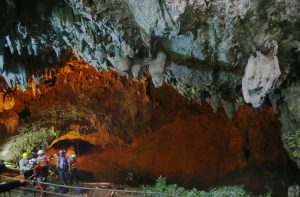 "We won't give up. That's the key here," he said as he got into a vehicle that was part of a convoy carrying rescuers.
Anupong said there are three locations that rescuers are looking at and they will have to work with the geological department and their equipment to explore further, using small cameras for example.
U.S. Indo-Pacific Command in Hawaii confirmed a U.S. team of about 30 people was sent to assist the search. Navy Lt. Cmdr. Nicole Schwegman said Wednesday that a search and rescue team had been sent at the request of Thailand's government.
Some parents of the missing children have been spending the nights in tents outside the cave entrance as the rain poured. On Thursday morning, a Buddhist monk led a prayer for a small group of relatives, many of them red-eyed and crying during the prayer.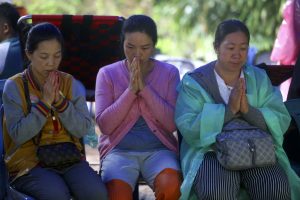 Medics sat in a tent nearby, and bicycles, backpacks and soccer cleats the boys left behind remained at the entrance.
Anmar Mirza, national coordinator of the National Cave Rescue Commission in the U.S. and editor of the book Manual of U.S. Cave Rescue Techniques, said that in a situation like this it would seem there were only two things that could be done: pump the water down and search for alternative entrances.
If there were a high-quality map, drilling would be another possibility, but that is extremely difficult for a number of reasons and could also take days to weeks, he said, adding that it was important not to take needless risks.
Mirza said the boys' youth and health is to their advantage and if the cave is not too cold, they should be able to survive four to five days with no water and a month or more with water but no food.
"The biggest concern is them getting desperate and trying to enter swift moving water," he said.