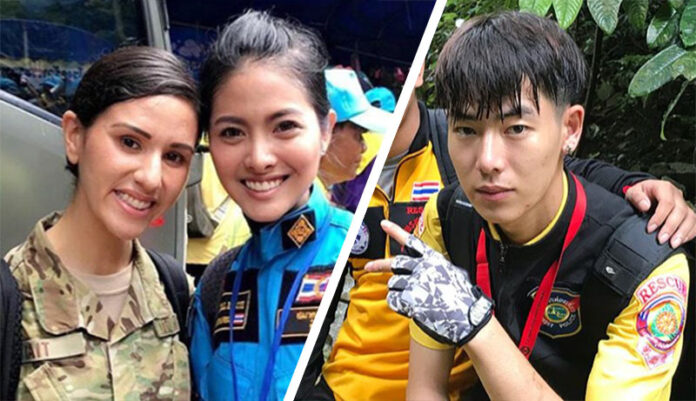 CHIANG RAI — For some it's the US Air Force spokeswoman. Others have latched onto the teenage Chinese-language interpreter, the British cave divers or even the coach still trapped 5 kilometers inside.
Now that the multinational rescue has settled in for what could be weeks or months, the home audience binge-watching every development has started doing what comes naturally: identifying faces in the cast of characters to fixate upon.
As wall-to-wall coverage of the 12 boys and their football coach trapped inside a Chiang Mai cave continues, netizens expressed their adoration by posting photos of random rescue volunteers and officers, sometimes paired with fan-made music videos.
"Not only are your faces handsome, your hearts are handsome too," reads the caption of an Instagram video titled "Passing Handsome Rescuers Forward" by @Talokmai.
One of the most familiar focal points has been US Air Force Capt. Jessica Tait of the 353rd Special Operations Group. The only member of Team America allowed to speak to the press, she is frequently breaking things down in a military- and PR-fired voice that comes across a bit canned.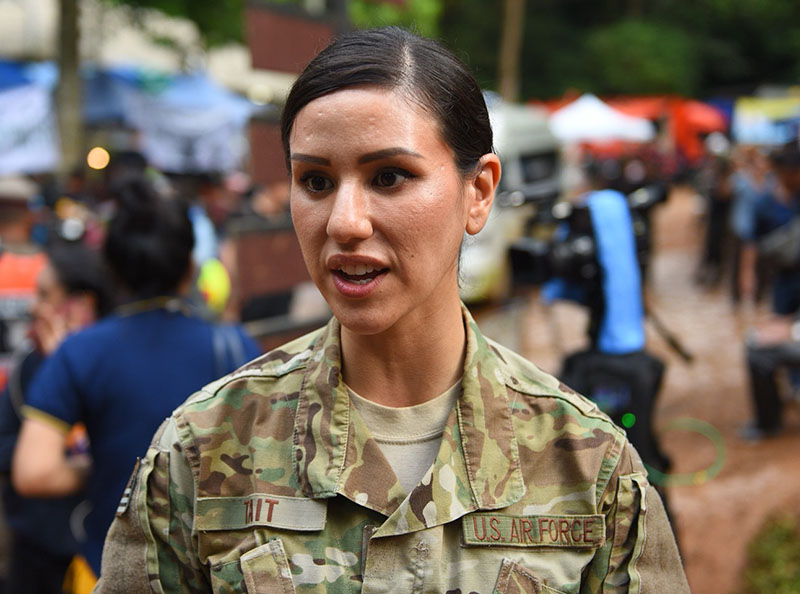 "My duty here is to talk with you guys and to get our messages out and to let our guys do their job because right now, they're still working the problem," Tait said in an exclusive interview. "I'm the spokeswoman; I'm the public affairs officer so I represent the unit. It's my job, like your job as a reporter."
Tait and her team of about 30 operate out of the Kadena Air Base in Okinawa, Japan, includes pararescuemen and specialists in survival, medical, communications and logistics. They were deployed Thursday to the Tham Luang Nang Non to aid in the rescue effort.
"With that team, we're able to run 24-hour operations and in addition to advising and assisting on that knowledge, we're also working side-by-side, whether it's doing land surveys, walking through the mountains to find alternative entry points, whether it's high-ropes operations like being able to rope into a small crevice," Tait said.
Tait's oft-repeated refrain is asserting that her team is working "literally side-by-side" with Thai and other rescue personnel.
"This is a Thai-led, multinational effort," she said, "I feel honored to be here and to be a part of this. I feel so happy that everyone had a positive outcome. My heart goes out to the families, to the rescue workers, to the children and to the coach, to everyone that's part of this."
Wonder women #13ชีวิตต้องรอด pic.twitter.com/Fhq7MHBhgm

— โลกสวยด้วยมือเราสส (@nakamotoiyaka) July 2, 2018
Capt. Jessica Tait with Thanyalak "Ness" Nark-ngeun, one of the 12 finalists in the Miss Universe 2012 pageant. Ness has also been a volunteer on the cavefront, with photos of her serving food and hauling gravel posted to her Facebook.
An Instagram post admiring one of the US Air Force officers in Tait's company.
Also making the rounds on Instagram and other social media is 19-year-old Thai volunteer translator Somjet "Jet" Sae-zhang. On Monday, photos of Jet aiding Chinese rescue teams on the mountainside went viral and he rocketed to internet stardom.
"Now that the boys are found … I want to fangirl about this interpreter, but wasn't sure if it was appropriate," wrote the caption to a video of Jet interpreting posted by @Uptomeshare.
Chinese-Thai Jet is currently a student at Wuhan University and came to volunteer with the Phrakru Pitak Porahomhiharn rescue foundation during his summer break. Jet could not be reached for comment.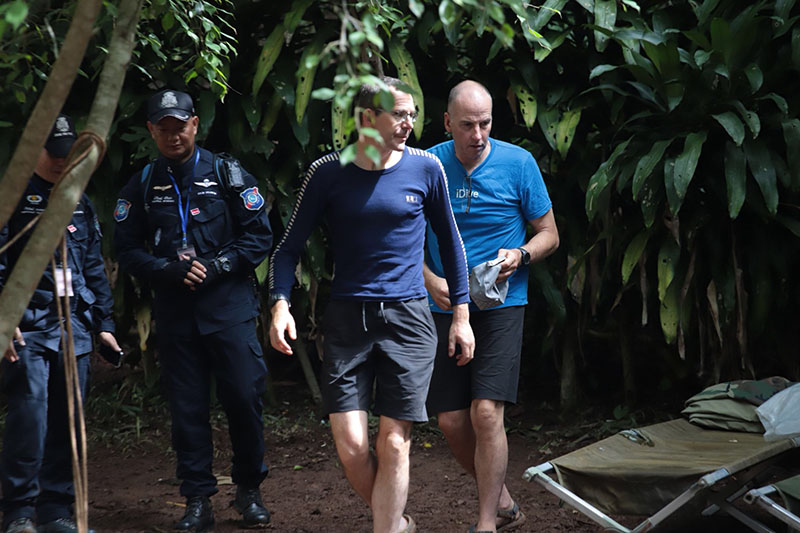 Ever since they broke through the water to make first contact with the boys in their distinctive English accents, the British divers of the Derbyshire Cave Rescue Organization have been widely praised for being so diligent and singularly focused that they refuse to grant interviews. The men are Rick Stanton, John Volanthen, Robert Harper and Vern Unsworth.
"Thank you to all you guys for coming to help without asking for anything in return. Real people act, rather than talk," Sukanya Sippel wrote in an online news comment.
Finally, netizens are starting to praise what has been a more polarizing figure: Ekkapol Chantawong, the 25-year-old coach who led the 12 boys into the cave on June 23. Coach Ek, as he's become known, appeared very thin in footage that emerged Wednesday. According to the SEAL divers, the former monk of eight years gave all their food to the boys and instructed them to lie down and meditate to conserve energy while awaiting rescue.
Netizens using the hashtag #CoachEk even praise the man for his brotherly relationship with the team and encourage him not to blame himself. Some credited his years as a monk, saying they explained how he could survive without sustenance.
"He loves them like his family. No one wants to bring their family to hardship. At this point, he is doing his best. Even though no one is praising him, he shouldn't be criticized by those who don't truly know him," @IDA_Pcta tweeted. "You guys have no right to criticize the coach."
เค้าอยู่…เค้าดูแลกันมารักกันเหมือนครอบครัวคงไม่มีใครอยากพาคนที่รักไปเจอกับเรื่องร้ายๆหรอก ณ.จุดที่เค้ายืนเค้าทำหน้าที่ของเค้าอย่างดีที่สุดแล้วถึงไม่ได้รับคำชม ก็ไม่ควรได้รับการตำหนิใดๆจากคนที่ไม่ได้รู้จักตัวตนเค้าจริงๆพวกคุณไม่มีสิทธิตำหนิโค้ช #โค้ชเอก #ถ้ำหลวง #13ชีวิตรอดแล้ว pic.twitter.com/08oXbnGZBC

— IDA'P💙 (@IDA_Pcta) July 4, 2018
The children wouldn't have made it this far without the guidance and sacrifice of their coach. You did your best taking care of 12 boys lost in the depth of total darkness for 10 days. Don't blame yourself. Stay strong and come out stronger! #โค้ชเอก #ถ้ำหลวง #ThamLuang #ทีมหมูป่า https://t.co/I0op4eI2zi

— ทีมหมูป่าและแมวน้ำ (@fernvasidhi) July 4, 2018