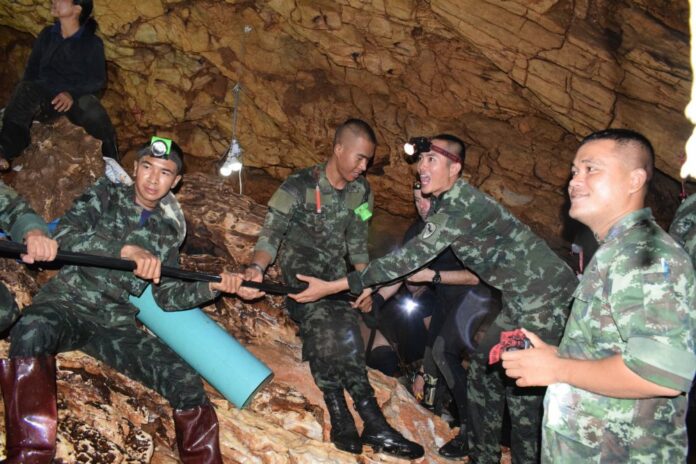 BANGKOK — Upon a royal order, cave search-and-rescue training will be introduced to the curriculum of all branches of the armed forces, the leader of the ruling junta announced Wednesday.
Weighing in on how the nation's armed forces should be trained, King Vajiralongkorn has decreed that the skills and knowledge used to rescue 12 boys and their football coach be incorporated into their training, Gen. Prayuth Chan-ocha said today.
"Let's learn from the 13," Prayuth, who serves as prime minister, said during a visit  to the Nawamin Rajini Military Camp in Chonburi province. "[We] can adapt the rescue plan into diving and swimming lessons for the special operation forces in the future."
The lessons will include diving, using air tanks and other equipment inside a cave network similar to the Luang Nang Non cave where a search-and-rescue mission has been underway since late last month.
The training is expected to be used by military units, navy SEAL teams and other elements to prepare for the next emergency.
The 12 boys and their football coach have been trapped inside the Luang Nang Non Cave for 12 days now. The search has transitioned into a rescue operation after they were discovered Monday night in a dramatic effort that has drawn international support and attention.