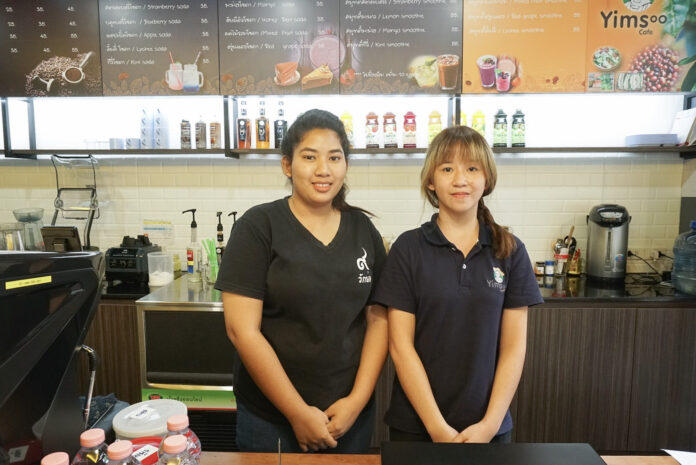 BANGKOK — "I'm deaf but happy to take care of you. Please point the menu to order" a sign on the counter reads in English.
Behind it stands a barista-waitress, smiling mildly and waiting. A customer points to "eat in," then "table no. 19" and finally "iced hazelnut macchiato." Which each gesture, the barista taps onto a computer screen then turns it to show the customer that 55 baht needs to be paid.
Yimsoo Cafe is a cafe staffed entirely by workers with impaired hearing. Most are deaf. Its founder wanted to create employment opportunities for people with disabilities who are too often shunned by employers, neglected by the government and left to rely on charity.
"I realized that the country has about 700,000 disabled people in working age, while only a little over 100,000 of them have a job. And most of them are self-employed," Wiriya Namsiripongpun said.
Wiriya can hear just fine – it's his sight that is impaired. Blind in both eyes, he founded the cafe in December 2016. He's also president of the Universal Foundation for Persons with Disabilities. Most people call him Ajarn Wiriya, as he is a law professor at Thammasat University.
From the first branch which fills in the first floor of the foundation's building near Bangkok's Pinklao area, the cafe recently added a second location at Thammasat University's Tha Prachan campus.
Equipped with a walking cane, 66-year-old Wiriya approached a table Wednesday to explain the cafe's inspiration is rooted in the employment needs of Thais with disabilities, who struggle to land a job in the country.
Under a 2007 law, public and private organizations with more than 100 employees must hire one person with disabilities for every 100 without.
Compliance wins tax relief. But those who refuse must only contribute to a state rehabilitation fund. Most companies opt for the latter, Wiriya said.
However, Wiriya opines that it's best for organization to employ worker with disabilities, as the fund has proved little more than a government piggy bank. He cited an ongoing lawsuit lodged last year by the Council of Disabled People against the government after it withdrew 2 billion baht from the fund.
"We have disabled people's rights on paper and money in the fund. But there is no organization to utilize the money for disabled people's sake, so their rights aren't real," Wiriya said.
It's been two years since Wiriya launched vocational training for disabled people, which ranges from farming mushrooms and crickets to cooking and brewing coffee, depending on where it is. The first session he started, Wiriya said, he invited 100 families. Only four signed up.
"Our biggest challenge is tackling beliefs in Thai society," Wiriya said. "Majority of Thais still believe that disabled people lack capabilities. They were born disabled, or became disabled, because they had bad karma, so they have to repent it. The parents believe the same thing, so they don't want their children to face more difficulties by working."
Back at Yimsoo Cafe's original branch in Soi Arun Amarin 39, employee Chutinan Phupuak said it was the first time she ever had a job. The 20-year-old said she learned about the position from a "good-hearing" friend.
"It is sometimes hard communicating with customers, but I try to work hard and get the most out of the experience," Chutinan said, signing her response to a question into the camera of a blue kiosk installed in the cafe.
The machine, operated by the same service behind the broadcast television sign language, relays messages by voice or sign to a human translator who appears on a video display.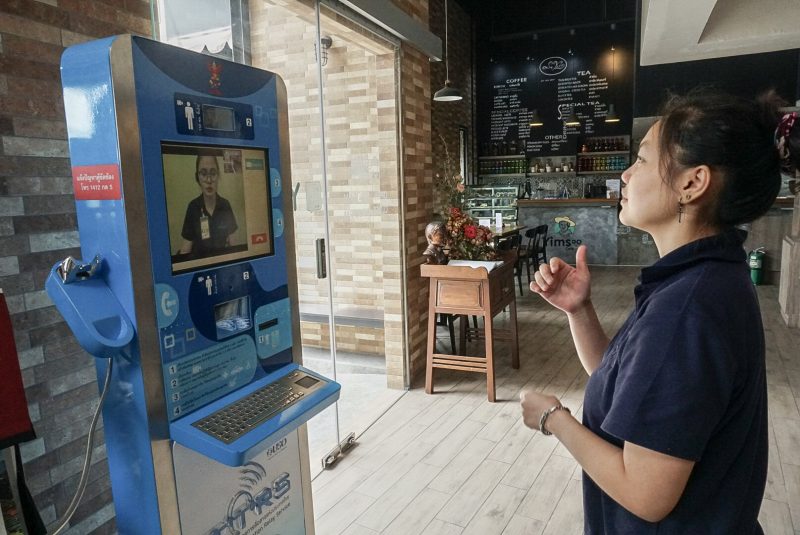 Another branch recently popped up on the ground floor of Thammasat's law building. Though smaller than its mother branch, it's much busier, packed with students, professors and school staff.
Inside, Kanyaporn Soongcharoen, who was born deaf, was stirring sweetened condensed milk in a bottle. Working up front, Kanlayarak "Nampetch" Aua-anantchai, who wears a hearing aid, handed change to a customer for a glass of iced cocoa.
"Thank you ka," she said over a counter topped by five paper labels. They read: "not sweet," "very sweet," "little sweet," "normal sweet" and "add whipped cream for 10 baht."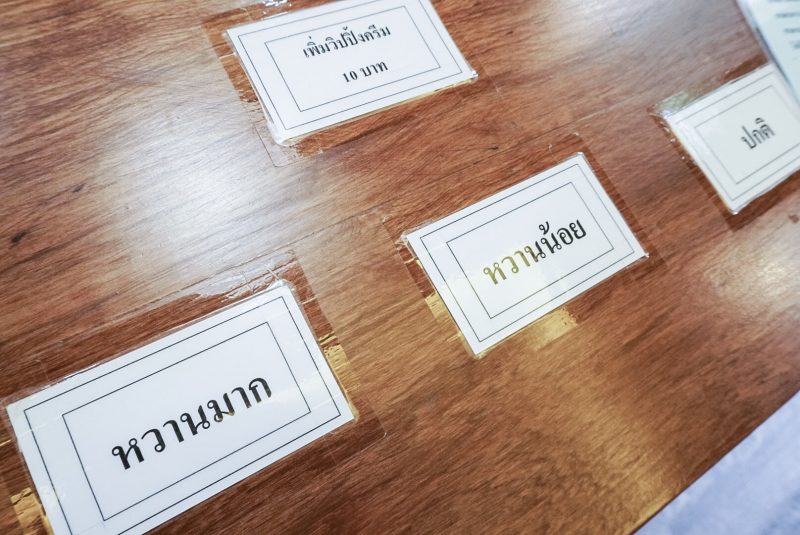 While communicating with Kanyaporn happens via writing and sign language, Nampetch can hear quite well with the help of the hearing aid. The 19-year-old woman studies business part time at Dhurakij Pundit University.
"It's usually very busy in the morning before classes start, then again afternoon when the classes finish," Nampetch said. "I like making every kind of drink, though making coffee is a bit more complicated."
Wiriya said sometimes deaf people and partially deaf people are trained together so they can help each other learn. "But you may have to speak a little louder. If you verbally order 'less sweet,' they might hear only 'sweet,'" Wiriya said, laughing.
All cafe staff earn a fixed salary of 12,000 baht per month. No educational background is required.
In the future, the cafe aims to add more branches and add sign language manuals to each branch so cafe-goers can try their hand at communicating with the staff.
"Customers can learn how to order "less sweet" drinks using sign language. This can become the cafe's gimmick too," Wiriya said.
Yimsoo Cafe has two branches. One is located in Soi Arun Amarin 39 and opens 7:30am to 6pm daily. The Thammasat University, Tha Prachan campus, branch is located in the Faculty of Law and opens 7:30am to 9pm on weekdays and 7:30am to 6pm on weekends.