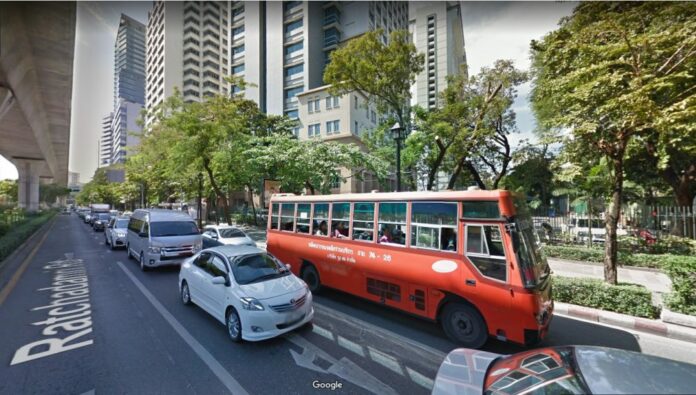 BANGKOK — Starting today, Ratchadamri Road joins 65 other Bangkok streets where motorists are supposed to pay to park.
The downtown road joined others in high traffic or tourist areas such as Phra Athit, Khaosan and Charoen Krung roads to have metered parking under an order signed by the provincial governor and published in the Royal Gazette on Wednesday.
The law declared 66 roads throughout the capital be metered, though it was already a long-standing, if poorly understood, practice.
Other roads with metered parking include Pradiphat and Din Daeng roads, along with Soi Phahon Yothin 7 (Soi Ari).
Attendants on those streets, in khaki BMA uniforms, are meant to collect the hourly parking fees; but in practice, it is unevenly enforced.
While the parking charges are meant to be enforced 24/7, they will be waived 4am to 8am on Ratchadamri Road.
According to the order, rates range from THB5 to THB50 for the first hour of parking depending on vehicle type. Motorcyclists pay THB5 for the first hour while subsequent hours are 10 baht each. Tuk-tuks and four-wheel vehicles pay THB10 for first hour and double that each additional hour.
The maximum fee is THB50 for large trucks with more than 10 wheels.
Fees are to be rounded up to the hour. How the money are to be collected was not spelled out.
The news was met with alarm online, where it was misunderstood as something new.
A representative answering the phone at City Hall's Finance Department, who only identified himself as Auttapon, said the parking fees have in fact been around since 1960. The law is poorly enforced, however.
"Actually, we've collected parking fees for a long time," Auttapon said by phone on Thursday morning. "But sometimes the officers do not collect the charges on a few roads such as Chakkraphatdiphong Road because of heavy traffic congestion in the area."
Of all the locations, a fare machine will only be installed in a city lot on Ratchadamri Road located across from Chulalongkorn Hospital and next to Lumphini Park.