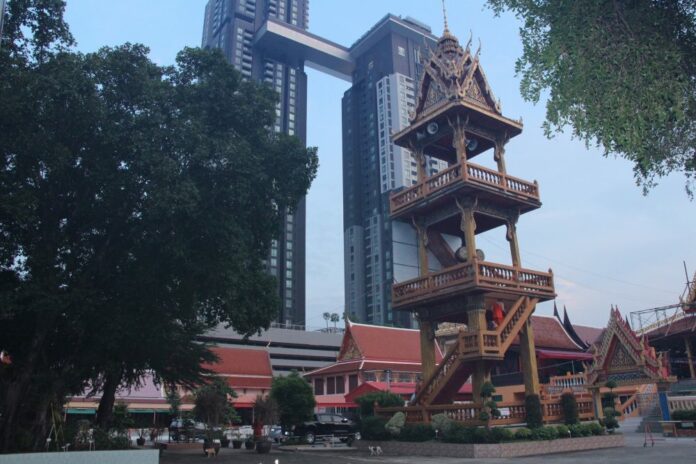 BANGKOK — A three-century-old Bangkok temple on Thursday caved in to a new luxury condominium residents' demands to lower the noise level of its pre-dawn bell tolling.
Monks at Wat Sai temple decided to lower the decibel level of its 4am and evening bell tolls starting Thursday after Bangkok's Bang Kho Laem district office filed a complaint saying the nearby upscale Star View condominium told them they were disturbed by the noise.
The 1.2-meter bell, on Rama III Road, is located atop a three-storey structure and rings rhythmically at 4am for up to 20 minutes. Phra Suthicharn Supatto, one of the monks at Wat Sai, said the bell rings twice a day during the three-month period of Buddhist Lent, with evening rings lasting 10 minutes after starting at 6pm. However, Phra Suthicharn said no nearby low-rise dwellings had ever complained.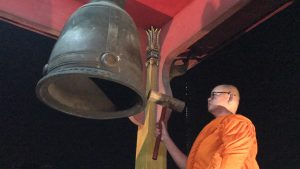 Abbot Preecha Poonnalo on Wednesday said the temple won't stop ringing the bell, but that he had instructed the monks to lower the noise. He also said the condominium had invited monks to perform a religious ceremony there before.
Suthicharn said the log used to toll the bell had been changed to a smaller one to lower the noise.
Actor Karunphol Tiansuwan, who resides at the new high-rise twin condominiums of 44 and 54 floors – priced upward of 7 million baht – said those choosing to reside there want privacy and have difficulties bearing the noise of the ringing as well as some religious rites delivered through loudspeakers.
Karunphol however wrote on his Instagram that residents there have a good relationship with the temple, and that only one person complained about it constantly.
Resident Tubtim Mallika also posted on Instagram saying she had never been disturbed by the bell or heard its sound. She said the person behind the pressure had now disappeared after condominium dwellers received criticism.
"It's such a severe drama," Tubtim wrote.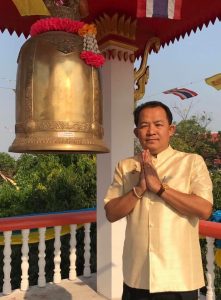 Rights activist Srisuwan Janya joined the fray. He said the pressure against the temple is tantamount to and "insult" against Buddhism and a violation of Article 206 of the Criminal Code that could lead to a maximum imprisonment term of seven years, a fine of up to 14,000 baht, or both.
"It is against the feelings of many Buddhists," he said, adding that the temple has been around for 300 years and called the condo dwellers an "alien community."
Buddhist scholar Suraphot Thaweesak meanwhile posted on Facebook on Thursday saying there is no right or wrong on the matter but that the two parties had to "adapt to cohabitate in a modern society."
Additional reporting Chayanit Itthipongmaetee, Jintamas Saksornchai