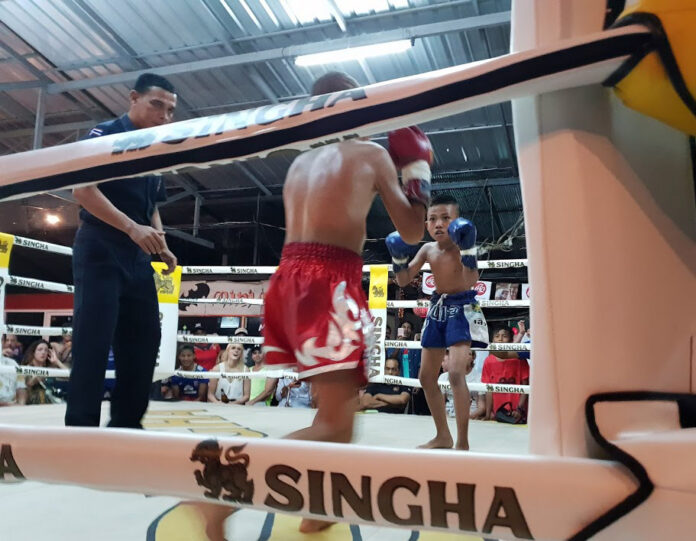 BANGKOK — Muay Thai may be the pride of the kingdom, but new research says letting children fight in the ring can irreparably damage their minds.
Citing a new study by Mahidol University, medical advocates held a Thursday news conference in Bangkok to call for the boxing of minors under 15 to be regulated to prevent permanent brain damage.
A five-year neuropsychological study led by medical professor Jiraporn Laothamatas revealed that kid fighters suffer undetected brain damage which results in lower IQ results, reduced emotional self-restraint and a heightened the risk of Parkinson's disease.
"The longer they fight, the lower their IQ and intelligence becomes. That's their future," Jiraporn said at the conference held at Ramathibodi Hospital. She added that children under 15 are more prone to experiencing brain damage than adults when hit in the head.
She said that while the precise number of boxers in the country under 15 is unavailable, estimates run from 100,000 to 300,000 minors – about 1 percent to 4 percent of the age group.
The group is lobbying the junta-appointed National Legislative Assembly to amend the 1999 Thai Boxing Act to regulate child boxing.
The group also called on the government to ban children under 13 from boxing. It also demanded those 12 to 15 obtain permission from provincial sports authorities before being allowed in the ring.
The five-year study compared 335 child boxers under 15 to 252 children of the same age and socio-economic backgrounds who had not boxed.
The results found that child boxers scored an average of 10 fewer points on IQ tests. Brain scans showed damage to their hippocampi and temporal lobes, iron accumulation in their brains that could affect vision and micro-hemorrhaging.
Jiraporn compared the injuries to people suffering concussions, brain inflammation and damage to the brain's connective tissues caused by auto accidents.
"If, in the future, they become leaders, they will be less intelligent than children who don't box," Jiraporn said.
However, the group does not seek to outright ban child boxing, saying it wants to compromise with the traditional sport and societal expectations.
Jiraporn said boxing camps for young children are very common throughout rural Thailand and that the group has already been heavily criticized on social media.
Parliament will review the draft amendment.
A lot is riding on not just the popularity of the sport but its economic incentives, the director of the National Institute for Child and Family Development at Mahidol University said, as young boxers can win prizes worth several thousand baht.
Adisak Plitpornkarmpim added that the Labor Ministry does not consider it child labor and that schools promote boxing bouts for children. He said parents in poor families send their boys – as young as 5 or 6 – to fight for prizes.
"No age is safe for boxing, but we seek to ensure a balance between safety and the right to decide [to box]. Children under 12 should be banned from competitive bouts," Adisak said, adding that only a few such child boxers end up as Muay Thai professionals, while the rest have to return to society with lower IQs, making their future livelihood more challenging.