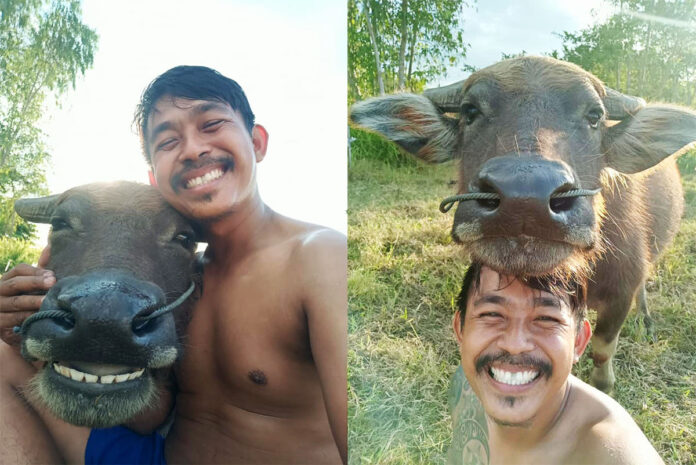 CHAI NAT — One lucky man spends his days bathing and napping with his buffalo friends, and through their toothy smiles, makes the internet a brighter place.
In every one of dozens of photos Surat Phaeoket posted online since the weekend, he shows a big smile while playing and bathing with his buffalos Kao Hom and Tongkum. While the trio have become a sensation from tens of thousands sharing their photos, the central region farmer said he's just trying to make a healthy living.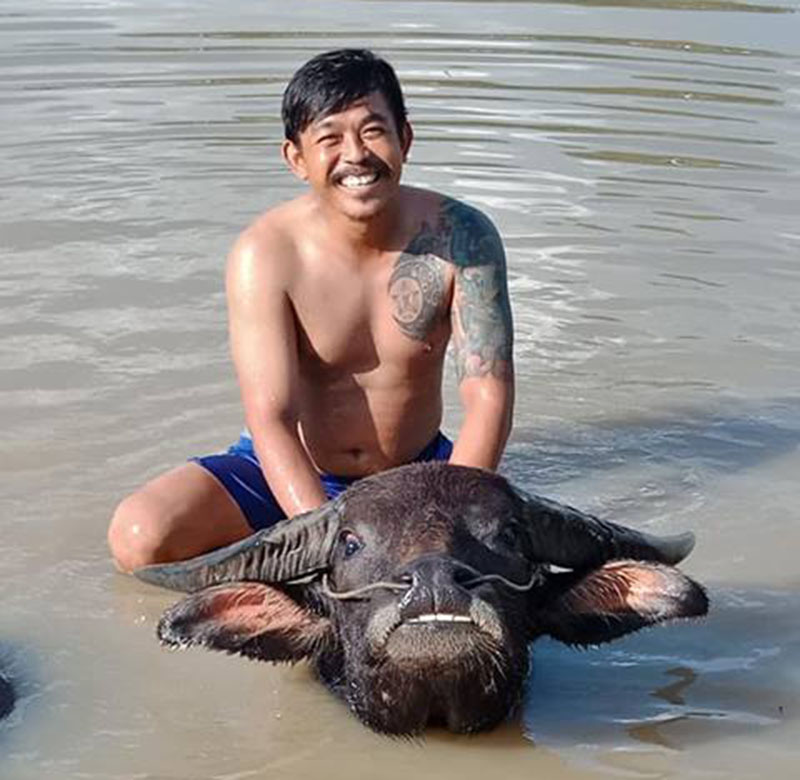 "I've always loved kwai, since I was a kid. My family told me that everyone used to have kwai, but when I was born, they weren't around farms anymore," said 34-year-old Surat. "But I've always wanted one."
A couple of years ago, Surat was just a regular sugarcane farmer who used pesticides and chemicals.
"I felt that my health was bad since I was around chemicals every day. Also, the farming failed because the sugarcane price fell," Surat said.
Surat began rotating his crops after attending state workshops on agriculture and livestock raising, where he fulfilled a childhood dream by borrowing two buffalos from the state Buffalo Bank.
Now, the five cattle Surat cares for graze and bathe among his cassava shrubs, fish ponds, orange trees and banana stalks.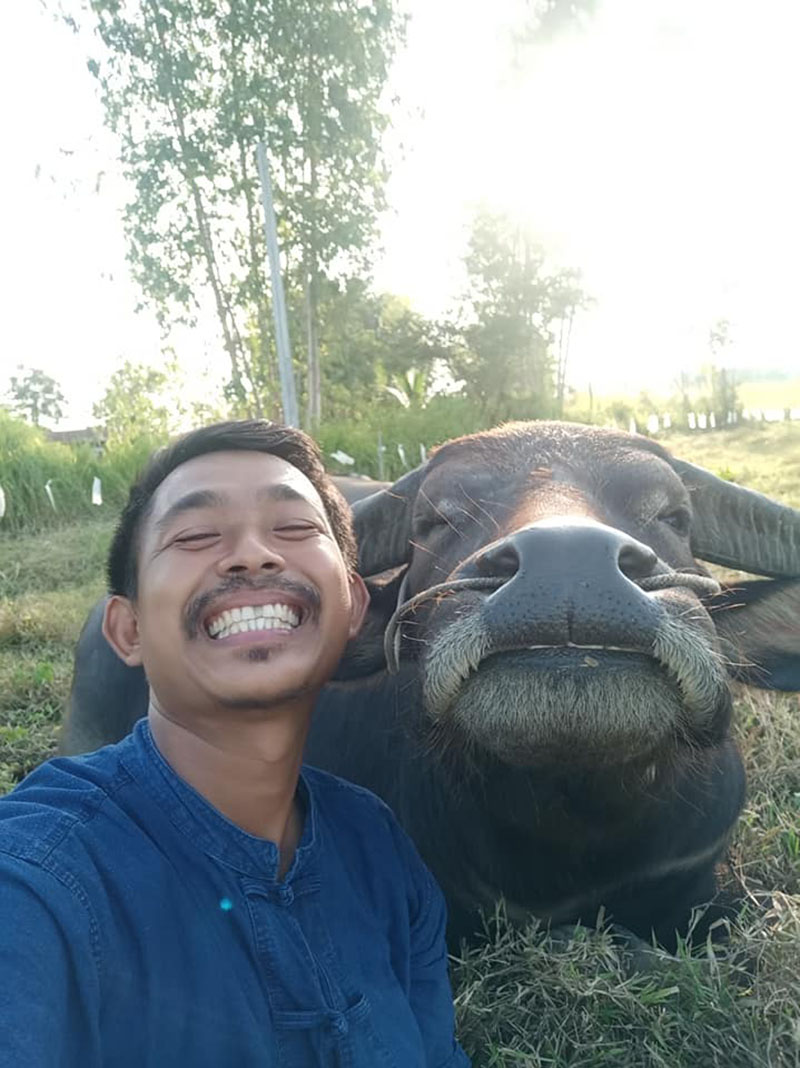 "I went to the Chai Nat farming seminars where they taught us how to do this. After, I prayed to [King Rama IX] and asked him to make my farm successful," he said.
Surat's gentle hand with his cattle earned him a reputation. Since he's also a volunteer for the local Livestock Development Department, his grandpa's friend lent him the handsome young buck Tongkum, 4, on Friday. It was those photos of him with Tongkum smiling and bathing under the sun that went viral.
"I chatted to him about things. Then we had a bath together in the pond. I made sure he didn't go in the deep end and even rode him," Surat said.
During one of their afternoon naps, Surat showed Tongkum a big smile – and Tongkum mimicked him.
"He showed me his teeth, and I laughed, so he kept smiling at me. I took a selfie with him as I taught him how to smile. It was so natural," Surat said.
Surat plans to mate Tongkum with Kao Hom, a 2-year-old female.
"Kao Hom is the playful one. Tongkum is the tame, tender one," he says. "She likes to act like a dog, panting and licking people and letting me rub her belly while we take naps."
He's been flooded with encouraging messages since going viral. His album of him smiling with Tongkum has been liked more than 27,000 times and shared more than 29,000 in less than two days.
"People say things like they wanna have some kwai too, or that seeing my pictures makes them less stressed. If it makes people happy, I'll keep showing them the farmer's way of life," Surat said.
To expats in the kingdom, he'd like to ask them to help keep his way of life alive.
"I want to ask farangs to help preserve our ancestors' way of living, so future generations can see," he said.