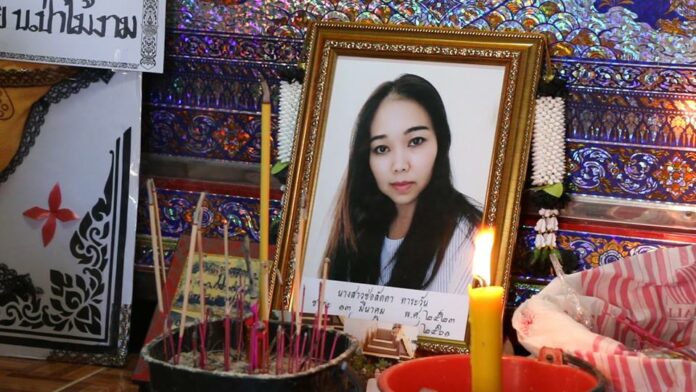 BANGKOK — The hospital that allegedly refused to treat a woman fatally burned in an acid attack now says she asked to leave the hospital voluntarily just before her death.
Wallapha Chaiyamanowong, the Praram 2 Hospital director, said in a statement that Chorladda Tarawan, who died after her 12-year-old daughter says she was denied treatment, actually asked to leave the hospital after receiving first aid so she could use her social security benefits at another hospital.
The statement added that Chorladda was only scalded with hot water, not acid, and that her vitals were fine.
"She ran into the emergency room and called for help and said she was in pain. Nurses there gave her emergency treatment and saw that her husband poured hot water on her," read the statement signed by Wallapha.
Read: Hospital That Refused Acid-Burned Woman Denies it Was Emergency
The hospital's shifting story contradicts that of the deceased woman's daughter, Techinee Tarawan, who said she begged nurses to admit her mother after her stepfather splashed her face with acid. She said her mother had to be carried to a taxi after they were turned away and told to go to another hospital, where her mother was soon pronounced dead.
One day after another hospital admin said Chorladda was refused treatment because it wasn't an emergency, Wallapha's statement yesterday said the hospital tried admitting her, but Chorladda "refused treatment and said she would go get treatment at the hospital where she could use her social security benefits at Bangmod Hospital. She also wanted to travel there herself."
The hospital said they tried to contact Bangmod hospital but were unsuccessful.
"Praram 2 Hospital is firm on the grounds that we did the best job we could in maintaining patient care, and would like to offer our condolences to the family," the letter ended.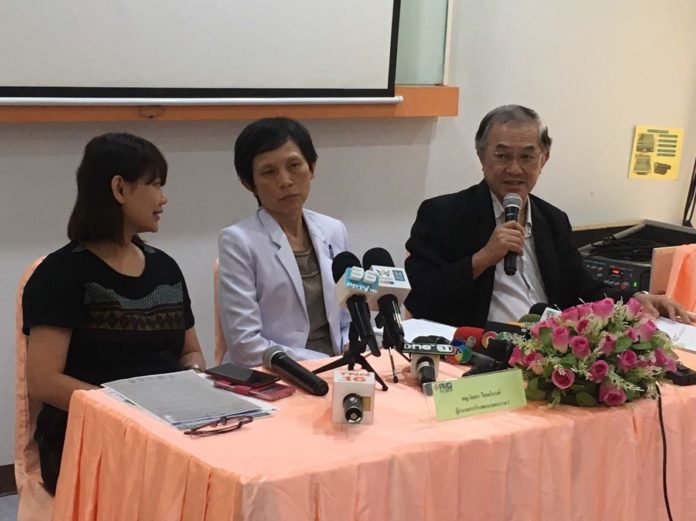 Sa-ngad Dutchuyawat, the 37-year-old taxi driver who drove Chorladda and her daughter, told police during hour-long questioning that hospital staff told him to go to Bangmod Hospital because Chorladda only had skin burns from hot water.
"She had bandages on her arms and was still conscious. The daughter kept calling her mother. I didn't strike up a conversation because she seemed to be injured," Sa-ngad said.
Sa-ngad said he dropped them off after a 10-minute drive to Bangmod, where hospital staff carried Chorladda out on a stretcher. Chorladda was briefly conscious, Sa-ngad said.
"They asked if she was alright. She said no," Sa-ngad said.
Techinee said CPR was attempted on her mother before hospital staff informed her she had died.
Police Col. Apirat Poomkumarn of Ta Kham Police said that Atchariya Reungrattanapong, who runs a victim advocacy group and is representing the family, has led a team to examine Chorladda's body. He said they found acid not only on her face, but also corroding her digestive system, suggesting she was forced to drink it as well.
Kamtan Singhanat, Chorladda's husband, was arrested Sunday night after fleeing to Nakhon Sawan province. Police said he has confessed to attacking her in a jealous rage. He was taken this morning to the Thonburi Criminal Court where he is expected to be arraigned for murder.
Chorladda's body has been taken by her family to Khon Kaen, where her family is in mourning.
Panupong Panchomphoo, 16, Chorladda's nephew, rushed from Chaiyaphum as soon as he heard the news.
"We are all very worried about the daughter," he said. "Today our family has lost our breadwinner. We have to keep fighting, but we are so sad and cannot accept what happened. Everyone's cried until there are no tears left."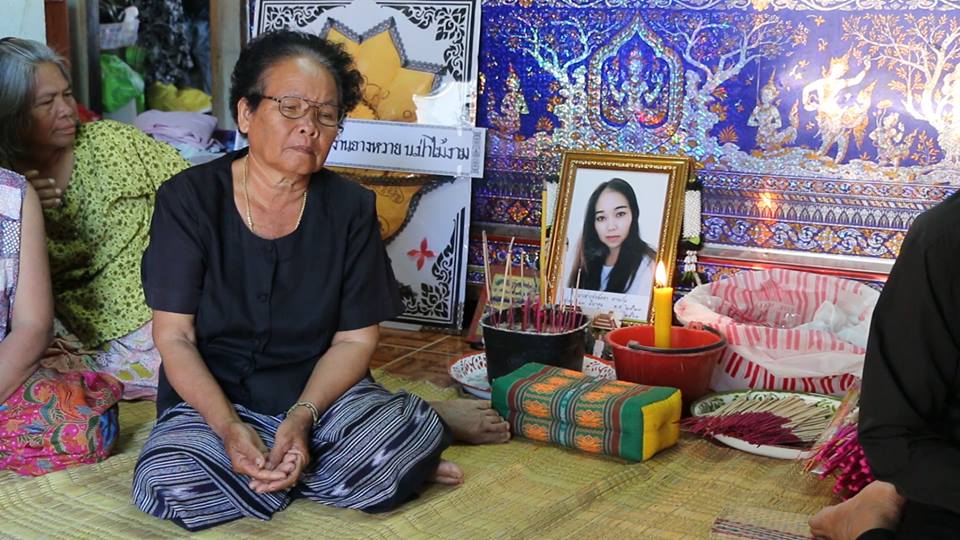 Related stories:
Hospital That Refused Acid-Burned Woman Denies it Was Emergency
Woman Dies After Hospital Refuses to Treat Acid Attack by Husband