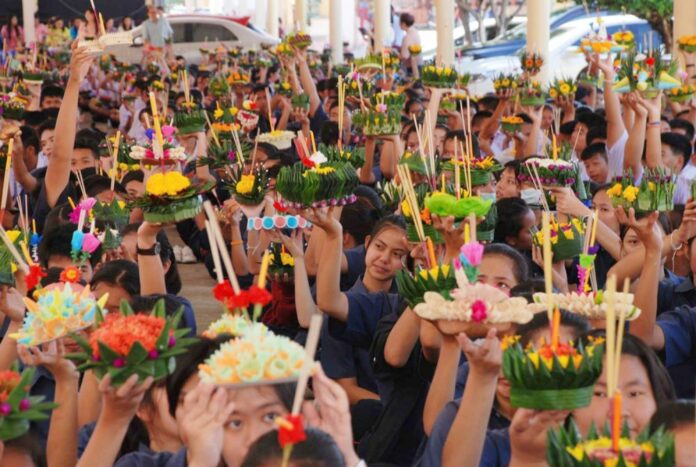 BANGKOK — After festivities were canceled in 2016 and remained low-key for 2017, the Loy Krathong festival returns later this month with dozens of venues to celebrate in the capital.
A total of 30 parks in Bangkok will mark Loy Krathong Day on Nov. 22 by welcoming the public to float (loy) their krathong (krathong), according to the metropolitan administration.
The parks include inner-city favorites Lumphini and Benjakitti parks, as well as Wachirabenchatat Park (Suan Rot Fai), which will be open 3pm to midnight for the occasion.
The major celebrations put on by City Hall will take place at two venues: a park under the Rama VIII Bridge and at Khlong Ong Ang, where walkways have been rebuilt to improve walkability and some color added.
However, the city's largest park – King Rama IX – and others including Queen Sirikit and Bung Nong Bon parks will not allow the public to float krathongs.
Apart from the parks, the public can gather at piers and canals or any publicly accessible waterway to float their preferably biodegradable boats.
Loy Krathong merrymakers should note that fireworks and floating lanterns remain strictly banned during the day, not to mention discharging firearms into the sky.
Here is the full list of 30 parks, by district, that will be open to public for Loy Krathong:
Pathumwan District
Chatuchak District
Chatuchak Park
Wachirabenchatat Park (Suan Rot Fai)
Lad Krabang District
Phra Nakhon Park
Her Majesty the Queen's 60th Birthday Park
Phra Nakhon District
Saranrom Park
Santichaiprakan Public Park
Bang Kho Laem District
Public Park in Commemoration of H.M. the King's 6th Cycle Birthday
Rommaninat Park
Thung Khru District
Bueng Kum District
Seri Thai Park
Nawamin Pirom Park
Nong Chok District
Khlong Toei District
Benchasiri Park
Benjakitti Park
Min Buri District
Bueng Krathiam Park
Wareepirom Park
Rattipirom Park
Ratchathewi District
Bang Khen District
Don Mueang District
Prawet District
Maha Chakri Sirindhorn's 50th Birthday Park
Wanadharm Park
Thawi Watthana District
Bang Phlat District
Suan Luang Rama VIII Park
Lat Phrao District
Bueng Nam Lat Phrao Public Park
Bangkok Noi District
Sirindhra Botanical Garden,
Public Park in Commemoration of H.M. the King's 80 Birthday
Sathon District
Public Park in Commemoration of H.M. the King's 80 Birthday
Khlong Sam Wa District
Wareepirom Park, Khlong Sam Wa District