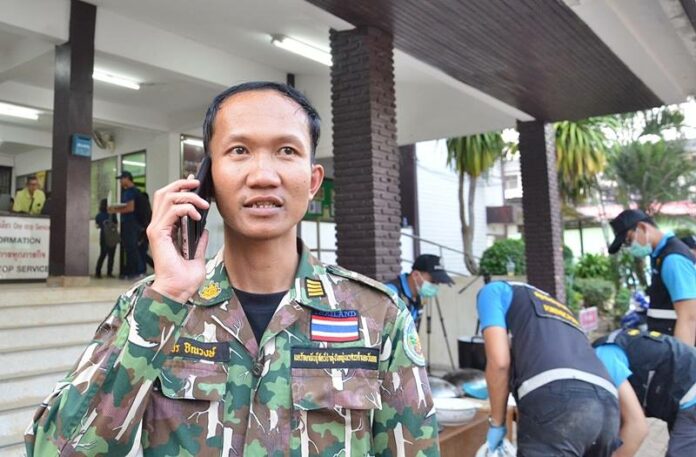 BANGKOK — The forest ranger who tracked down and arrested a construction magnate suspected of poaching animals in a wildlife sanctuary earlier this year was awarded for his courage Thursday.
Wichien Chinnawong, chief ranger at the Thungyai Naresuan Wildlife Sanctuary, was among nine winners in Asia recognized for their work in preventing transnational environmental crimes by the United States Agency for International Development, Interpol and the Freeland Foundation.
Although Wichien's arrest of Premchai Karnasuta in Kanchanaburi province did not involve a transnational crime, he received a special commendation award in light of his "outstanding accomplishments."
"When it became clear that one of the members of the group was a renowned, wealthy and influential businessman in Thailand, the team [led by Wichien] did not show any sign of intimidation and instead carried out their duties as enforcers of the law," UN Environment Asia said in a statement.
Wichien, 37, hunted down Premchai Karnasuta, the powerful president of Italian-Thai Development, which led to his arrest at a campsite in the Thungyai Naresuan Wildlife Sanctuary, where he was found with animal carcasses and hunting rifles.
"I didn't think he would be some famous big CEO… but after arresting him, I'm not worried or scared of someone interfering in my work," he said soon after the February arrest. "When someone with money does something wrong and is arrested, they should be treated according to the law the same as with any chaobaan [village folk] or any other citizens."
The case against Premchai remains unresolved nine months later amid prevailing public sentiments that justice won't be done.
Other winners included Thai Customs, the national parks department, as well as foreign recipients such as Vietnamese judge Le Thi Hang, a Nepalese police organization and Wang Wei, director of an anti-smuggling agency in China.
Related stories: