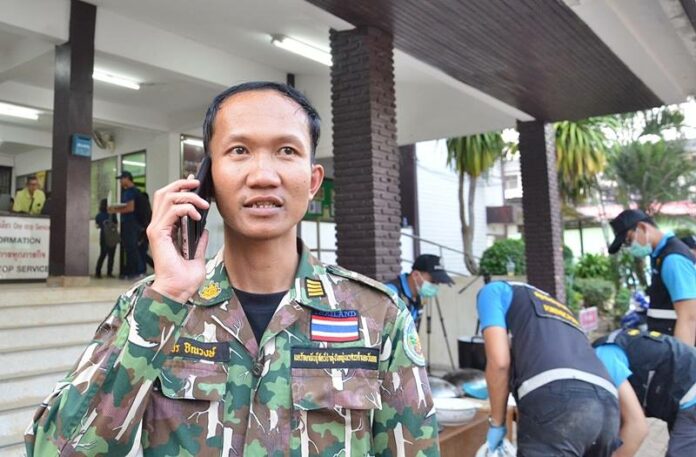 KANCHANABURI — The forest ranger who hunted down and arrested a construction tycoon suspected of poaching a black panther in a wildlife sanctuary is all over the Thai internet today, where he's being hailed as a sorely needed national hero.
Wichien Chinnawong is the skinny, leathery-tanned ranger who tracked Premchai Karnasuta, president of Italian-Thai Development, to a campsite in a national park where he was found with guns, the big cat's skin – and part of its tail in a cookpot.
"I didn't think he would be some famous big CEO… but after arresting him, I'm not worried or scared of someone interfering in my work," 37-year-old Wichien said. "When someone with money does something wrong and is arrested, they should be treated according to the law the same as with any chaobaan or any other citizens."
Premchai, it seems is to most, was caught red-handed. But as quickly as word of his arrest spread, so did skepticism that justice would be done – and fear for Wichien's safety. Thailand is no stranger to enforced disappearances – usually a euphemism for abduction and murder – of central figures in cases brought against the rich and powerful.
The internet is rife with talk about the necessity of media attention to protect Wichien from any retribution.
"I watched his interview clip and started crying," @Satofidy_9394 said in a tweet. "Even I'm worried for Uncle Wichien, his team and his parents. Ohhh, they're probably so scared for their son. How will he and his family survive? I'm sending my support."
#WichienChinnawong has been trending on Twitter along with #Premchai and #Thungyai, which refers to the national park where the arrest was made. The scandal is being followed closely on Twitter, where many are praising Wichien and berating Premchai.
Princess Ubolratana, the eldest child of Queen Sirikit and the late King Bhumibol, even posted a message encouraging Wichien to fight on: "Su su, Khun Wichian Chinnawong."
Read: Rangers: Premchai Ate the Leopard in a Soup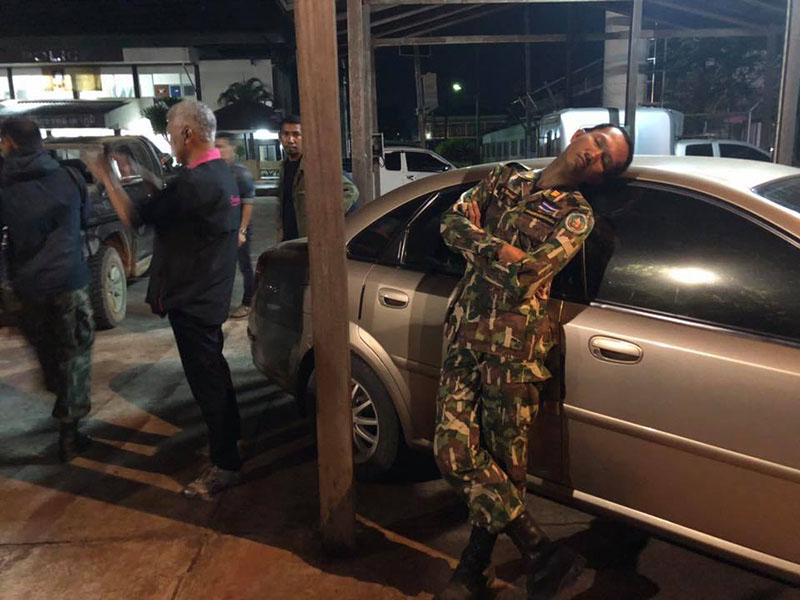 Wichien said the support has been a much-needed boost to the morale of wildlife defenders.
"With all your encouragement, we have hundreds and thousands times the strength to keep protecting the environment," Wichien said in a viral Facebook video. A photo showing Wichien standing at ready but resting his head against a car – allegedly fatigued from long hours of duty – had been liked more than 22,000 times by Tuesday afternoon.
Reporters visiting Wichien's family in Srisaket province were greeted by his extended family and neighbors shouting, "Wichien su su!"
"I'm so happy my son is a good person. But I'm worried about him," Korn Chinnawong, 61, Wichien's dad said.
Wildlife department official Thanya Netithamkul told reporters that Wichien was not at risk of losing his job.
Tributes Pour In for 'Uncle Wichien'
Thailand has been awash in public frustration over its inability to hold high figures accountable. From cop-killing Vorayuth Yoovidhya to watch-loving junta elder Prawit Wongsuwan.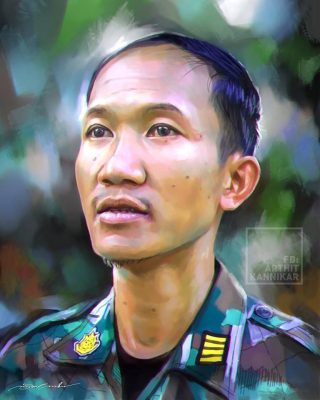 The narrative of the honest forest protector vs. the opulent and entitled CEO is running strong.
Wichien's low salary of 9,000 baht per month serves to fuel those sentiments further. Premchai, whose company built the nation's capital and highways, is a fixture in Forbes' wealthiest lists.
Fanart of the man has been circulating the web, with internet-famous painter Arthit Kannikar posting a portrait of the ranger Thursday.
Students from the Ban Khok Bai Bua School in Nakhon Ratchasima have even drawn pictures of Loong (uncle) Wichien.
"I can't even get mad that they called me loong, the drawings are so cute. But calling me P'Wichien would be better," he said, smiling.
Arthit also asked people to support the ranger with food and goods "not just encouragement."
This month is the first anniversary of Wichien's reassignment to the Thungyai Naresuan National Park. On Thursday, he recounted additional details of what led to Premchai's arrest: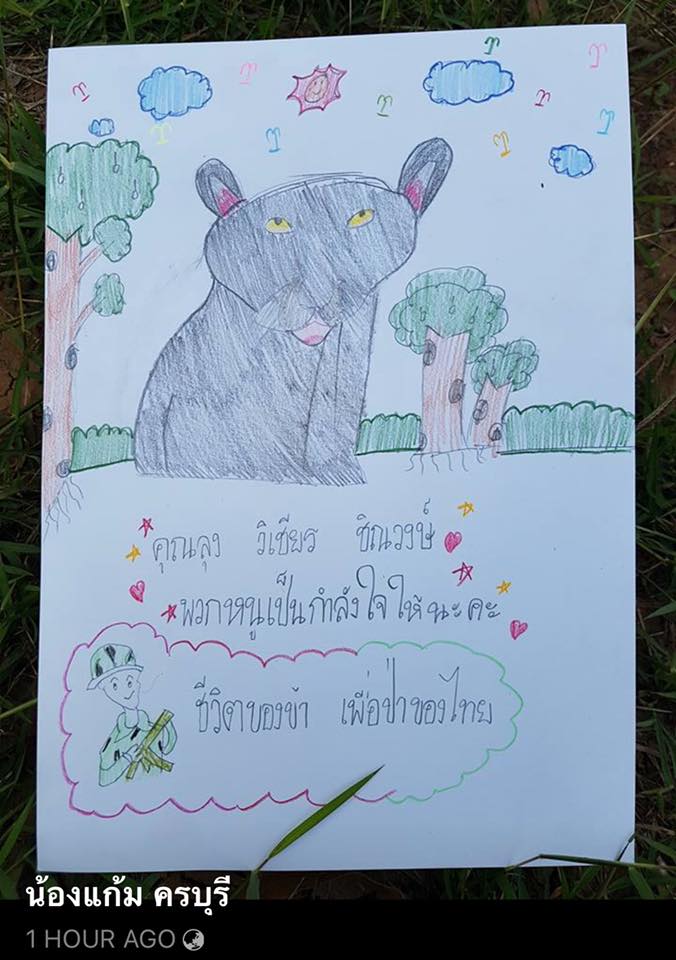 It was 1pm on Monday – the prior afternoon – that rangers came across Premchai's group in the sanctuary and asked them to leave. The four men did not cooperate, so the rangers radioed in for reinforcements. Premchai and his group defied instructions and made their way further into protected lands.
"After that, we rangers were searching their campsite when we heard gunshots. We saw a guy pointing a gun at an animal in a tree. A ranger yelled at one of the men to stop and escorted him back to the tent camp," Wichien said. "On the way, they found lots of 20-caliber bullets, animal flesh and two bags of salt."
Back at the camp, the rangers searched and found more animal carcasses before taking them down to the police station. A later search would turn up a cooking pot that was used to stew the panther's tail.
The encounter wasn't Wichien's first bust.
In October 2013, he led a team to arrest five people illegally logging Siamese rosewood in the Phu Si Than Wildlife Sanctuary. A year later in February at the same reserve, he arrested a Mukdahan district official hunting squirrels. In September this past year, he seized 160 rai (25.6 hectares) of Thungyai Naresuan land illegally occupied by local government officials.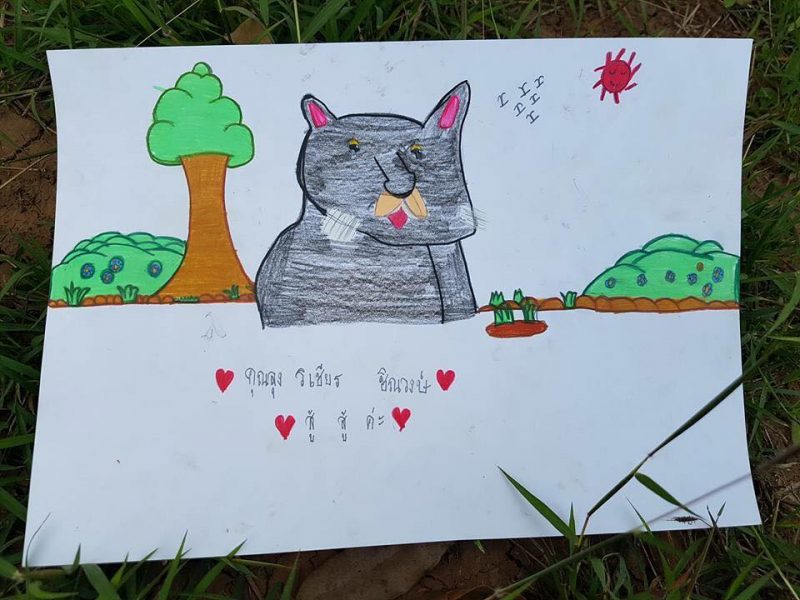 Fight for the voices they can't speak. #ทุ่งใหญ่ pic.twitter.com/8XHDvWPfgy

— Peachpat (@13Peachpat) February 7, 2018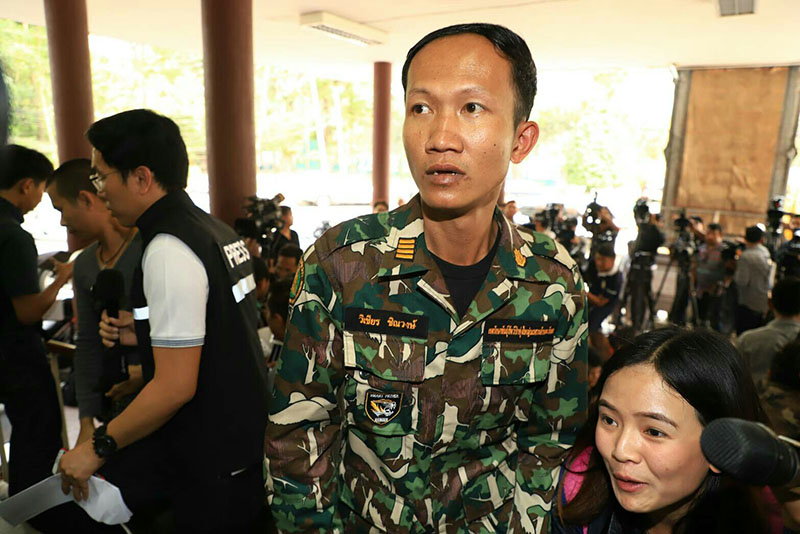 Related stories:
Rangers: Premchai Ate the Leopard in a Soup
Rifles, Ivory Found in Construction Magnate's Home