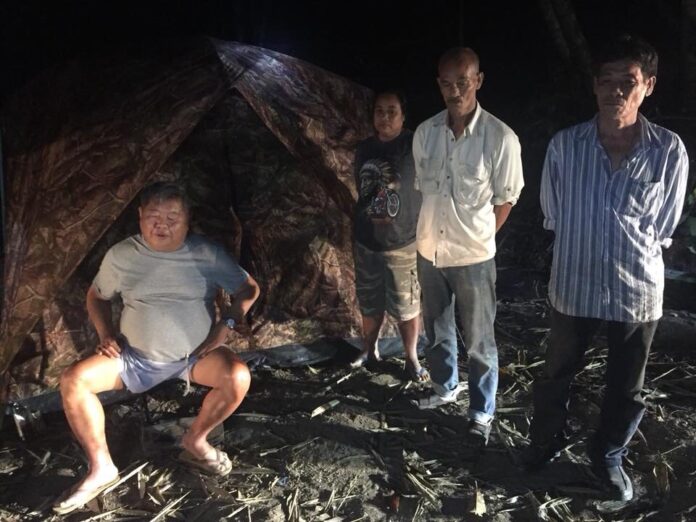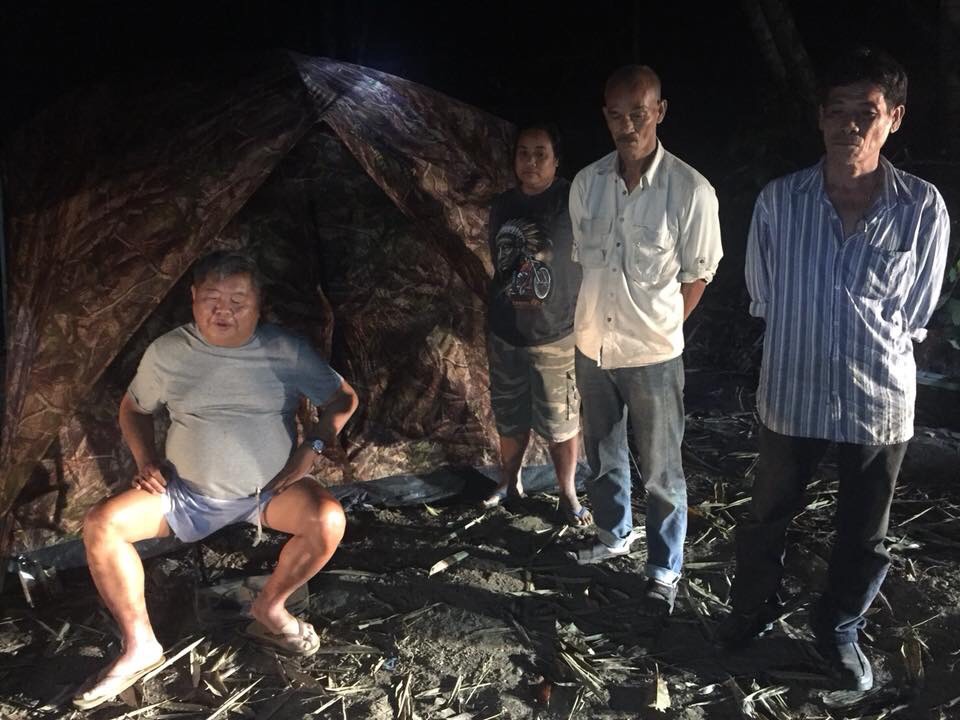 KANCHANABURI — A construction company mogul and three other men were charged Tuesday with poaching a leopard, panther and other wildlife in a sanctuary.
Premchai Karnasuta, the 63-year-old president of Italian-Thai Development and three others were charged with six poaching-related crimes after they were caught 2am on Monday in the Thungyai Naresuan Wildlife Sanctuary with animal carcasses and hunting weapons.
"In that area, camping is prohibited, but we found four tourists so we searched them. We found lots of weapons and wild animal carcasses," Thammarat Wangsopha, the sanctuary's director said Tuesday.
Authorities found two rifles, a double-barrelled shotgun, various bullets, the body of a Kalij pheasant, a muntiacini deer carcass, a skinned and salted black leopard and a black panther skull in the camp.
The four men were sent to the local police station where they were charged with hunting animals in a wildlife sanctuary, which carries a maximum sentence of five years and a fine of 50,000 baht; illegally hunting protected species and possesing caracasses of protected species, punishable by four years in jail and a 40,000 baht fine.
They were also charged with weapons-related charges and poaching, punishable by up to 10 years in prison and a 200,000 baht fine.
The other three men arrested and charged with Premchai were Yong Doadkrua, 65, Natee Riamsaen, 43, and Thanee Thummat, 56.
The sanctuary director said the construction CEO claimed he was the guest of a wildlife official.
"Premchai is claiming that he's the guest of Kanchana Nittaya, the director of the Wildlife Conservation Office," Thammarat said. "He said he submitted documents asking for permission. But by due process those documents are supposed to be sent to the regional wildlife offices."
Thammarat denied the claim.
"I insist that I have not seen any such document," Thammarat said. "Although police are investigating, we in the National Parks Department will follow this case to the end."
Kanchana, the director of the Wildlife Conservation Office of the Department of National Parks, Wildlife and Plant Conservation has denied giving permission for Premchai and his friends to hunt.
However, she said she received an unidentified phone call on Sunday asking for instructions to apply for a camping permit in Thungyai Naresuan Wildlife Sanctuary. She told him to contact the regional wildlife office.
"He's not my guest," Kanchana said. "Camping permission must be granted by the regional office."
"While police have moved slowly on this case, showing the lack of transparency in the area, I'd like to congratulate Thungyai Naresuan Wildlife Sanctuary officials for arresting Premchai, being unafraid of his influence," Sasin Chalermlarp, president of the environmental organization Seub Nakhasathien Foundation said Tuesday.
"It's common knowledge that some people believe consuming panthers will lead to increased sexual virility," Sasin said when asked why Premchai would target those particular animals. "As for the pheasant, that's wild game hunting."
Sasin believes the panther skin is for decoration.
"Of course it will become part of his his collection. If we checked his house, we would probably find the rest of his collection. I'd like authorities to investigate his house and his hunting history, since the panther seems to be skillfully shot and skinned," Sasin said.
Sasin said he estimates that Premchai shot the panther while the other three men skinned it.
Another animal rights activist asked for people to apply pressure.
"Social media and the media must put pressure on this case, especially since money talks, so that the case can eventually go to court," Edwin Wiek of Wildlife Friends Foundation said.
If the case goes to court, it would already be a "triumph," Wiek said, because many illegal poaching cases don't make it that far.
Referring to a couple sentenced in 2010 to five years for picking mushrooms in Dong Radaeng Forest, Wiek said expects a "similar or higher sentence" for this case.
Illegal poaching by the rich and powerful is common in Thailand, Wiek said.
"The police, rich people and government officials do it all the time," Wiek said. "I think it's because rich people want to show off to their friends that they have barami [social power], that they can afford to hunt because they have so much money."
Premchai is CEO of Thailand's largest construction company, Italian-Thai Development. The firm Suvarnabhumi Airport, the BTS Skytrain, MRT subway and other major projects. Italian-Thai Development also has building contracts in Vietnam, India and Taiwan and mines in Laos, Thailand and Africa.
Premchai was listed 35th richest in Thailand in 2011 by Forbes before falling off the list in later years.