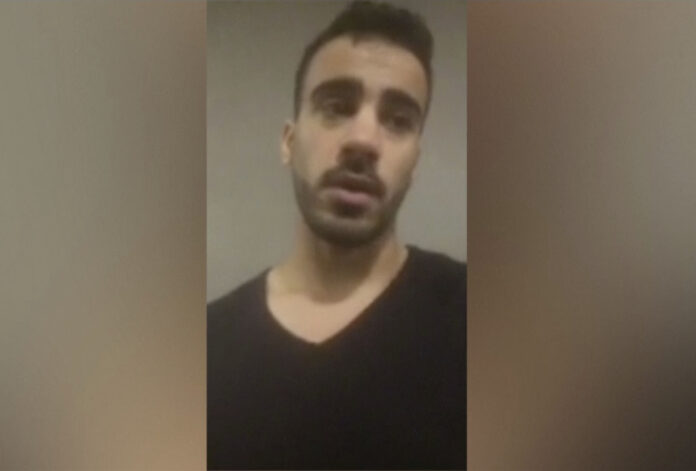 Update: Bahraini Football Player Moved to Jail Before Extradition Hearing (Video)
BANGKOK — A football player with refugee status was prevented from flying back to Australia last night and is in danger of being deported back to Bahrain where he faces torture and possibly death, a human rights group said Sunday.
Hakeem Ali Mohamed Ali AlAraibi is being detained at Bangkok's Suan Phlu Immigration Detention Center after he was prevented by Thai authorities from boarding a plane back to Australia, where has lived four years since allegedly being tortured back home.
"We're worried that Thailand will trade human rights for short term political benefit from Bahrain," Brad Adams, Asia Director of Human Rights Watch said. "What happens here will be an indication of how seriously Thailand takes human rights it enters the election period."
AlAlraib was detained at Suvarnabhumi Airport since Tuesday and held in lockup there, Adams said. He was told on Friday that he could go back to Australia and booked a 9:25pm Jetstar flight on Saturday, but was prevented from boarding the flight.
Human Rights Watch said that it was unsure if AlAraib would be deported Sunday.
Both the Australian Embassy and the UNHCR are advocating for AlAraib to be sent back to Australia in a "tug of war" with the Bahrain Embassy, Adams said.
"Under no circumstances should Hakim AlAraibi be sent back to Bahrain by the Thai authorities. This man is a recognized refugee by Australia and there is only one place he should go, which is back to Melbourne and his protected status in Australia," Adams said.
"Bahrain authorities have clearly targeted Hakeem, manufactured a political case against him and now exerting unjust pressure on Thailand," he added.
The Bahraini Embassy said in a tweet Saturday night that AlAraibi was "wanted for security cases."
On Wednesday, Australia's foreign minister Marise Payne said that AlAraibi is a resettled refugee and that they were aware he was being detained.
According to the London-based Bahrain Institute for Rights and Democracy group, AlAraibi was tortured by Bahrain authorities in 2012 allegedly for his brother's political activities and public criticism of the Bahraini royal family's alleged involvement in sports scandals.
"If Hakeem is extradited to Bahrain, he is at great risk of facing torture and unlawful imprisonment. His extradition would constitute to refoulement and therefore would be a clear breach of international law. The UN and Australian authorities must fight to prevent a disastrous outcome," said Sayed Ahmed Alwadaei, director of the Bahrain Institute for Rights and Democracy.
In 2014 AlAraibi fled to Australia after he was sentenced to a decade in prison for allegedly vandalizing a police station, which he denies.
According to Australia's SBS, AlAraibi said on Thursday that if returned to Bahrain, he would be killed.
"In Bahrain, they want to kill me," he said. "I told [Thai Immigration] I [didn't] come from Bahrain, I have an Australian travel document … Bahrain is not my country now, I live in Australia," AlAraibi reportedly said.
AlAraibi was a national footballer for Bahrain's team and is now on Melbourne's Pascoe Vale Football Club.
The Embassy states that ​​the suspect is wanted for security cases which the Embassy is aware of. It adds that it is following up with the relevant security authorities in this regard.

— Bahrain Embassy – Thailand (@BahrainEmbTH) December 1, 2018
Related stories:
Australia Raised Detained Refugee With Thai Authorities
Long Layover: Zimbabwe Family Stuck at BKK Sent to Philippines