Former silver-screen superstar Jarunee Suksawat's warning earlier this week that Thais may become "slaves of America" attracted frontpage news in many media and many readers, particularly young readers, who found it ludicrous and hilarious.
Perception is reality for some Thais, however, and this writer has little doubt that the former actress, who was featured in hundreds of films back in the 1970s and 1980s, was speaking, or ranting, from her heart judging from her paranoiac face.
Jarunee said she supports former junta leader Gen. Prayut Chan-o-cha, now caretaker PM waiting to be swept away by the new government, to continue to lead Thailand because she does not trust the winning party. She is not alone in seeing the Move Forward Party and Pita Limjaroenrat as puppets of an attempt by the U.S. to colonize Thailand.
Among those espousing such conspiracy theory is former yellow-shirt People's Alliance for Democracy (PAD) co-leader and newspaper owner Sondhi Limthongkul. Sondhi warned a week ago about the Move Forward Party being a U.S. front seeking to eventually overthrow the Thai monarchy and allow the U.S. to dominate Thailand.
Sondhi, who by the way among a dozen people detained by the military junta in the aftermath of the May 22, 2014 coup "for attitude adjustment" along with this writer at an army base in Ratchaburi province, compares the current situation in Thailand with the American support of the Orange Revolution in Ukraine and use Thailand as a military base to contain China.
The U.S. Embassy is the only embassy which "pokes its nose" into Thai domestic affairs and wants to interfere, Sondhi said.
You would be wrong to think the fears that the U.S. is penetrating Thailand and infiltrating through its CIA agents and informants is something reserved for the conservative pro-military camp.
A few weeks before the May 14 general election I accidentally ran into a former prominent redshirt. The man is U.S.-educated, fluent in English, and had spent years in America and when I asked if he is still giving advice to the Pheu Thai Party, in which the redshirts overwhelming support, he said no.
"They accused me of being a CIA," my interlocutor said, referring to the Pheu Thai leadership. "But even if I'm a CIA I won't admit it anyway."
My source is not the first nor the last to be accused of being an American spy or a spy for America. Think of Jim Thompson and the belief by some that he was an American spy. More recently, Khon Kaen-based American scholar David Streckfuss, was accused of being a CIA by people like Sondhi.
Basically, any American who is fluent in Thai, as well as Thais educated in the U.S., could be a suspect CIA or an informant. This explains why people like Sondhi, who is ironically educated at Utah State University, believe people like Harvard-educated Move Forward PM candidate Pita Limcharoenrat, is an American puppet or asset.
The truth is, U.S. Ambassador Robert F. Godec can deny as often as he wants, but those who want to believe in what they believe will continue to believe for at least two reasons.
First, conspiracy theorists want to be part of a bigger struggle than just opposing a rookie political party like Move Forward. What more can rally their ultra-nationalist sentiment than the drumbeats calling them to wage a war against the world's biggest "evil" superpower, the US of A?
Suddenly life is worth living and there is a clear meaning in this existential fight – think about Muslims waging the holy war against Satanic America and reducing the intensity by half then you have Thai ultra-royalists fighting against imperial America. (It is also much easier than engaging in a painful and onerous self-examination on how Thai society has changed, particularly young and active Thais who are critical of the monarchy institution.)
America is partly, if not largely, to blame for the conspiracy theory entertained by some Thais, however. The U.S. record during the Cold War when they helped propped up one Thai military dictator after the other (and ironically revived the role of the monarchy) as stalwarts against encroaching communism left a sour taste in the mouths of leftist Thais even decades after.
The late U.S.-educated anthropologist Banthorn On-dam told me and others nearly two decades ago that he and a few others belatedly realized they were trained to do anthropological fieldwork in the northeastern region so their works could help America better understand northeasterners in a bid to stop the tide of communism during the Cold War.
More recently, WikiLeaks revealed that during Thaksin Shinawatra time as PM, or post 9-11 era, an American radio relay station in Udon Thani province was likely a CIA black site for torture where American officers repeatedly waterboarded at least two high-profile detainees, an illegal action on Thai soil euphemistically called "enhanced interrogation."
On Thursday, Ambassador Godec was gracious enough to show up outside his fortified embassy in Bangkok to receive a petition letter by a few ultra-royalist conspiracy theorists demanding the U.S. to stop meddling in Thai domestic affairs.
"I met a group of demonstrators outside the U.S. Embassy Bangkok, received their petition and heard their views. I thanked them for coming and reiterated that the U.S. respects the institution of the Thai monarchy and the great esteem in which Thais hold the Royal Family," Godec was quoted on the embassy's Facebook page.
"I also emphasized that the U.S. did not have a preferred outcome in the election and does not support a party of a candidate…"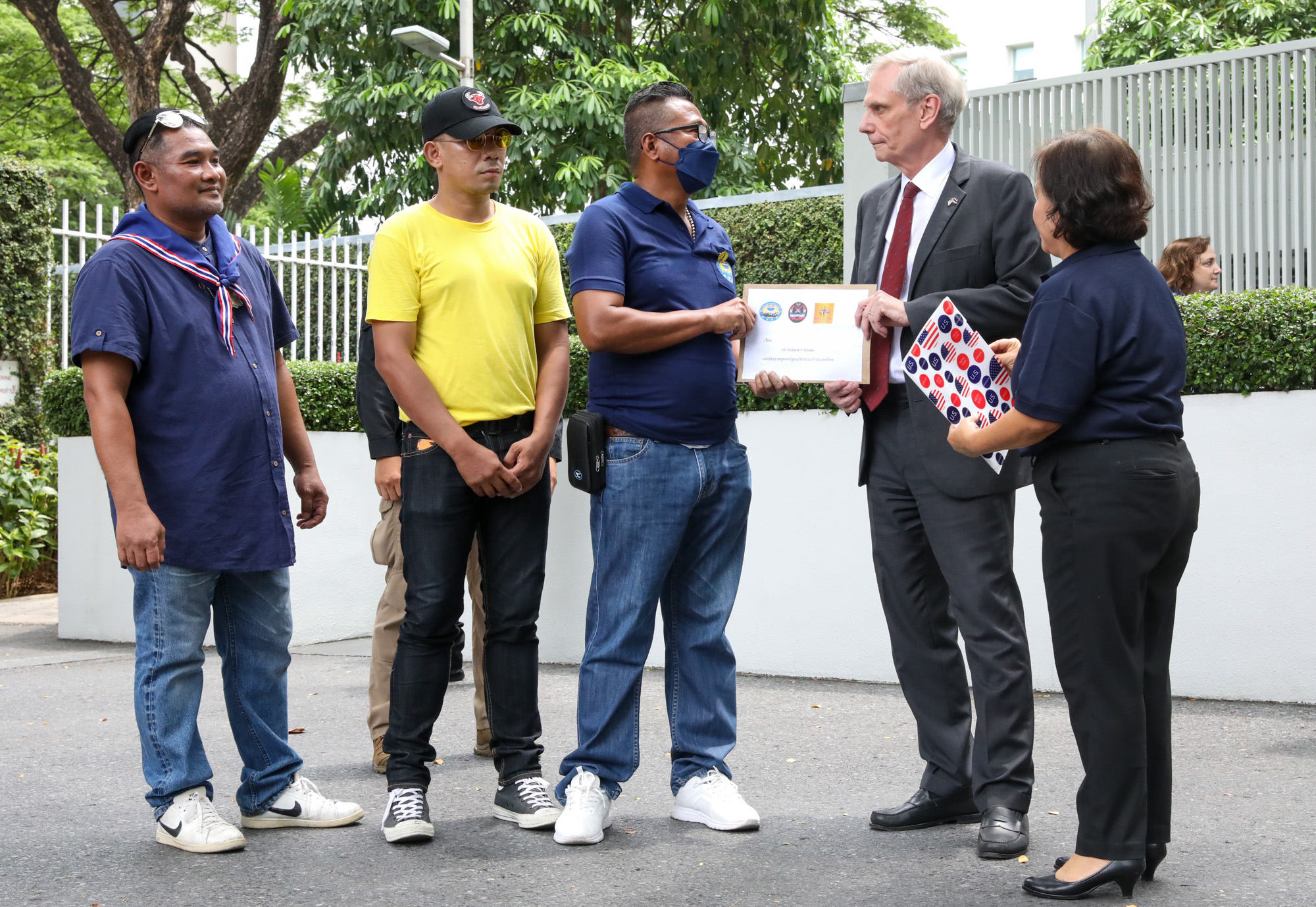 Basically, Godec can emphasize all he wants and as often as he wants, but believers will continue to believe otherwise. Such a move did not even please some Bangkok-based Americans as well.
"Godec looks weak meeting respectfully with these loons and, worse, he makes the U.S. look weak," tweeted mystery-thriller writer Jake Needham, in reaction to Khaosod English's news on Twitter about Godec's meeting with ultra-royalists. "Laugh at them and move on. It's all they deserve."
I examined the photo of the meeting released by the embassy and noticed the ultra-royalist man on the extreme left of the photo smiling. I am not sure whether his smile was because he was happy the American ambassador himself came out to receive them or because he believes whatever Godec said was expected and BS.