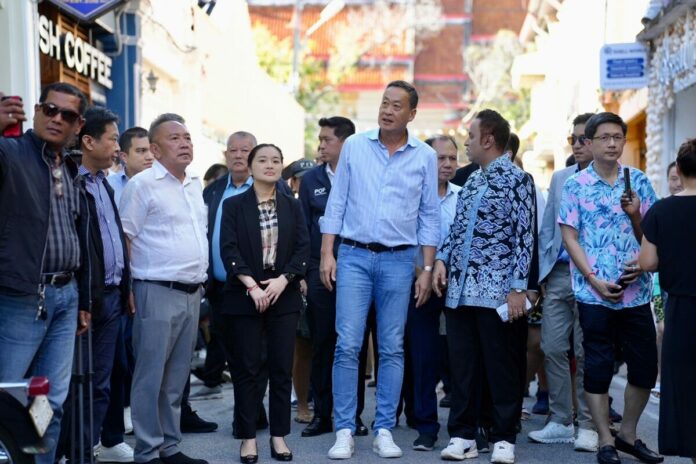 The new Cabinet has not been officially announced yet, but the ruling Pheu Thai Party has released an incomplete unofficial list and we can now do a preliminary assessment. So, what can we and cannot, or even should not, expect from the new Srettha Thavisin administration?
Given that the ruling Pheu Thai Party has a long track record of successful economic policies and Srettha himself was a successful businessman until last November, running one of Thailand's largest real-estate developing company, Sansiri, we can expect the new government to be particularly attentive to the needs of the business community – let's hope it is not just big businesses for SMEs who have severely suffered during the COVID-19 pandemic.
It was a good choice for Srettha to fly to Phuket on Friday and made the island his first province to visit as PM and to explore ways to improve the tourism industry there and in nearby provinces. As you may know, the opposition Move Forward Party won all seats in Phuket during the May general election and before that, was a stronghold of the opposition Democrat Party.
This shows that either Srettha does not play favoritism by choosing to first visit a province that is a Pheu Thai stronghold or he is very Machiavellian enough and already plotting to penetrate the electoral base of a very strong opposition party.
Srettha will likely try to run Thailand like an efficient CEO (and there are pros and cons). Already, on Sunday, Airports of Thailand (AOT) director Kirati Kitmanawat said measures will be introduced to alleviate congestion at Suvarnabhumi and Don Mueang Airports. The remark came after he met with Srettha.
What We Cannot Expect, or Shouldn't Expect:
We cannot expect the military to be fully back in the barracks. The Defense portfolio, originally slated for veteran Pheu Thai MP Suthin Klangsaeng, eventually may go to retired Gen. Nattapol Nakpanich, an aide of former-junta-leader-cum-ex-PM Gen. Prayut Chan-o-cha.
This was one of the last acts as part of the deal in order for the Pheu Thai Party to gain support from the pro-junta United Thai Nation Party. (Please note this list is still subject to change in the last minute and as I typed these words, Pheu Thai is still trying to get its own people to be in charge of the Defense Ministry.)
But that is not all, the annual military reshuffle was also left for Prayut to decide as he was leaving his PM post and the new army chief chosen is Gen. Charoenchai Hinthao, another close aide of Prayut who worked directly under Prayut in the past and a member of the elite red-rim King's Guard.
This means Thailand has changed from a semi-military regime under former junta lead Prayut to a quasi-military regime under Srettha because the armed forces, particularly the army chief, remains outside de facto civilian control – thus a state within a state. It still has the capability to stage yet another military coup "if needed" or told to.
Next, we cannot expect some Thais to regard Srettha as their PM. Some of the 14 million who voted for Move Forward Party, which came first in the election with most MP seats won, are still coping with the aftershock that their choice for PM, MFP leader Pita Limjaroenrat, did not become Thailand's 30th Prime Minister.
They basically feel cheated and robbed of their electoral rights as rules and organs laid down by the military junta under Prayut eventually ensure that the Move Forward Party will fail to form the new government. Thus, we cannot, or should not, expect reconciliation anytime soon as for some, Pita is their PM.
Inmate Thaksin Shinawatra and the Pheu Thai Party are basically no longer the arch enemy of the Thai conservative elites. In fact, they are becoming part of the establishment. The new enemy is Move Forward Party, its leader Pita Limjaroenrat and co and their ideology critical of the monarchy, the military, and business oligarchs.
The established elites now hope they can use Move Forward Party's new enemy or rival, which is Pheu Thai, to contain the former which is regarded as more radical and their new biggest threat.