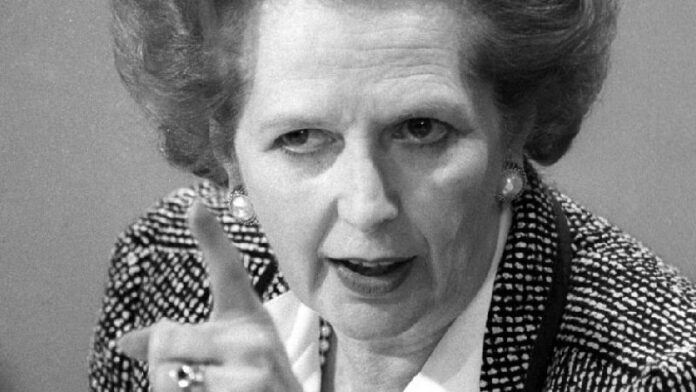 Margaret Thatcher, the "Iron Lady" who transformed Britain and inspired conservatives around the world by radically rolling back the state during her 11 years in power, died on Monday following a stroke. She was 87.
She died peacefully on Monday morning at the Ritz hotel after a stroke. She had been in poor health for months and had declined into dementia in her final years.
The AFP published the picture of Margaret Thatcher visited Thailand in 1988 as British Prime Minister. She enjoyed a welcome song sung by Cambodian refugee children at Site B refugee camp near the Thai-Cambodian border in the Surin province, August 1988.
Derek Tonkin, British Ambassador to Vietnam (1980-82) and to Thailand and Laos (1986-89) wrote a letter to the editor of the Phnom Penh Post in 2000 to explain why British and Western involvement on the Thai / Cambodian border.
He noted that Mrs Thatcher came to Thailand in August, 1988 on her way back to London from a visit to Hong Kong particularly to look at the Cambodian situation, of which she had no first-hand experience, but which she realized was of importance to the future stability and prosperity of the region. To that extent she was well ahead of one of her illustrious predecessors in the Conservative Party, Sir Winston Churchill, who in his 79th year was heard to remark: "I have lived 78 years without hearing of bloody places like Cambodia".
"I was British Ambassador in Bangkok at the time of Mrs Thatcher′s visit in August, 1988, which occurred at the time of the transition of the premiership from General Prem Tinsulanonda to General Chatichai Choonhavan, whose mutual desire to play host to Mrs Thatcher was happily resolved by an invitation issuing from both Thai Prime Ministers." Tonkin wrote.
Britain′s only woman prime minister, the unyielding, outspoken Thatcher led the Conservatives to three election victories, governing from 1979 to 1990, the longest continuous period in office by a British premier since the early 19th century.
A grocer′s daughter with a steely resolve, she was loved and loathed in equal measure as she crushed the unions, privatized vast swathes of British industry, clashed with the European Union and fought a war to recover the Falkland Islands from Argentine invaders.
She struck up a close relationship with U.S. President Ronald Reagan in the Cold War, backed the first President George Bush during the 1991 Gulf War, and declared that Soviet leader Mikhail Gorbachev was a man she could do business with.
"Very few leaders get to change not only the political landscape of their country but of the world. Margaret was such a leader. Her global impact was vast," said Tony Blair, Labour prime minister from 1997-2007.
"Some of the changes she made in Britain were, in certain respects at least, retained by the 1997 Labour Government, and came to be implemented by governments around the world," said Blair.
Prime Minister David Cameron cut short a visit to Europe to return to Britain after the death was announced and British flags on government buildings and royal palaces across London were lowered to half mast.
U.S. President Barack Obama said: "America has lost a true friend."
Mourners began to lay roses, tulips and lilies on the doorstep of her house in Belgravia, one of London′s most exclusive areas. One note said: "The greatest British leader" while another said to "the iron lady".