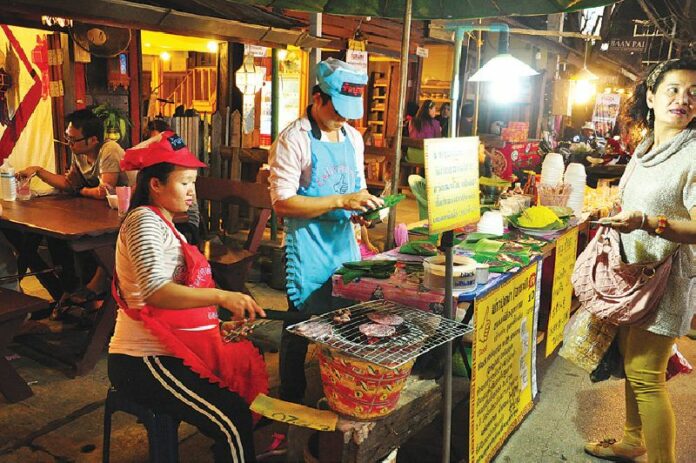 By Naorn Augkamol
"Rubbish" is one of the shameless definitions that many people called "Pai" (Thai : ปาย), a former well-known place among young tourists in Mae Hong Son province, northern Thailand. But since its retro style has attracted an enormous amount of tourist in 2008-2009, which linked to an infamous case of gasoline shortage and later raised these insulting comments whether "Pai was terrible" or "Pai is absolutely rubbish now".
It seems like the future of Pai appears to be going downward than we were expected as Pai′s bad reputation continue to spread all over the media and of course by word of mouth, the only way to prove if those rumors were actually real – I decided to give Pai a chance.
So, I packed my stuffs and flew to Chiang Mai Airport with Tourism Authority of Thailand (TAT) team before joining a hopeful conservative trip "Tieaw Plook Pun SanFun…Pai Si Keaw" a Greenheart travelling project to help Pai turnaround from rubbish and become one of the best ecotourism places in Thailand.
That′s why TAT has been working hard alongside the village′s tourism industry to develop a long-term and sustainable business to keep the area green and clean for future generations.
Anyway…when you talk about Pai, it wasn?t easy to cope with it′s entitled to the name of "Thousand Curves Route".
It was definitely a challenge to ride along 762 hairpin curves (there?re 2 seperate routes to Pai, the first one from Mae Hong Son with 1,864 curves and Chiang Mai via Huai Nam Dang Nationa Park to Pai with 762 curves), the distant is just 135 kilometres but because of the winding mountain road the journey can take up to 4 hours.
Even I have no prone to travel sickness but 4 hours in a small van wasn?t an ideal way of fun.
Surprisingly, while I sat at the back seat and ready to take a long nap – suddently I felt like losing control, my eyes went wide open with excitment of beautiful scenery along the road.
The sunlight shone brightly through foliage of trees and green grass contrast with blue sky while golden ripe rice in paddy field lightened up my feeling toward Pai, maybe it′s not so bad afterall.
And here we were… the first stop at "World War 2 Memorial Bridge" located around 9 kilometres south of Pai, is a major tourist attraction built by the Japanese army as a transportation route between Chiang Mai and Burma (Myanmar) in 1942.
But time has passed for decades and the bridge was no longer usable. So, local government decided to build a new concrete bridge next to the original bridge, which later was reconstructed and preserved as a memorial to World War 2.
Further along the same highway is "Pai Canyon" or "Kong Lan", it was an amazing mother nature′s creation of hight eroding cliff that offers a spectacular 360 degree view, I know it′s not "The Grand Canyon" but it′s worth every sweat after walked a 200 metres slope paved stairway for 15 minutes. Best to visit early morning or before sunset, as temperature in the afternoon can get seriously hot.
After explored the area, the combination of hot weather and long hours of trekking – our feet were swollen. We decided to take a break with a little help of "The Pai Hot Springs" one of the focal points of Huai Nam Dang National Park. The springs offer a number of bathtubs for visitors to bathe or soak their feet in the water that strongly believed to have therapeutic value.
As the old saying: happiness is short lived, we spent time at Pai Hot Springs till the closing time.
But before called it off and went straight to the hotel, we walked through the main street of the town which becomes pedestrian street that filled with tourists, market stalls, and food carts. This so called "Pai Walking Street" has so many shops with retro style where you can find anything from souvenir, handicraft, handmade T-Shirt and postcard. Well-blended among pub, bar and restaurant with friendly atmosphere.
A long night walked and a few delicious local foods, we finally called it a night.
The next day morning, we went to Pai′s City Hall and joined the rest of the group to began our ecotourism trip by cycling around the town. It was such a great experience to felt the wind blew softly through your face with pricesless view that hardly find in the city – people gatherd around at morning fresh market while some of them offered foods to a group of monks.
As the sun had risen, we stopped at "Wat Klang" near the bus station. In the precincts of this temple which was built in 1792, a main Chedi of Thai-Yai (Shan) style stands in the center along with Mon Chedis. It is one of the significant temples in Pai with Prah Buddha Tarma Naluenatra, the attitude of Nirvana posture of the Buddha, was craved from a Padauk and inside the Vihear next to side park of the temple.
And around 5 minutes cycling away from Wat Klang, we were then at "Wat Pa Kham" where beautitul Lanna Chedis surrounded by Weekday Buddha Statue and Prah Naleumitra Pichitmar Pratan Chiya Mongkol, the attitude of persuading the relatives not to quarrel, was hand craved from a hundred year-old Burma Padauk in 2009.
Next stop at "Wat Luang" the most famous temple in Pai, where important Thai ceremonies are frequently held. The big Shan Pagoda stands in the middle of the temple area with Mon Pagodas surrounded. On the top of the main pagoda is docorated with the beautiful pavilion and was built in 1803. The temple also contained Luang Po Tunjai Sri Muang Pai, a large Wooden Buddha Statue.
After got tired from cycling over an hour, we continued further up on the mountain not far from Pai where "Santichon" a Chinese Village is located, the village was settled in the middle of the 20th century by Yunnanese tribes. The area surrounded by beautiful Chinese landscape with an old style Chinese mud and straw model house, offers tea tasting sessions, Yunnan Cuisine, horse riding, shooting crossbow and riding wooden ferris wheel.
Then, visited "Hai Aui Takam Home Stay" a well-known place to learn that life is way better when everything is back to basic, with life worth lessons on how to homegrown rice, coffee, vegetable and how to handle your own life in a simple and sustainable way.
Last but not least, we had succeeded in "Planting Vetiver Grass Project" for protecting the soil against erosion through its non-invasive nature and deep roots to retains water in the soil.
Since I had travelled all around Pai, I would definitely recommend it as one of my top list must visit places – but you have to let go of thoes absurd comments about Pai, open your heart to see Pai in your own satisfaction.
Don?t come here just to brag the others that you?ve been to places where romantic drama films were shot – becuse it′s olny a skin deep of Pai, not the amazing city that I have been lucky enough to see what truly Muang Pai is.