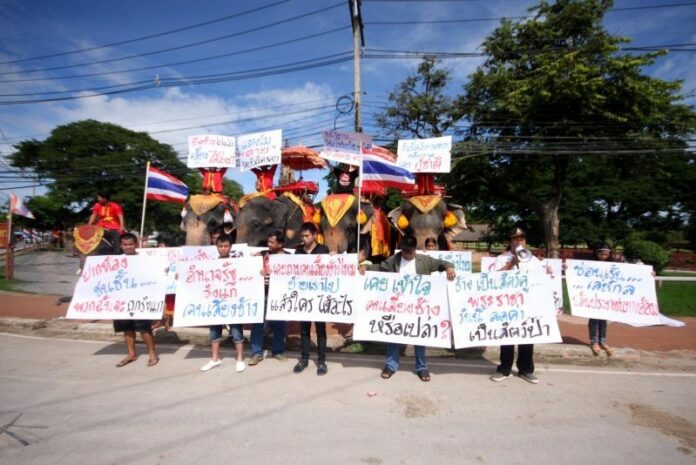 (22 September) A group of mahouts and 5 Elephants gathered in Ayutthaya province to protest the proposed draft of the Wildlife Preservation and Protection Act B.E.2556, stating that the new bill restricts their rights over the elephant and disrespects folk wisdom about elephant nurturing.
Mr. Laithongrien Meephan, President of Prakachabal (Elephant Minders) Foundation in Ayutthaya province, led the protest against the new bill, as the mahouts had not been consulted about the draft, and hence the bill only serves the interests of the Convention on International Trade in Endangered Species of Wild Fauna and Flora (CITES).
On 2 May 2013, the Ministry of Natural Resources and Environment (MNRE), under the instruction from Prime Minister Yingluck Shinawatra, revised the Wildlife Preservation and Protection Act B.E. 2535 to be more attuned with the CITES agreement made during a meeting held in Thailand earlier this year.
The new act, to be enforced later this year, requires mahouts and elephant owners to inform the Department of National Parks, Wildlife and Plant Conservation (DNP) about their elephant ownership. If they fail to do so, the elephant carers can face up to 10 years in prison and fined up to 2 million baht.
According to Mr. Laithongrien, this revised act is seen to disregard mahouts, restricting individual rights, and jeopardizing folk wisdom.

He said the bill will reset the previous system of elephant ownership and transfer all the rights to oversee the elephant from the individual to a governmental authority, which he believed to have failed to look after the elephant's welfare.

Mr. Laithongrien explained the failure of the DNP to look after elephants by citing the case of Taeng-Mo, a female elephant which was seized under the protection of the DNP and placed instead under the protection of Thai Elephant Conservative Center in Lampang province only to die there.

The protesters also accused the government for siding with CITES supporters instead of the mahout community.

Mr. Laithongrien charged that the revised version of the Wildlife Preservation and Protection Act B.E. 2556 did not include public opinion, and it was rewritten in accordance with the international agreement that "knows nothing about the cultural history of elephant nourishment in Thailand".
Mr. Laithongrien said if their requests are not met, the mahouts will march with 3,000 elephants to the Government House in Bangkok to force the new act to be discarded.