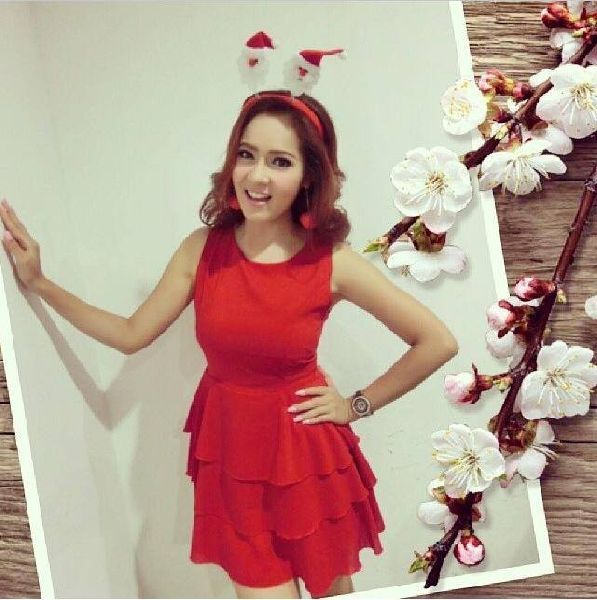 (7 January) Following a name change intended to improve her fortune, famous actress Pim-Aksiphon Wintarakomintra is now known as Khakkingrak Khikkhiksaranang.
It is the third name change for the Channel 3 star; she was born Kwankhinee Winkomintra and identified herself as such until she started her acting career, when she decided to change it to augment her fortune.
Ms. Khakkingrak also cited divine intervention as a reason for her latest name change.
Nevertheless, her choice of name drew an amused reaction from much of the Thai public and went viral on the Internet almost overnight, with many Thai netizens attempting to pronounce the name and consulting their dictionaries for the meaning behind Ms. Khakkingrak′s full name.
Many also point out that a part of her surname, ?Khikkhik?, sounds like giggling in Thai.
Ms. Khakkingrak, who is known to her fans by her nickname ?Meiji?, stated on Channel 3′s morning news program today that despite the difficult spelling and pronunciation it brings, her new name is in fact very beneficial to her luck.
"It is my personal belief" said Ms. Khakkingrak, "A friend of mine suggested I should go with a new name that can be calculated as 99," according to a numerological principle.
She added that her new name means "moderate practice."
Name change is a common practice for many Thais who hope to avoid bad luck or evil spirits.
Ms. Khakkingrak is far from being the first celebrity whose name change caught the attention of the media. A beauty-contestant-turned-actress, Ms. Noo-Im-Im Kaomahassajarn, is also known for her obsession with lucky names and numerology.
Born with the name "Achita Sikkhamana", she later changed her last name to 'Woothinantasurasit', and then to 'Thanasastananta'.
She then told the press that Thanasastananta brought her ill luck, which convinced her to change her name to the current one and have her mother follow suit with the same family name.
Because luck runs in the family, Ms. Noo-Im-Im said.
For comments, or corrections to this article please contact: [email protected]
You can also find Khaosod English on Twitter and Facebook
http://twitter.com/KhaosodEnglish
http://www.facebook.com/KhaosodEnglish