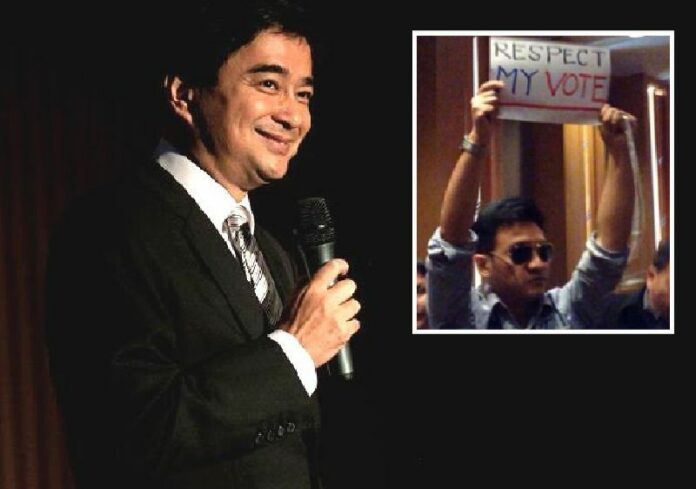 (7 January) Former Prime Minister Abhisit Vejjajiva has been heckled today by a man who told the former leader to respect his rights to vote.
Mr. Abhisit was delivering a speech at a press conference titled "Eradicate Corruption, Committed In Reforms" organised by the Democrat Party at Bangkok Art and Culture Centre (BACC) this afternoon when an unidentified man stood up in the audience and blew his whistle.
The audience mistook him as a supporter of Mr. Abhisit, since whistle-blowing has been a trademark of the anti-government protesters, and no one restrained him until he held up a sign which reads – in English – "Respect My Vote!".
The heckler then shouted at Mr. Abhisit, "If you cannot even reform yourself, how can you reform the country?". Mr. Abhisit was visibly surprised by the incident, but the former leader tried to manage the confrontation by thanking the man for his remarks.
However, the heckler went on to shout, "When you were the government, why didn?t you do it? Stop the discourse about anti-corruption. You have intimidated other people, so can they not intimidate you as well?".
"This is an example of reasons why we need reforms," Mr. Abhisit told the audience, "This is the form of Democrat Party′s rivals", to which the heckler shot back, "I am not your rival, I am the people!".
Security guards later surrounded the man and led him out of the room. After the heckler has been removed, Mr. Abhisit told the crowd that such harassment is a reason why the upcoming election on 2 February 2014 would not be a fair one.
The former leader then continued with his keynote speech.
Prominent Democrat members such as Mr. Jurin Laksanavisit and Ms. Kalaya Sophonpanich were also present at the event.
For comments, or corrections to this article please contact: [email protected]
You can also find Khaosod English on Twitter and Facebook
http://twitter.com/KhaosodEnglish
http://www.facebook.com/KhaosodEnglish