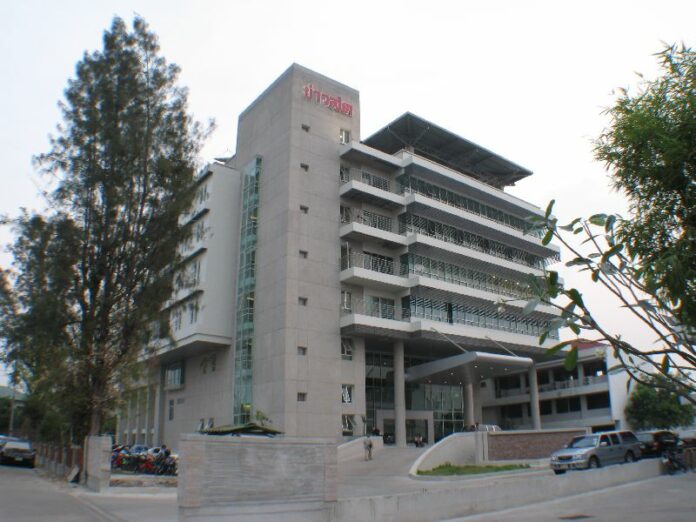 Khaosod (ข่าวสด), which translates to "Fresh News," is a Thai daily newspaper with national circulation.
Founded on April 9th 1991, Khaosod is the youngest newsprint of Matichon Publishing Group, which also operates two other daily news publications: Matichon Daily and Prachachat Business.
Khaosod is more 'mass-oriented' and 'upcountry-focused' in style than its sister newspapers under Matichon Group, and sells 300,000 copies per day.
Despite heavy features on crimes, local affairs, and entertainment like other major dailies, Khaosod also remains keen on political and social issues similar to its sister newspapers Matichon and Prachachat.
Khaosod has seen substantial success over recent years, with millions of copies sold nationwide in 2011; it is currently holding the rank of 3rd best selling newspaper in Thailand.
Khaosod was first brought to prominence in 1994 for its extensive coverage of the murders of the wife and son of a well-known Thai gem dealer. Initially disguised as deaths by accident, the Khaosod news team later discovered and reported that they were in fact abducted and subsequently murdered by a group of rogue police officers who intended to extract information concerning the whereabouts of the set of jewels stolen from the Saudi Arabian Royal Family in 1989.
Khaosod was awarded the 1994 Best News Feature from Isra Amanantakul Foundation (the so-called "Thai Pulitzer") for its coverage of the incident.
Khaosod's reputation as a reliable and bold news agency was later cemented by a scandal involving Phra Yantra, a famous monk with nationwide following, who was exposed by Khaosod to be a fraudulent millionaire with questionable ethics.
Khaosod newsroom has continued to investigate and expose members of the establishment who abuse their power, earning its nickname as a "Watchdog" who is fiercely loyal to the public interest.
The most critical trial for Khaosod's proclaimed principles came in the months of April-May 2010, when the military – acting on orders of then-Prime Minister Abhisit Vejjajiva – violently ended protest rallies in central Bangkok, sparking the worst political violence in Thailand's recent history.
Khaosod has been unrepentantly committed to bringing justice to those who lost their lives in the tragedy, providing some of the most extensive coverage of 2010 crackdown and its aftermath.
In late 2013, when the government of Prime Minister Yingluck Shinawatra pushed to pass a 'blanket amnesty' bill that would have included all perpetrators of the 2010 violence, Khaosod published an editorial that unequivocally opposed the plan and insisted on seeking justice.
As Thailand moves towards the ASEAN Economic Community (AEC) within 2018, Khaosod English has been launched as digital means to bring Thai news to the world, making Khaosod the first Thai-language newspaper with an English version.