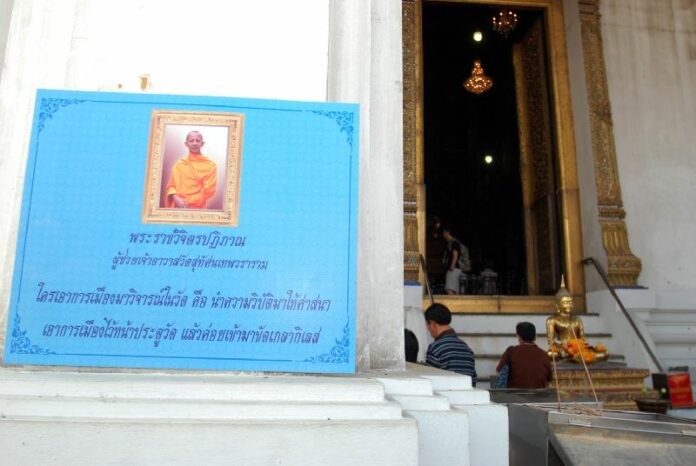 (12 March) Located just opposite the Giant Swing and Bangkok City Hall, Wat Suthat Devawararam has been a popular attraction for tourists, and, recently, for political protesters, too.
Its popularity is understandable, as the temple is located just a short walk away from Ratchadamnoen Avenue, where thousands of supporters of the People's Committee for Absolute Democracy With the King As Head of State (PCAD) camped out for weeks in the period of mid-November 2013 to early-January this year in the bid to oust the government of Prime Minister Yingluck Shinawatra.
Most of the protesters have left the Avenue in January, but a number of PCAD supporters still remained at the campsites, and some of them have visited Wat Suthat for merrit-making and other Buddhist ceremonies.
Along with them, the temple's deputy abbot complained, they have brought politics.
"They talked about politics inside the temple, and so upset some of other temple-goers," said the deputy abbot, Pra Ratchawijit Patiphan, "Sometimes it leads to serious confrontation, which made me and other monks really uncomfortable".
The problem started at the height of the PCAD protests at Ratchadamnoen Avenue late last year, according to the monk.
The temple's solution was to place big signs around the temple asking the temple-goers not to discuss politics inside the religious sanctuary altogether.
One such banners reads, "Political debate would only bring destructions to the religion. Leave off your political preferences before you enter the temple to cleanse your earthly desires".
Pra Ratchawijit said the placards failed to bring about peace at first. In fact, some temple-goers were angered by the signs, and attempted to vandalise the banners.
Even worse, Pra Ratchawijit told our correspondent, some of the upset temple-goers vented out their anger by placing their shoes over the deputy abbot's picture inside the temple, too.
However, he said the monks continued to talk to the parishioners and eventually persuade them to understand that political arguments inside the temple would only disturb fellow Buddhists, and that the measure was enacted out of the need to facilitate peace among temple-goers.
"Lately, the temple has received good cooperation from every temple-goer," the deputy abbot said.