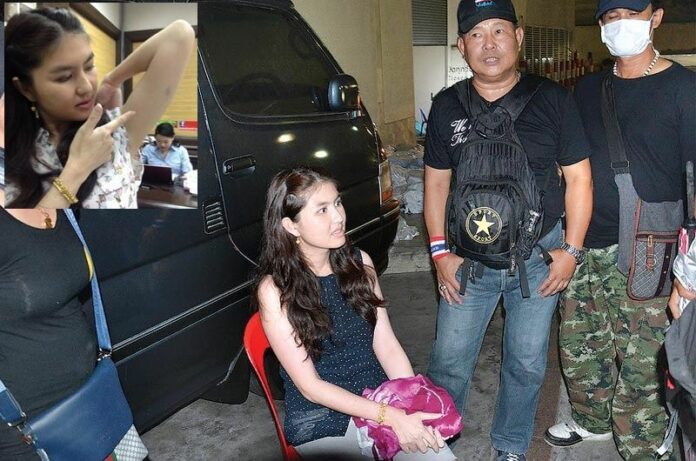 (12 March) The authorities have released CCTV footage showing the moment anti-government protesters captured a governmental spokeswoman who was passing through their rally last month.
The incident occurred on 25 February when Ms. Sunisa Lertpakawat, Deputy spokeswoman of the Prime Minister Office, visited a skin-care clinic near Pathumwan Intersection where anti-government protesters led by the People's Committee for Absolute Democracy With the King As Head of State (PCAD) were holding a rally.
News reports indicated that Ms. Sunisa was recognised by one of the PCAD guards and was later escorted to a tent where she was interrogated by a group of protest guards.
Ms. Sunisa was eventually released several hours later. Although protest leader Suthep Thaugsuban was present at the campsite at the time, it is understood that the two did not meet face-to-face during her brief captivity.
The spokesman later told the press she would pursue legal action against the protest guards on charge of illegal detention for violently manhandling her as she was escorted to the guards HQ tent. The charge carries a penalty of maximum 5 years in prison.
Today the Centre for Maintaining Peace and Order (CMPO) released the footage from a CCTV mounted close to the clinic visited by Ms. Sunisa on the day of the incident. In the video, a group of PCAD guards could be seen standing and waiting for Ms. Sunisa before she came into the camera view and walk past them.
One by one, the guards could be seen chasing after Ms. Sunisa, while some pedestrians fled the area in apparent panic. Ms. Sunisa was later briefly seen on the camera again as she was escorted by a large group of PCAD guards.
CMPO said the footage will be used as evidence against at least 9 PCAD guards involved in the incident.
CMPO also claimed that medical report confirmed signs of physical assault on Ms. Sunisa.