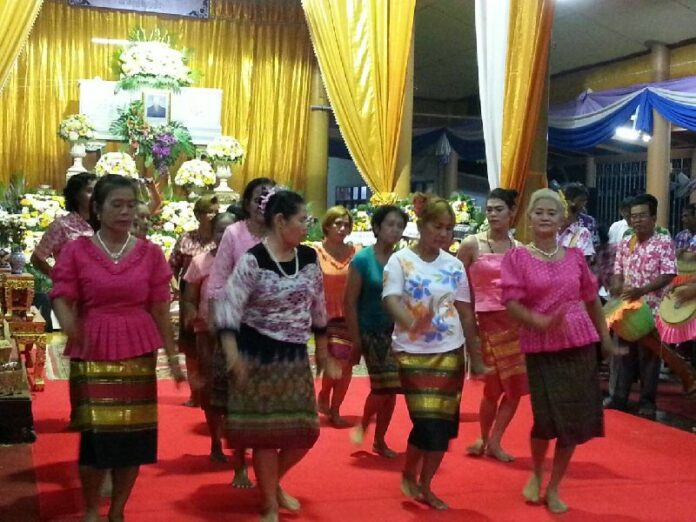 ANG THONG — A group of musicians performed a festive traditional dance and music show at the funeral of their band founder in Ang Thong province yesterday, honouring the man's dying wish.
The mini-concert was held at the funeral of Mr. Lamai Yutthitham, in Pho Thong district's Wat Boon Kerd Temple. Mr. Payung Khoomsakudee, the leader of the Klong Yao band knelt down in front of Mr. Lamai's coffin in gesture of respect before signaling his band to start their show.
Folk dancers in full regalia moved in rhythm with the playful tunes of traditional Klong Yao drums. Some of the funeral attendants were visibly baffled.
According to Mr. Payung, the odd funeral performance was a tribute to Mr. Lamai, who helped found the folk band and raise it to prominence in the region.
Shortly before he died of cancer on 15 April, Mr. Lamai strictly instructed his band members to organise a full-scale Klong Yao dance at his own funeral, Mr. Payung said,
"We did what Mr. Lamai told us in his dying wish," Mr. Payung explained.
A Buddhist cremation ceremony will be held for Mr. Lamai on 20 April.
For comments, or corrections to this article please contact: [email protected]
You can also find Khaosod English on Twitter and Facebook
http://twitter.com/KhaosodEnglish
http://www.facebook.com/KhaosodEnglish