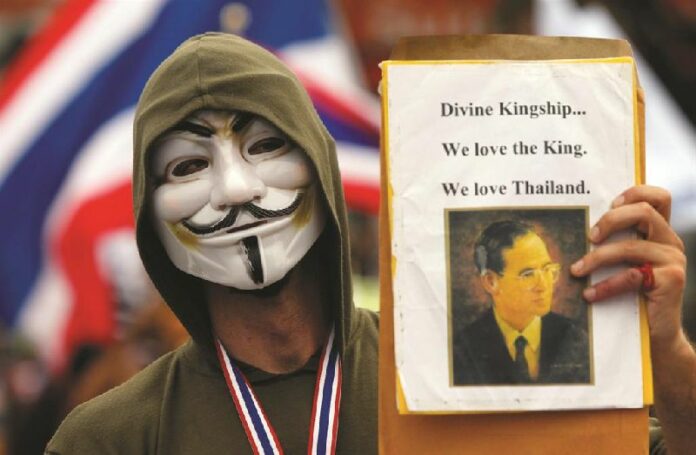 BANGKOK — The number of lese majeste accusations has surged in recent weeks, as the political battle in Thailand deepens and both sides of the divide seek ways to take adversaries down.
In an unprecedented case this week, which critics are describing as a "new low," parents accused their daughter of lese majeste for criticizing the monarchy on Facebook and Youtube.
Surapong and Somchintra Amornpat reported their UK-based daughter, 34-year-old Chatvadee Amornpat, to police after they were reportedly harassed by others because of her online comments.
Chatvadee has been living in the UK for many years and recently acquired British citizenship.
"It is a dismal and alarming sign of what the lese majeste situation has become when parents turn in their own children," said David Streckfuss, an independent scholar and expert on Thailand's strict anti-defamation laws.
Under Article 112 of Thailand's Criminal Code, those found guilty of lese majeste can face up to 15 years in prison.
In addition, Article 112 states that any individual can file an accusation with the police, which critics of the law say encourages "witch hunt" behavior.
This week, a former army commander set up a Facebook group urging Thai citizens to stay vigilant in their duty to "defend the monarchy" and report any cases of lese majeste to the police.
Gen.Lt. Rianthong Nanna, the creator of the group and also the current director of Phramongkutklao College of Medicine, referred to his activity as a way to "cleanse trash from the kingdom."
According to Streckfuss, it has been typical to see a rise in less majeste accusations during periods of political turmoil over the past decade.
In 2010, during Thailand's most recent instance of political unrest prior to the current conflict, the number of lese majeste charges sent to Court climbed up to nearly 500, which is more than twice that of the previous few years.
Earlier this month, former Prime Minister Thaksin Shinawatra's legal representative, Robert Amsterdam, was also accused of defaming the monarchy in a Skype call he made to a Redshirt rally on 6 April in Nakhon Prathom province.
Like Chatvadee, Amsterdam lives outside of Thailand, illustrating how lese majeste laws continue to be invoked even against those who reside in foreign countries.
Thailand's Council of Lawyers accused Amsterdam of insulting the monarchy because of comments he made urging the government to amend Article 112 of the Criminal Code. Amsterdam never directly mentioned the Royal Family.
A third case from April concerns Redshirt leader Wuthipong Kachathamkul, widely known as "Ko Tee." Police issued an arrest warrant for Wuthipong after he allegedly insulted the monarch in an interview with the Vice News.
Wuthipong has not appeared in public since his arrest warrant was announced several weeks ago.
This week, Redshirt activists in Chiang Mai attempted to turn the tables by pressing charges of lese majeste against the leader of the anti-government movement, Suthep Thaugsuban.
The Redshirt group alleged that Suthep defamed the Royal Family when he cited his intention to seek His Majesty the King's approval as part of a plan to oust the caretaker government.
The police have documented the charges, but it is not immediately clear whether authorities will take legal action against Suthep.
Though the number of lese majeste accusations is on the rise, this week also saw a rare instance of exoneration.
On Thursday, the Criminal Court acquitted a 65-year-old man who was arrested for selling a banned book, The Devil's Discus, at Yellow shirt rallies in 2006.
The defendant said he had never read the book, and did not realise it contained material offensive to the Thai Royalty.
Experts estimate the conviction rate for cases of lese majeste in Thailand to be over 90 percent.
For comments, or corrections to this article please contact: [email protected]
You can also find Khaosod English on Twitter and Facebook
http://twitter.com/KhaosodEnglish
http://www.facebook.com/KhaosodEnglish