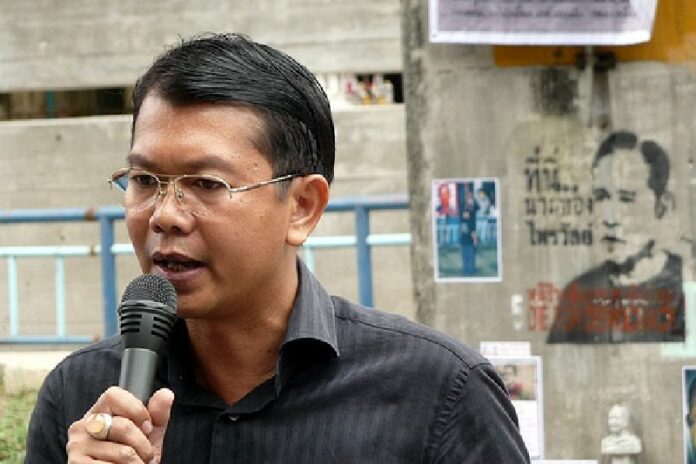 BANGKOK – The motive behind the fatal shooting of a pro-government poet and activist remains a mystery, as police refuse to rule the case as a political assassination.
Kamol Duangphasuk, 45, was starting his car in a restaurant parking lot in Bangkok when two masked gunmen shot him dead on the spot before speeding away on a motorcycle on 23 April, witnesses told police.
Mr. Kamol, commonly known by his pen name Mai Nueng Gor Gunthee, was an active member of the Redshirt movement who frequently critcised the establishement in speeches and poems.
The activist regularly spoke out against Thailand's draconian lese majeste (insult of monarchy) laws, which many Redshirt supporters believe was the reason behind his assassination.
Yet Wad Rawee, a writer and longtime friend of Mr. Kamol, told Khaosod that he does not believe the poet was killed because of his involvement in anti- lese majeste campaigns.
"The police should work harder to establish the motives," Mr. Wad said, "because the political situation these days is so confusing."
A number of Redshirt activists who knew Mr. Kamol also privately speculated that Mr. Kamol might have been targeted in revenge for his alleged role in engineering violent attacks on anti-government protesters in recent months.
However, Pol.Lt.Col. Nampetch Sap-udom, a senior investigation officer at Chokechai Police Station, stressed that non-political motives behind the murder have not been ruled out either.
According to Pol.Lt.Col. Nampetch, other suspected motives include business conflicts, personal disputes, and a vendetta concerning Mr. Kamol's alleged adultery; Mr. Kamol was known to be a womaniser, Pol.Lt.Col Nampetch claimed.
Tharit Pengdit, chief of the Division of Special Investigation (CAPO) and adviser to the Centre for Administration of Peace and Order (CAPO), also said in a press conference that it is too early to determine the link between Mr. Kamol's death and his political activities.
Meanwhile, Thida Thawornseth, chief advisor to the United Front of Democracy Against Dictatorship (UDD), urged Redshirts to remain calm and exercise restraint in the wake of Mr. Kamol's murder.
"This action will not dissuade the Redshirts from their struggles, but it will only add more anger and prolong the struggles," Ms. Thida said. "We must learn from this. His death will not be in vain."
Ms. Thida added that the military needs to prove to the public that its members were not involved in the murder.
In Februrary, four army officers were arrested for allegedly attempting to assassin UDD leader Kwanchai Praipana in Udon Thani.
"The military must clarify itself … before people suspect that it had a hand in Mai Nueng case," Ms. Thida said.
For comments, or corrections to this article please contact: [email protected]
You can also find Khaosod English on Twitter and Facebook
http://twitter.com/KhaosodEnglish
http://www.facebook.com/KhaosodEnglish