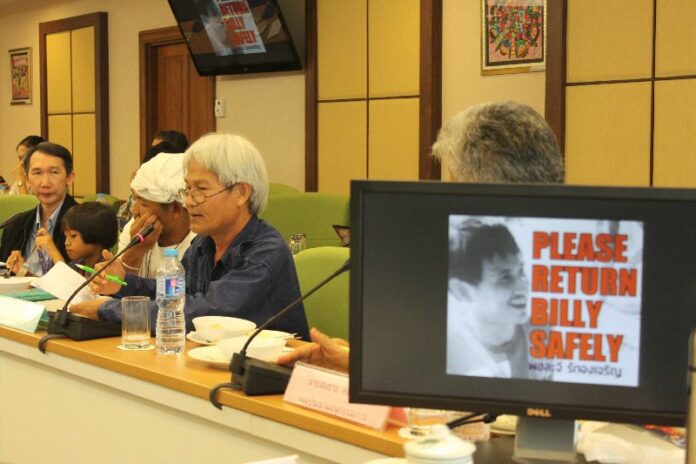 PHETCHABURI – The Phetchaburi Provincial Court has issued a summons order for the chief of Kaeng Krachan National Park because of his suspected connection with the disappearance of a local Karen activist.
Porlachee "Billy" Rakchongcharoen went missing on 17 April as he was making way to meet with representatives of the Karen community located in the national park.
Mr. Porlachee is a longtime activist who campaigned against the violent removal of Karen families living inside the park by officials who allegedly acted under orders from the park chief, Chaiwat Limlikit-aksorn. Mr. Porlachee is also a key witness in the court case against Mr. Chaiwat regarding the torching of a Karen community in 2011.
Yesterday the court accepted a request filed by Mr. Porlachee's family to summon Mr. Chaiwat for questioning in front of the judges by 1:30 p.m. on 30 April.
The court designated the case as an "emergency," meaning that an arrest warrant will be promptly issued if Mr. Chaiwat fails to show up by the scheduled date.
Pol.Col. Narat Sawetnan, director of the Rights and Liberties Protection Department under the Ministry of Justice, said his agency is deeply concerned by Mr. Porlachee's disappearance, especially in light of his ongoing legal disputes with high-ranking officials in Kaeng Krachan National Park.
Pol.Col. Narat likened the case to the disappearance of Somchai Neelapaichit, the Muslim rights lawyer who was allegedly kidnapped by authorities during the government of former Prime Minister Thaksin Shinawatra.
"There was information that state officials were involved in Mr. Somchai's disappearance, which is similar to the case of Billy," Pol.Col. Narat said. "It affects the credibility of Thai [law enforcement], and many foreign organisations are very interested in this case."
In order to prevent further instances of forced disappearances, Pol.Col. Narat said the police should compile a "white list" of activists that are at risk of being targeted, so that the authorities can provide them with extra protection.
The police may also cooperate with NGOs and members of civil society in their effort to compile the "white list," Pol.Col. Narat added.
For comments, or corrections to this article please contact: [email protected]
You can also find Khaosod English on Twitter and Facebook
http://twitter.com/KhaosodEnglish
http://www.facebook.com/KhaosodEnglish