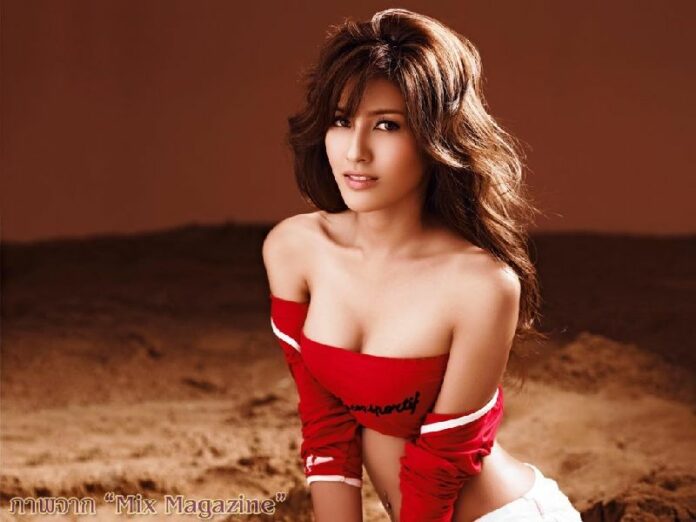 BANGKOK — A Thai actress has pledged to file criminal charges against an American author who put her face on a book about Thailand's sex industry, allegedly without her consent.
Usanee "Nok" Wattatana, who stars in many soap operas on the state-owned Channel 7, said she was deeply offended when she discovered a book on Amazon titled, "Thai Hookers 101 – What You MUST Know About SEX And Prostitutes Before Coming To Thailand," featuring her photo on its cover.
According to Ms. Usanee, the photo was from a set of fashion shoots she did for Mixx magazine several years ago, and she believes the author of the book must have found the photo in a Google search. Ms. Usanee said she was never contacted by the writer concerning his use of the photo.
The author identified himself on his Amazon profile as an American citizen called "Seven" who has been living on Thailand's Koh Samui Island since 2008.
"I am afraid that people who don't know me will misunderstand me," Ms. Usanee told reporters today. "Thais know well that I am not that type of woman, but foreigners on my Instagram may see the photo and wonder whether I am a prostitute."
Ms. Usanee said she bought the book out of curiosity, and that she is even more angry about the writer's attitude towards Thai women .
"I am not particularly angry by the photo on the cover, because this is not the first time my photo has been abused for commercial purpose. What angers me a lot is the text on the cover and the contents of the book which greatly insult Thai women," the celebrity said.
"Some sentences simply say, 'You don't need to look good or have a lot of money, but you can still find Thai women to sleep with you'" said Ms. Usanee.
She added that her legal representatives will meet with police on 8 May to pursue criminal charges against "Seven" under the Computer Crimes Act, which forbids the dissemination of false information on the internet. The charge carries both fines and prison terms.
"The senior executives told me they will try to persuade the police to pursue this matter in the harshest way possible," Ms. Usanee said.
For comments, or corrections to this article please contact: [email protected]
You can also find Khaosod English on Twitter and Facebook
http://twitter.com/KhaosodEnglish
http://www.facebook.com/KhaosodEnglish