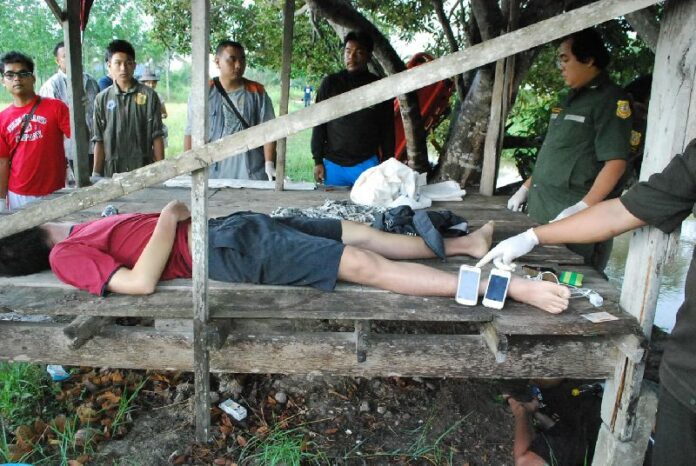 RAYONG — Three men were struck dead by lightning in Rayong province yesterday while they were using cellphones under a raging storm, police say.
The incident reportedly occurred at a field in Nongtaphan subdistrict.
The deceased were identified as Witthaya Komkham, 46, Supphachok Prachubsuk, 18, and Thatpon Na-in, 17. Another man, 30-year-old Winai Wongmaneesai, was also severely injured by the same lightning that struck the group.
The police also found two mobile phones at the scene.
Accoring to police, an initial investigation reveals that the four men were fishing when the rain storm began. The group then reportedly took shelter under a tree in an open field, and two of them phoned their relatives to come rescue them from the storm.
Police suspect that the mobile phones caused the lightning to strike the group, as they were taking shelter in a relatively open area.
The seasonal storm also caused damages and disruptions in other provinces across the central plain of Thailand yesterday. Many roads in Bangkok suffered from sudden flooding, while a heavy downpour caused a public bus to skid off a road in Ayutthaya province and crash into a roadside concrete barrier.
In addition, the violent storm brought down more than 30 electric pylons along Rojjana Road in Ayutthaya onto cars and trucks. One person was reported injured in the incident.
For comments, or corrections to this article please contact: [email protected]
You can also find Khaosod English on Twitter and Facebook
http://twitter.com/KhaosodEnglish
http://www.facebook.com/KhaosodEnglish