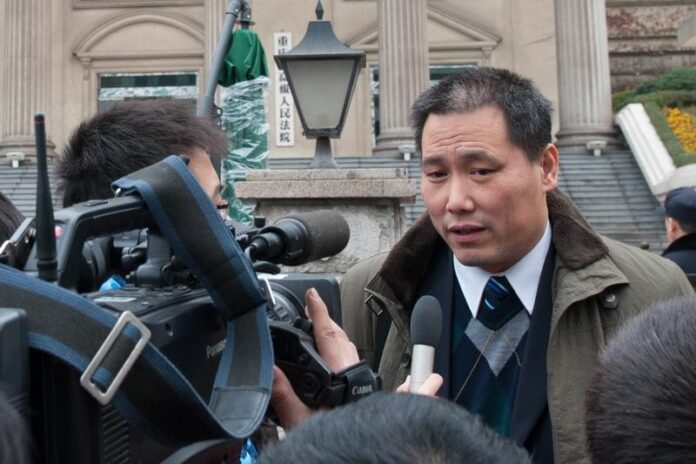 By Bill Smith (DPA)
BEIJING — Police in China's capital detained about a dozen rights activists after they held a small seminar to mark the 25th anniversary of the 1989 military crackdown on democracy protests in Beijing's Tiananmen Square, supporters said Tuesday.
Lawyer Pu Zhiqiang was held in criminal detention on suspicion of "picking quarrels and causing trouble" after Saturday's event, Si Weijiang, another lawyer and friend of Pu, told dpa by telephone.
Police summoned Pu for questioning on Sunday and detained him late Monday while searching his home and seizing his computer, mobile phone and other items.
At least four other activists who attended the seminar were detained on similar criminal charges, while four others were released after questioning, according to online reports by activists and rights groups.
Those detained after attending the seminar included well-known online activist Liu Di, film professor Hao Jian, and Hu Shigen, a veteran dissident who spent 16 years in prison.
Philosophy professor and democracy activist Xu Youyu also faced criminal charges. Xu's wife was scheduled to collect a formal notice of criminal detention from police on Wednesday, according to a fellow activist.
Renee Xia, the international director of China Human Rights Defenders, called the detentions "particularly chilling."
Authorities have placed several other prominent activists under house arrest to prevent them from marking the anniversary of the 1989 protests, while Gao Yu, an outspoken journalist, disappeared last month.
The ruling Communist Party allows no public commemoration of the crackdown overnight on June 3-4, 1989, and it has rejected repeated calls for an open investigation of the use of tanks and live ammunition against the protesters.
Xia said she expected "tighter restrictions than ever on the rights to peaceful assembly, association and expression," before June 4.
"The Chinese government's attempt to silence any expression about Tiananmen is a continuation of its 25-year policy to shelter those responsible for the massacre from accountability," she said.
The informal Tiananmen Mothers group has confirmed the deaths of some 200 people in the crackdown but says it believes the total number of casualties is much higher.
Zhang Xianling, whose 19-year-old son died after he was shot in the head near Tiananmen Square in 1989, spoke at Saturday's seminar on behalf of the Tiananmen Mothers.
Chinese courts have sentenced some rights activists to several years in prison after convicting them on the wide-ranging charge of "picking quarrels and causing trouble."